restaurant review
Flat Top Grill a solid option for assemble-your-own stir fry
Posted on Thu, Dec 16, 2010 : 5:28 a.m.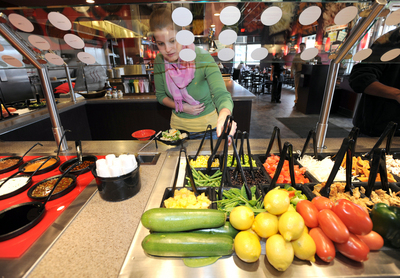 Lon Horwedel | AnnArbor.com
Flat Top Grill opened "to show this town what they've been missing," said restaurant manager Andrew Thacker. The restaurant, a chain based in Chicago, opened on Nov. 15 in a location adjacent to Qdoba Mexican Grill. It has the same stir-fry orientation as Mongolian Barbeque, but Thacker says, unlike other restaurants, where you wait for your food, at Flat Top, servers bring it to your table.
The décor is sleek and contemporary, with an open space, long red walls and a grill situated in the center. There are stark black tables far enough apart that you're not too close to your fellow diners. In addition to offering conventional stir-fry dishes, Flat Top serves breakfast.
Servers act as tour guides of sorts, helping you navigate the system and explaining the procedures. They also offer you the chance to sample sauce combinations before your food is cooked.
You're given a wooden spoon at your table, along with a pencil to write your name. Then you head to the line to assemble your stir fry, starting with hearty, delicious rice.
There are roughly three dozen ingredients to choose from, everything from curry pakor to meat-free proteins, meats, Chinese noodles, bok choy, broccoli, mushrooms and carrots.
I opted to top mine off with a mixture of teriyaki and peanut sauce, while my dining companion picked Asian ginger for her combination of pork, bok choy, scallions, spinach, broccoli, water chestnuts and bamboo shoots.
Once you make your selections, you hand off your bowl, and then wait for the server to bring it to your table.
I found the system easy to navigate, with roomy serving stations. We got our food quickly, enjoying it with the Kung Pao prata, an appetizer delivered to our table. Similar to a quesadilla, this was a wonderful, lightly spiced mixture of chicken, grilled onions, peppers and cheese.
RESTAURANT REVIEW
Flat Top Grill
3275 Washtenaw Ave.
734-531-0230
Flat Top Grill in AnnArbor.com restaurant guide
Hours: Monday -Thursday, 11 a.m.-10 p.m.; Friday, 11 a.m.-11 p.m.; Saturday, breakfast: 9- 11 a.m., open until 11 p.m.; Sunday, breakfast: 9-11 a.m., open until 9 p.m.
Plastic: American Express, Visa, Mastercard, Discover, Diners Club.
Liquor: Yes.
Prices: Inexpensive, A one bowl stir fry is $12.99 for dinner; unlimited is $14.99. There are also discounts for students.
Value: Very good.
Noise level: Medium.
Wheelchair access: Yes.
The food was quite tasty, but the issue I have with places like this is all the dishes tasted similar to each other. Though I picked entirely different ingredients — chicken and calamari, along with mushrooms, water chestnuts and carrots — my dish tasted remarkably like my dining companion's. Both were good, though, flavorful and fresh.
The second time around, I brought my family to try out the breakfast bar, featured on weekend mornings. This is a fun and different type of experience, perfect for those who like a hearty start to their day.
It's a similar system. You write your name on a wooden stick, then decide whether to indulge in a make-your-own omelete, French toast or pancakes. I opted for the basics for my omelete: cheese, onions, broccoli and mushrooms. The omelete was generally good: fluffy, with a great texture, though it was heavy on the butter and a bit greasy. The potatoes were well seasoned and tasted fresh, even though they had a pre-formed, processed look.
Lon Horwedel | AnnArbor.com
There are 20 different toppings for pancakes and French toast, ranging from Heath bar and Reese's peanut butter cup bits to fresh fruit and gummy worms. My kids appreciated the chance to blend strawberries and chocolate chips into the first-rate, fluffy pancakes. The French toast was thick, with a cinnamon accent. The strawberries I selected were perched on top and were fresh and sweet.
If you want to go healthier, the thick oatmeal can't be beat, and there are plenty of fresh fruit choices. Muffins were stale tasting, similar to what you'd find at a hotel continental breakfast. And the coffee was mediocre. I longed for more upscale coffee drinks, like cappuccino, along with fresh squeezed orange juice, instead of the processed variety we were served.
Service was speedy, and on both visits the servers were actually too attentive, checking on us every three to four minutes and frequently interrupting our conversation. Still, this is a fun dining experience far enough from Mongolian Barbeque that it will likely satisfy a niche.