Posted on
Fri, Apr 5, 2013 : 7:14 a.m.
New chapter in the 'legend': Flatlanders return to their roots for tour
By Bob Needham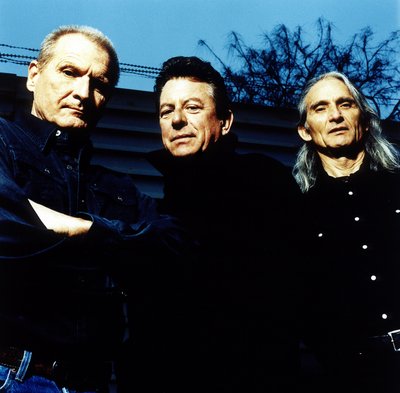 Although it's never gone beyond cult status, the 1972 debut album by
The Flatlanders
remains a sacred artifact to many lovers of acoustic American-roots music.
Called "More a Legend Than a Band" due to the group's quick early breakup and later influence, the reissue of that album led AllMusic Guide to declare, "The entire '90s alt-country movement can trace its genesis to these powerful and underappreciated songs."
So when a different recording of many of those same songs—made a month earlier, in a different studio, for demo purposes only—resurfaced, was it conceivable that these versions might actually be better?
As unlikely as it may seem, the answer is yes, says Jimmie Dale Gilmore, core Flatlander and beloved alt-country solo performer.
"They were well-performed and well-recorded," Gilmore said of the rediscovered recordings, which recently received a proper release under the title "The Odessa Tapes."
"It just sort of reflected more the way we really were in those days," he said by phone recently. "It was so relaxed, and really homemade."
The Flatlanders—with Gilmore, Joe Ely and Butch Hancock as the core members—formed in 1972 in Lubbock, Texas. But the sort-of-release of their debut album never really had a chance; it only came out in 8-track format on a small label. The band was done almost before it started.
Soon after, each of the trio started to individually carve out his own successful career in left-of-center, nowhere-near-Nashville music. Hancock became a very well-respected singer-songwriter; Ely pursued a rootsy country-rock sound that made fans of the Clash; and Gilmore became a favorite in alt-country and folk circles.
But the three remained friends and colleagues, sometimes recording each other's songs, while stories of The Flatlanders never died. The 1991 CD release of "More a Legend Than a Band," basically the original 1972 album, proved that the memories were true: They really were that good. In 1998 they reunited as The Flatlanders to contribute one great song, "South Wind of Summer," to the soundtrack of the movie "The Horse Whisperer."
PREVIEW
The Flatlanders Acoustic
Who: Truly "legendary" trio of Texas roots musicians, Jimmie Dale Gilmore, Joe Ely, and Butch Hancock. Joe Pug opens.
What: Tour stop highlighting their acoustic side to support the release of 1972's "Odessa Tapes," but also with a full-band set.
Where: The Ark, 316 S. Main St.
When: 8 p.m. Monday, April 8.
How much: $35. Tickets available from The Ark box office or online from the Michigan Union Ticket Office.
That eventually led to a reunion tour; and the tour to a full, new album; and that album to another tour. For the last 10 or 12 years have they more or less split their time as solo artists and as The Flatlanders, with three original Flatlanders albums out. And now, it's back to the very beginning, with the release of "The Odessa Tapes."
The tapes, recorded in 1972 as a demo for their planned first album, were found by Syl Rice, who was a supporting member of the original band. "It was several years ago that we found them, and we all agreed" they were worth releasing, Gilmore said. They bought the recordings from Rice, who was very ill at the time and has since passed away.
Although the recordings have occasional minor issues with tape noise, the performances are remarkable—fresh and lively. The track list has many similarities with "More a Legend Than a Band," but also a few differences—a handful of songs not on any other Flatlanders album, including a couple that Gilmore later recorded as a solo artist.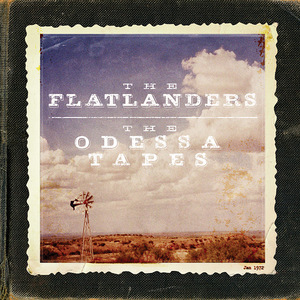 Two of the songs on "The Odessa Tapes," however, deserve special note: "Shadow of the Moon" and "I Think Too Much of You" are both amazing Butch Hancock compositions that may be among his best songs.
"Those are songs I remembered and would sometimes perform," Gilmore said. "They're songs I like a lot."
The quality of the recordings (and to this listener, most of them really are even better than the "legendary" versions); the inclusion of the different songs; and the simple historical interest made it an easy decision to release "The Odessa Tapes" to the public. And a supporting tour—coming to The Ark on Monday, April 8—was a natural idea, giving the band a chance to particularly showcase its acoustic side.
But the specific timing of this tour arises from a new opportunity for The Flatlanders: an invitation to play at Carnegie Hall.
While Gilmore played the storied hall once some time back as an opening act for Alison Krauss, that date (April 13) will be the first time The Flatlanders have performed there together. "We certainly weren't going to turn that down," Gilmore said.
Although billed as "The Flatlanders Acoustic," the tour will showcase both the acoustic and electric sides of the band.
"We do a lot of songs pared down to the three of us," Gilmore said, but the full-band, electrified version of The Flatlanders will also play. "The intention was to show our whole evolution," with songs from throughout their careers, he added.
After this tour, the three core Flatlanders will again return to solo pursuits. Both Hancock and Ely are about to release new albums, Gilmore said. And "I'm slowly chipping away at getting the material" for an overdue album of his own, of mostly his own songs, which he hopes to bring out this year.
Unsolicited, Gilmore made a point of saying The Flatlanders particularly enjoy playing in Ann Arbor.
"The Ark is one of the places that we love the most," he said. "It's such a warm reception that we get."
Bob Needham is director of entertainment content for AnnArbor.com. Reach him at bobneedham@annarbor.com or 734-623-2541, and follow him on Twitter @bobneedham.