Posted on
Fri, Sep 10, 2010 : 5:54 a.m.
Rob Reiner's locally shot 'Flipped' sweet but disappointing
By Jenn McKee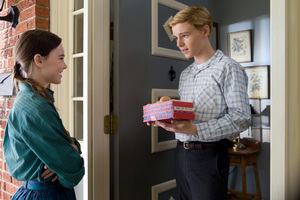 In recent interviews about the movie "Flipped" — shot in Ann Arbor, Saline and Manchester in 2009 — director Rob Reiner has repeatedly declared his love for Wendelin Van Draanen's young adult novel of the same name.
Yet while watching the film, you might wonder if Reiner's deep affection for the source material ultimately hindered his storytelling instincts.
The (admittedly charming) book tells a story of first love in the voice of the two young people involved: Julianna (Madeline Carroll) — an eccentric, self-assured, strong-willed young girl who falls for handsome Bryce (Callan McAuliffe) the minute he moves in across the street, just before the start of second grade; and Bryce, the annoyed object of Juli's attentions who nonetheless, after many years, starts to be fascinated rather than repulsed by his neighbor — at just the moment when Juli's interest in him is waning.
Reiner adapted the book for the screen with Andrew Scheinman, and the pair's unabashed devotion to Van Draanen's text is so devout that the majority of the film is narrated by Juli and Bryce. So rather than doing the hard work of finding ways to translate the characters' internal narratives into visual storytelling, Reiner and Scheinman instead rely on voice-overs to the point of overkill.
Indeed, even when the movie's characters are actually speaking to each other, we sometimes hear a voice-over reporting what one person said to another (which gets pretty maddening); and often, feelings that could be easily conveyed through nothing more the actors' expressions nonetheless have a narrated explanation. It feels as though Reiner just doesn't trust his audience to get it. His desire to capture the feel of the book is understandable, but in making the transition to the screen, less narration would have resulted in greater emotional impact and a more involving film.
Plus, Reiner's direction of McAuliffe's performance seems off-target. Though Bryce is annoyed by Juli for years before developing an affection for her, McAuliffe plays Bryce as merely detached — almost amused by her.
As a younger version of Bryce, Ryan Ketzner gets it right, playing a boy who's terrified and repulsed by this overwhelming girl that he's forced to see every day. But because McAuliffe's take on adolescent Bryce is aloof and far more tolerant of Juli's attentions, he comes off as smug and unlikable, and the emotional journey he takes seems less surprising than it would otherwise be.
Carroll, meanwhile, provides a lovely performance that's the film's backbone (all the more reason Reiner should have had a lighter touch with the narration). John Mahoney, playing Bryce's grandfather who befriends Juli, and Aidan Quinn, playing Juli's father, also contribute charming performances.
And the film (and by extension the local area) looks gorgeous, steeped in a clean-cut, idealized nostalgia. Though the novel was set in the present, Reiner pushed the story back to the pre-tech-gadget time when he himself was growing up — the late 1950s. This has no negative impact on the story, though I'm not sure it necessarily adds anything, either. It just is.
Of course, the film strives to examine the confusing, thrilling, and contradiction-packed experience of first love, and there's a sweet, warm-fuzzy ending that stays true to Van Draanen's book. But let's put it this way: if "Flipped" passed me a note in class asking if I liked it or not, I'd politely check the middle box that said, "So-so."
Jenn McKee is the entertainment digital journalist for AnnArbor.com. Reach her at jennmckee@annarbor.com or 734-623-2546, and follow her on Twitter @jennmckee.