Posted on
Thu, Jan 24, 2013 : 10:58 a.m.
'Folk the Police' turns gangster rap and hip hop on its ear
By Ann Dwyer
City and country collide at Folk the Police, a "folk tribute to hip-hop and gangster rap." The event returns for the third year in a row to the Blind Pig on Sunday.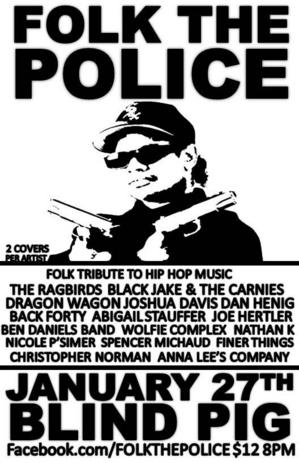 Rap might not be your thing. But filtered through the folk sounds of local bands, you might just come to appreciate it in unexpected ways. Or you just might be blown away with how these bands are able to transform work that is deemed so far outside the folk genre. Whatever the case, it has become an increasingly popular show.
Acts will include The Ragbirds, Black Jake & The Carnies, Dragon Wagon, Back Forty, Spencer Michaud and many more. Each act will do two songs, transforming hip-hop and gangster rap into the performers' preferred folk styles.
To check out a sample, go the event's Facebook page.
Sunday, Jan. 27, 2013. Doors open at 8:00 p.m. $12 cover. For ages 18 and over. The Blind Pig is located at 208 S. First St., Ann Arbor. 734-996-8555.