Posted on
Wed, May 9, 2012 : 8 a.m.
2 Lads wine tasting, part of educational and entertaining (un)Corked series, highlights Michigan offerings
By Mary Bilyeu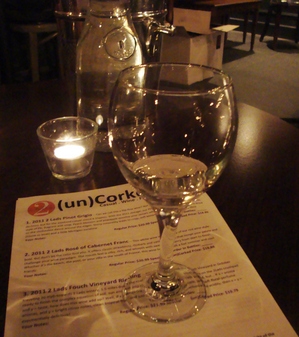 Mary Bilyeu | Contributor
Chris Baldyga, co-owner of 2 Lads Winery in Traverse City, joined The Produce Station's Andrew Gorsuch (General Manager) and Jorge Lopez-Chavez (Wine Director) for a fabulous (un)Corked wine tasting event recently at The Last Word.
Having had so much fun at the last one I attended, and with this session featuring Michigan wines, of course I had to go! So a friend and I bought tickets, and off we went for our tasting adventure.
In his introduction, Chris told us that it was important to be a farmer first — to produce an exceptional crop — and to be a winemaker second, to turn the grapes into a stellar product. With a great sense of humor coupled with obvious seriousness about his product, Chris gave a bit of history, telling us how his mother had taken a job with a local winery, how he'd spent summers doing very hard labor working at farms, how he'd grown to love what he does, and how he wanted to share this passion with all of the guests in attendance that evening.
So, the first wine we tasted was the 2011 2 Lads Pinot Grigio ($20.99), pictured above. It was very dry and light, but not particularly astringent — a term Jorge had taught me at the first tasting I attended, and which I now toss around in an effort to pretend that I know something about wine! (I'm learning, after spending decades in relationships — romantic and familial — with those who can't drink because of addiction or medication issues.)
It would be really lovely served with a rich, creamy cheese. According to the description written up in the tasting notes — always invested with such colorful language and verve! — the Pinot is said to be "fragrant and crisp. Peach blossom and pineapple envelop your senses while nectarine and clean sheets dried on the clothesline dance around the edges."
The next wine was the 2011 2 Lads Rosé of Cabernet Franc ($20.99); it "offers classic strawberry, rhubarb and vanilla aromas that tempt your palate." I was enormously proud of myself for detecting hints of raspberry in the sweetness of the wine, which Chris noted was "rich" and "lush."
He told us that "2011 was a dynamite vintage" for Michigan wines, and this one certainly proved it — it was very, very nice. I like rosés because they are an ideal complement to many dishes, from those traditionally served with white wines to those usually served with reds. And Chris emphasized this same point, that the rosés are very accommodating and flexible, able to pair beautifully with a wide variety of foods.
Our third wine was the 2011 2 Lads Fouch Vineyard Riesling ($21.99), which was slightly astringent to me but caused my friend to note that this one invites you to "pucker up." Chris pointed out that it's high in malic acid, which gives Granny Smith apples their tartness. It smelled lovely, rather citrusy; Chris noted a hint of "tangerine peel."
The tasting notes offer descriptions of "hyacinth, honeycrisp apple, and soft floral-perfume aromas... bright citrus notes, clean tropical fruit, and just enough sweetness to enhance the acidity."
I think I might prefer to cook with this wine, as its assertiveness would definitely infuse dishes with an amazing flavor. And don't forget: you should never cook with so-called "cooking wines," but rather use an excellent product that respects what you're preparing.
As the event continued, Chris told more stories, Andrew and Jorge came by each table to pour wine and to chat, and all three were wonderfully charming hosts making sure to answer questions and to make everyone feel at home, as though we were attending a party. It really was so much fun!
We moved along to our fourth wine, the 2010 2 Lads Pinot Noir ($28.99). This one offered gorgeous color and fragrance — according to the tasting notes, "aromas of sweet red plums and smoky cherries... concentrated strawberry, lightly roasted coffee and delicate tannins."
The depth of color, with shades of red and purple, was truly extraordinary; and it was a lovely wine for drinking, too, rather than merely sitting and admiring the aesthetics. Upon sipping it, this sampling's aroma almost had a hint of tobacco; and it was a touch more sour than I'd anticipated. Chris noted that it had "a dryness to it."
And amusingly, as this was definitely a wine that made its presence known, the notes warn: "Hide the women and children — this one is trouble!!"
The last wine we tried was the 2010 2 Lads Cab Franc/Merlot ($27.99). Chris described this one as "full bodied," noting that it "grabs (his) mouth." It, too, was a truly gorgeous ruby color and offered a lovely fragrance with just a hint of cola to it.
The notes state that it is a combination of 55 percent Cabernet Franc and 45 percent Merlot, with "almost equal expression of each grape's soul" — a description I just love, as it truly expresses how the fruit gives of itself to the final product without losing its identity. This wine was rich and slightly tart, featuring hints of "deep black cherry, blackberry and dark chocolate (along with) vanilla, coffee and sweet tannins."
The Produce Station's (un)Corked tastings are a fabulous time — educational and entertaining all at once, thanks to Jorge and Andrew. It was wonderful to have Chris visiting, as well, in order to actually meet the vintner and learn so much about the beautiful wines he and his partner, Cornel Olivier, produce. Now, in addition to supporting the Michigan wine industry when buying 2 Lads' wines, I'll also know I'm supporting a new friend's mission and remember the true love he showed for his vocation.

Mary Bilyeu
writes about her adventures in the kitchen - making dinner, celebrating holidays, entering cooking contests ... whatever strikes her fancy. She is also on a mission to find great deals for her Frugal Floozie Friday posts, seeking fabulous food at restaurants on the limited budget of only $5 per person. Feel free to email her with questions or comments or suggestions:
yentamary@gmail.com
.
You should visit Mary's blog — Food Floozie — on which she enthuses and effuses over all things food-related. And be sure to look for her monthly articles about holiday foods and traditions in the Washtenaw Jewish News.
The phrase "You Should Only Be Happy" (written in Hebrew on the stone pictured in this post) comes from Deuteronomy 16:15 and is a wish for all her readers - when you come to visit here, may you always be happy.