Posted on
Fri, May 13, 2011 : 8:43 a.m.
2010 Vintage Report - What can the 2010 French roses tell us about the vintage?
By Matt Morgan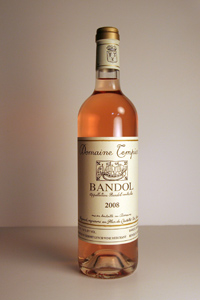 Domaine Tempier Bandol Rose
Dry ros&eacute wines are traditional summer fare in wine-drinking Western Europe, especially France. The wines can be delicious, refreshing and savory, great aperitif wines — before dinner instead of a cocktail — and pair well with lighter summery dishes, including things with vinegar-based dressing that might clash with red or white table wines.
Winemakers also tend to release their ros&eacute wines fairly soon after fermentation and bottling. In practice, ros&eacute wines are often the first taste we get of the new harvest. With a little experience, it is possible to get an idea of what the character of a region's red and white wines will be like by looking at the 'early report' that ros&eacute gives us.
Kermit Lynch and Peter Weygandt are two of the best-known names in the business of importing estate-bottled, small family farm-made wines from Europe, from France in particular. I contacted Weygandt and Bruce Neyers, the national sales manager for Kermit Lynch Wine Merchant for this post.
It is worth noting that Neyers is himself the proprietor of Neyers Vineyards in California. I asked them what their thoughts were on the 2010 vintage in the areas where they traveled and tasted wine.
I asked Weygandt about the Loire Valley, where dry ros&eacute is typically made from Pinot Noir, as in Sancerre, or with Cabernet Franc, as in Chinon.
As they told me in Sancerre, 2010 seems to be almost a cross between the best aspects of 2008 and the best of 2009 there; the firmness terroir of the 2008 reds, with the ripe sweet fruit of the 2009s, which holds true for the rosés, as well, and for the whites, the acidity and minerality of 2008 combined again, with ripe, intense fruit of the 2009 vintage.
So, to read between the lines, 2010 was cooler than 2009. Not a bad thing if you want crisp whites and rosés, and fresh fruit in your wines, but expect the reds from this area to be lighter bodied than the 2009s.
First to mind for fans of French ros&eacute are the dry, savory wines of Bandol in Provence and their less expensive cousins in Languedoc. The theme of a cooler vintage carried through there as well. Weygandt said:
In the south, they are already talking about 2010 being somewhat of a synthesis of 2007 and 2009 — the power of the 2007s with the fruit and fragrance of the 2009s. This for the reds. For the rosés and whites, I find the wines to have a very good structure, concentration and firmness. Yields were lower in 2010 in many appellations.
Neyers contrasted the 2010 vintage specifically with the 2009s, a vintage in which many winemakers struggled against the heat to make what they felt was palatable wine:
The 2010 vintage is more attractive to me for rosé, as it was a cooler year, and the wines are lighter, more delicate and easier to drink. The 2009 vintage was hot and many of the producers made ros&eacute that was darker than they wanted. At Pallières, for example, they didn't make a ros&eacute because the wine was dark red after only a few hours on the skins.
Neyers continued about the 2010 vintage, indicating that the style of ros&eacute produced by many of his French suppliers was well-suited to current consumer tastes:
"I think we sold more 2010 Bandol ros&eacute on this trip than in the past for the simple reason that the wines are lighter and more graceful. People now look for that in ros&eacute ."
Neyers' remarks imply that there has been a 'maturing' in the American palate for rosé. Sweetened White Zinfandel still sells well at the grocery store, and big, burly, barely-not-red ros&eacute wines are a good initiation to the pink for nascent wine lovers, but demand is rising for fresh, dry and food-friendly wines.
It is worth noting that the wines from Lynch's portfolio and those of Weygandt are of consistently high quality, and the 2010 rosés from both importers have been excellent. I've personally tasted about a dozen and couldn't be happier with them.
So, what does the 2010 ros&eacute harvest tell us about the rest of the vintage in general? It seems to bode well. 2010 is looking to me a lot like 1999 or 2004 in the south, although perhaps with a bit more concentration in the wines.
This is a product of the lower yields, which leads to fewer tons of grapes, and a greater ratio of skins to juice in the winemakers' fermenting vats. Since flavor, color, aroma and many of the important textural elements of wine come from the skins steeping in the juice, this often leads to more aromatic and intensely flavored wines without adding weight.
I don't feel as comfortable predicting the outcome in Burgundy or more marginal climates, where the weather tends to be cooler in general.
I'll let Neyers have the last word on the reds and whites of 2010, slated for release later this year and next:
"My same general observations hold. I plan to buy big personally from the 2010 harvest. The wines seem to have enough acid and structure to live long, but they are so attractive right now that they are hard to turn down. I think it will become a vintage famous for just that."
P.S. If you're curious about how ros&eacute is made, check out this entry I made last spring at AnnArbor.com.
Matt Morgan is co-owner of Morgan & York Fine Wines and Specialty Foods in Ann Arbor.