Posted on
Wed, Jul 3, 2013 : 10:50 a.m.
4th of July cinnamon roll cake - quick and inexpensive treat is perfect for special occasions
By Mary Bilyeu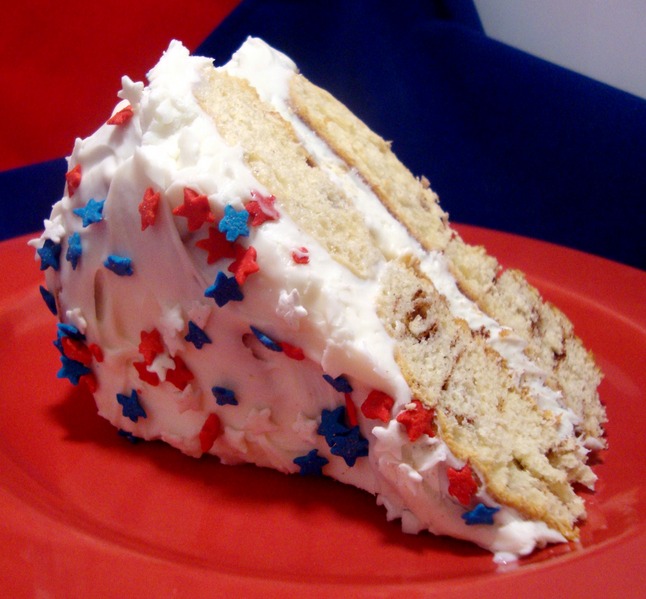 Mary Bilyeu | Contributor
My very dear friend Marcie invited Craig and me to join her family for a barbecue recently. As we sat at dinner with her husband Jim, Jim's son David who was visiting from Tel Aviv, and Marcie and Jim's 9-year-old twin daughters Breena and Leah, the subject — of course! — meandered towards family events, food, cake... the important stuff.
An ice cream social was pending at the girls' school, and Marcie didn't know whether she'd have time to make a dessert to contribute to the event's cake walk. Leah then mentioned with great enthusiasm that someone had once brought cinnamon rolls. But that's not really a cake... or is it?
Flashes of brilliance popped to life as everyone chimed in. What if you baked the cinnamon rolls in a pan but then didn't separate them? What if you baked two pans of rolls, and used the enclosed frosting packets that come in ready-to-bake tubes of dough to layer them together? And then Breena pronounced that you should frost the entire thing, so that its secret identity would remain hidden and it would look more like a traditional cake.
An idea was born!
Marcie and the girls made a cake decorated with gummy worms, which they did, indeed, bring to the cake walk. And, of course, I had to bake one myself — it's important to test recipes, you know!
Whether you bring this to a barbecue or a school event, whether you serve it to last-minute guests for dessert, or whether you offer it as a fun new twist on sweet rolls for breakfast, this Cinnamon Roll Cake is a quick, easy, inexpensive, and fun treat suitable for any occasion!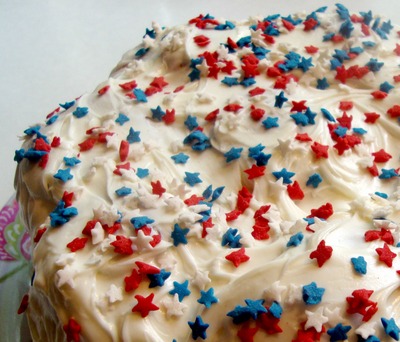 Mary Bilyeu | Contributor
Cinnamon Roll Cake
2 12.4-ounce tubes cinnamon rolls
1 16-ounce can vanilla frosting
sprinkles, for decoration
Preheat oven to 400 degrees. Grease two 8-inch round cake pans.
Open one can of cinnamon rolls, reserving icing. Place one roll into the center of a prepared cake pan, then place remaining seven rolls into the pan making sure that the "tails" of the rolls are placed towards the center of the pan. Repeat with remaining tube of cinnamon rolls and the other pan.
Bake for 15 minutes until cinnamon rolls are golden brown. Let cool in the pans for 10 minutes, then carefully remove from pans and place onto a cooling rack without disconnecting any of the rolls. Let cool completely.
Turn one of the cinnamon roll cake layers upside down onto a serving platter, making sure to place two dabs of frosting onto the platter to help keep the cake in place (since the cake is uneven on the bottom). Spread 1/3 of the can of frosting over the top, then place the other cinnamon roll cake layer on top, flat-side down.
Stir the reserved icing from the cinnamon roll tubes into the can of frosting. Tuck strips of foil under the cinnamon rolls to protect the platter from getting schmeared with frosting.
Frost the sides of the cake, then the top. Decorate with sprinkles, as desired.
Makes 8 servings.

Mary Bilyeu - a self-proclaimed Food Floozie (named for her blog, which is taking a summer vacation) - writes for AnnArbor.com on Tuesdays, Wednesdays, and Fridays, telling about her adventures in the kitchen. She is also on a mission to find great deals for her Frugal Floozie Friday posts, seeking fabulous food at restaurants on the limited budget of only $5 per person. Feel free to email her with questions, comments, or suggestions: yentamary@gmail.com.

The phrase "You Should Only Be Happy" (written in Hebrew on the stone pictured in this post) comes from Deuteronomy 16:15 and is a wish for all her readers - when you come to visit here, may you always be happy.