Posted on
Fri, Aug 30, 2013 : 9 a.m.
Sixth annual HomeGrown Festival Saturday, Sept. 7 celebrates delicious regional foods
By Kim Bayer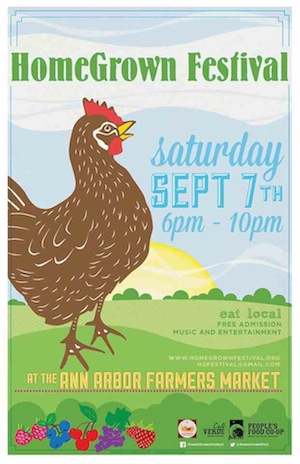 Photo from the HomeGrown Festival website - design by Amanda Szot and Melanie Boyle
If you want to know what "local" tastes, sounds and feels like in Ann Arbor, then mark your calendar for the sixth annual HomeGrown Festival Saturday, Sept. 7 from 6-10 p.m. The totally local festival showcases food prepared by vendors committed to local sourcing, great Michigan beer and wine, and the musical stylings of tiptop area bands. Admission is free to this evening of food, community and fun taking place under the historic roof of the Ann Arbor Farmers Market.
The mission of the HomeGrown Festival is to celebrate what's beautiful, delicious, and amazing about our region and the best part is seeing the joy that comes from everyone experiencing it.
Food is an important part of what makes this region unique, and it's a main focus of the HomeGrown Festival. The restaurant vendors will have a great selection of $1-$7 tasting portions of their best dishes, but the heirloom and garlic tastings, just by themselves, are a reason to come.
For some, the chance to taste the variety of different heirloom fruits and vegetables is a once-in-a-lifetime experience. Last year people flocked to the Slow Food table to try pawpaws, the only tropical fruit native to Michigan. This year, Slow Food Huron Valley's Great Lakes Heirloom Project will offer tastes of more than two dozen heirloom fruits and vegetables. These are varieties so tasty people have been growing them for more than 100 years — like the "Marvel of Venice" snap bean, Beaver Dam pepper, and Livingston's Golden Queen tomato.
Speaking of tomatoes, once again, Project Grow community gardeners will donate more than 50 kinds of tomatoes for a public tasting. You'll be able to taste tomatoes in every color of the rainbow, from Snow White to Olga's Yellow Round Chicken to Evergreen to Cherokee Purple to Czech Black.
The Dyer Family Organic Farm will showcase the sweet, spicy, hot, and everything in between flavors of as many as a dozen different just-harvested garlics! If you're lucky you'll get to try two varieties, Lorz Italian and Inchelium Red, that have been awarded Slow Food's "Ark of Taste" status as varieties that are especially wonderful.
Pack up your grandmas and your kids and bring them to the HomeGrown Festival on Saturday to experience what southeast Michigan has to offer — it's delicious and there's something for everyone.
Follow
Facebook: https://www.facebook.com/homegrownfestival
Twitter: https://twitter.com/HomeGrownFest
Volunteer
The HomeGrown Festival needs 200 volunteers - sign up here!
Music
Wire in the Wood, Chris Good & The Sweet Insurrection, and Nadir will be playing at the HomeGrown Festival's Main Stage starting at 6 p.m. Other acoustic acts will be playing throughout the evening.
Restaurants
A2 Pizza Pi, Arbor Brewing Company, Bona Sera Cafe, The Brinery, Earthen Jar, Espresso Royale,and Frita Batidos! Hut-K Chaats, The Lunch Room, Lulu Eats Local, Pilar's Tamales, The Ravens Club, San Street [Cart], and Silvio's Organic Pizza.
Beer and Wine
Arbor Brewing Company, Burgdorf's Winery, Chelsea Alehouse, J. Trees Cellars, Sandhill Crane Vineyards, Superior Lakes Mead and Wine, Unity Vibration Living Kombucha Tea LLC, Witch's Hat Brewing Co. and Wolverine State Brewing Co.
Kim Bayer is a freelance writer and culinary researcher. Email her at kimbayer at gmail dot com.