Posted on
Tue, Feb 12, 2013 : 8 a.m.
Seventh annual Depot Town Chili Challenge to benefit SOS Community Services
By Mary Bilyeu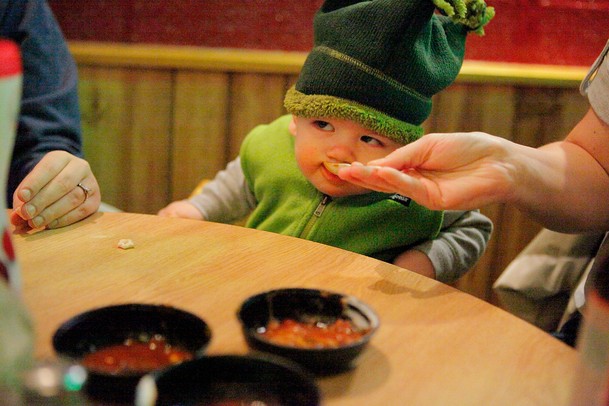 Chris Asadian | AnnArbor.com file photo
When you wake up in a few days, once your blood sugar recalibrates from gorging at today's
paczki
-fest, I've got a new food-related adventure for you, one that benefits an exceptionally good cause. The
seventh annual Depot Town Chili Challenge
will be held from 3-5:30 p.m. this Sunday, Feb. 17, and is a great fundraiser for
SOS Community Services
!
As its website says: "SOS Community Services is... dedicated to preventing and ending family homelessness in Washtenaw County through partnerships with caring individuals, local businesses and organizations, social service agencies and professionals." It "provides integrated services to homeless families, children and youth" and helps 4,700 people each year by offering "comprehensive services that move them from homelessness to self-sufficiency and permanent, stable housing."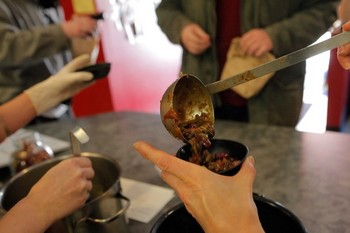 Chris Asadian | AnnArbor.com file photo
For only $5 — every penny of which will go to SOS, thanks to the generosity of some of Ypsilanti's best restaurants — you can taste as many as 12 chili samples from
Aubree's
,
Cafe Ollie
,
Corner Brewery
,
Harvest Kitchen
,
Sidetrack Bar and Grill
, and the
Ypsilanti Food Co-op
. Both carnivores and vegetarians will have options to choose from, and you get to vote for your favorites. The winners will be announced at the Corner Brewery at 6 p.m. that evening.
For the fourth year, the Chili Challenge has partnered with the "Another Chili Ride in Ypsi" event. This is a free event for local cyclists who can choose one of three bike routes, starting at 1:30 p.m. The different bike routes will give riders enough time to return to Depot Town for the chili tasting. For more information about "Another Chili Ride in Ypsi" visit wheelsinmotion.us.
I went to the Chili Challenge last year, and it was a great time. Fabulous food, generous servings, wonderful people... and it can all be yours for only $5. It could be a Frugal Floozie Friday deal!
Bring your family, bring your friends, and support a good cause while enjoying hot chili on a cold afternoon.
Seventh annual Depot Town Chili Challenge
Sunday, Feb. 17 from 3-5:30 p.m.
Tickets available at the "Chili Tent" at E. Cross and River, or at the Corner Brewery, 720 Norris St., Ypsilanti, 734-480-2739

Mary Bilyeu writes for AnnArbor.com on Tuesdays, Wednesdays, and Fridays, telling about her adventures in the kitchen - making dinner, celebrating holidays, entering cooking contests, meeting new friends ... whatever strikes her fancy. She is also on a mission to find great deals for her Frugal Floozie Friday posts, seeking fabulous food at restaurants on the limited budget of only $5 per person. Feel free to email her with questions, comments, or suggestions: yentamary@gmail.com.

Go visit Mary's blog — Food Floozie — where she enthuses and effuses over all things food-related; and look for her monthly articles in the Washtenaw Jewish News. "Like" her on Facebook, or send a tweet on Twitter, too.

The phrase "You Should Only Be Happy" (written in Hebrew on the stone pictured in this post) comes from Deuteronomy 16:15 and is a wish for all her readers - when you come to visit here, may you always be happy.