Posted on
Tue, Sep 25, 2012 : 11 a.m.
A foodie tour at Art Prize in Grand Rapids
By Kim Bayer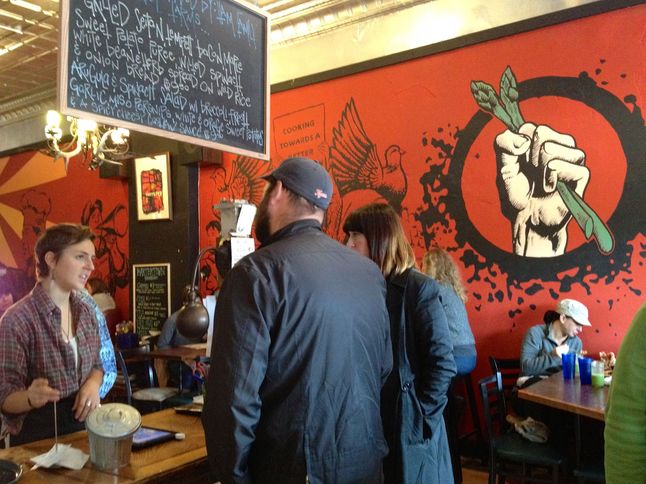 Photo | Kim Bayer
The Grand Rapids Art Prize going on through Oct. 7 draws a quarter of a million visitors to town. And it also invites a huge swath of GR's nearly 200,000 residents to visit more than 160 downtown venues where the art resides for three weeks — places like churches, jewelry stores, hospitals, theaters, architecture firms, dry cleaners, courthouses, and banks, and also bars, restaurants, and coffee shops. It's a brilliant strategy to get people walking into places they might never go otherwise and it's a way for residents to know and embrace their city by experiencing it from a totally new perspective.
Art Prize is part of the larger "get local" movement that fosters appreciation for and builds on particular strengths each place has, which in Grand Rapids also includes a local food scene that is gathering momentum like a freight train. Heading to Art Prize is a perfect excuse to experience an uplifting cultural innovation and also take in some fantastic food, beer and coffee. You definitely have to keep your strength up if you want to go on any of the three-, six- or nine-mile Art Prize walking tours.
We started our Art Prize adventure at Site:Lab. This arts nonprofit has taken over a former natural history museum that has been closed to the public for the past 18 years, and brilliantly repurposed it for Art Prize. The Site:Lab installation also is just a couple of blocks from one of my favorite GR foodie stops. The need for fortification from some healthy vegan, vegetarian and raw food is why we started our Art Prize tour last weekend at the Bartertown Diner.
Bartertown Diner
One of my favorite finds of the last few months, this worker-owned cooperative started out as a "pay what you can" restaurant. Sourcing nearly 100 percent of its food locally, the Bartertown menu features affordable combinations that sometimes sound crazy but taste amazing.
6 Jefferson Ave. SE
Grand Rapids, MI 49503
http://www.bartertowngr.com
616-233-3219

Brewery Vivant
Located in a former church (OK — funeral chapel) Brewery Vivant is now a temple to beer. Delicious food along with the beer, the chef's last name is actually Turnipseed. The pommes frites are incroyable.
925 Cherry St. SE
Grand Rapids, MI 49506
http://www.breweryvivant.com
616-719-1604

Madcap Coffee
Coffee cognoscenti head downtown to worship at the Madcap alter, just a block from the GRAM.
98 Monroe Center St. Northwest
Grand Rapids, MI 49503
http://madcapcoffee.com
616-242-9194

Rowster Coffee
Excellent coffee and home baked treats in an adorable neighborhood location. Love the retro-industrial-hipster-lumberjack vibe here.
632 Wealthy St. SE
Grand Rapids, MI 49503
http://rowstercoffee.com
616-780-7777

Trillium Haven Restaurant
Farmer-owners of a 500 member CSA just outside Grand Rapids decided they wanted to try being restaurateurs. The newly-renovated space is gorgeous and the food was absolutely delicious.
1429 Lake Dr. SE
Grand Rapids, MI 49506
http://www.facebook.com/TrilliumHaven/info
616-301-0998
Kim Bayer is a freelance writer and culinary researcher. Email her at kimbayer at gmail dot com.