YOU SHOULD ONLY BE HAPPY ....
A simple recipe for summer: Corn, Cucumber and Tomato Salad
Posted on Tue, Aug 31, 2010 : 6:30 a.m.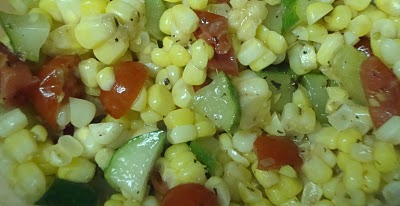 Mary Bilyeu | Contributor

Quick post today. Not much time to write, but I didn't want to either neglect to say "Hi!" to everyone or miss an opportunity to share this easy recipe. This is virtually a perfect summer food. Almost no preparation is required. Also, it boasts gorgeous colors, and it's light and refreshing. Get it while you can!

Sure, you could theoretically use those pale imposters that call themselves "tomatoes" in January; you could also use frozen corn. But really, why would you??? This salad deserves the best -- vegetables freshly picked from your garden and still warm from the sun, or harvested that morning before you buy them at any of the area's farmers markets:

Ann Arbor Farmers Market: Wednesdays and Saturdays, 7 a.m. - 3 p.m.
Depot Town Farmers Market: Saturdays, 8 a.m. - 1 p.m.
Washtenaw Farmers Market: Fridays, 12 - 5:30 p.m.
Westside Farmers Market: Thursdays, 3 - 7 p.m.
Ypsilanti Downtown Farmers Market: Tuesdays, 2 - 6 p.m.

Enjoy this beautiful celebration of Summer! Football and Fall will be here imminently ....


Corn, Cucumber and Tomato Salad

Ingredients

Corn sheared from 3 cooked/cooled ears
1 cup cherry tomatoes, halved
1 small cucumber, diced
1 teaspoon salt-free Italian seasoning
generous pinch of kosher salt
generous sprinkling of freshly ground black pepper
Italian dressing

Directions
1. Combine the corn, tomatoes, cucumber, Italian seasoning, salt and pepper in a large bowl; stir to break up the chunks of corn and to mix the ingredients.

2. Add dressing to taste. Chill, serve and enjoy!





Mary Bilyeu has won or placed in more than 60 cooking contests and writes about her adventures in the kitchen. The phrase "You Should Only Be Happy" (written in Hebrew on the stone pictured next to the blog's title) comes from Deuteronomy 16:15 and is a wish for all her readers as they cook along with her ... may you always be happy here. Check out her blog -- Food Floozie -- in which she cooks, reviews restaurants, and generally enthuses and effuses over all things food-related. Or send an email to yentamary@gmail.com.