Posted on
Wed, Jan 13, 2010 : 7 a.m.
A Bolognese sauce to warm up those cold winter nights
By Jessica Webster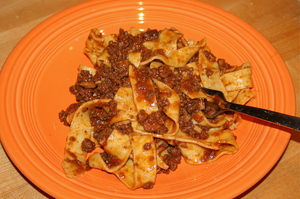 Jessica Webster | AnnArbor.com
The gift of a new pasta maker has inspired a tremendous amount of activity in the Webster kitchen of late. In addition to all my experiments with flour and pasta types, I've been diving deeper into finding that perfect sauce accompaniment. I recently made an alfredo sauce from the Silver Spoon cookbook that was to die for (maybe literally - there's a whole lot of butter and cream in there!), but as delicious and easy as it was to make, it's not something you can eat more than once or twice a year.
When tomatoes are in season, there's nothing better than a marinara fresh out of the garden. This time of year, when tomato choices are limited, I tend to turn to the Bolognese sauce.
Bolognese sauce recipes can vary wildly from cook to cook, with each cook insisting that his or hers is the real deal. Some use cream or milk and scoff at the use of tomatoes. Some use tomatoes and refuse to let a drop of dairy near their stovetop. The one thing that invariably defines a Bolognese sauce is meat - usually a combination of pork and beef.
In my quest to find the perfect Bolognese sauce, I started with a quick Bolognese short-cut recipe from Cook's Illustrated that promised a decent facsimile in under an hour. It was good, but it wasn't great, so I turned to Saveur for my next try. Their recipe for Anna Nanni's Ragù alla Bolognese put the meat front and center but used just enough tomato to fulfill my need for red sauce.
I've been playing with this recipe for about 9 months now, and believe I've landed on a combination and ratio of ingredients that's hearty and flavorful and really hits the spot on a cold winter evening. It's doubly delicious when served over fresh pasta, but I've served it over a variety of dried pastas to rave reviews as well.
I'm an impatient and time-crunched cook, so the first thing I did was introduce a second pot to the process. The Saveur recipe calls for the meats to be cooked with the aromatics after you've got them caramelized, but I found that browning the meats separately saves a lot of time and doesn't appear to have a detrimental effect on the flavor.
Ragù alla Bolognese (adapted from Saveur magazine)
1 28-oz. can crushed tomatoes 
1⁄4 cup extra-virgin olive oil
 2 tbsp. unsalted butter 
2 ribs celery, finely chopped 
1 medium yellow onion, finely chopped
 1 medium carrot, finely chopped 8 ounces crimini mushrooms, chopped 
Kosher salt and freshly ground black pepper, to taste 
1 1⁄2 b. ground beef chuck
 1⁄2 lb. ground pork shoulder
 (most butchers will grind to order) 1 cup dry red wine
 (I use Chianti) 2 tbsp. tomato paste 1 lb. pasta, cooked
optional: 1 tbsp. rendered bacon fat
1. Heat the oil and butter in a large heavy-bottomed pot over medium heat. Add the celery, onions, and carrots, season with salt and pepper, and cook, stirring frequently, until soft and lightly browned, about 15 minutes. Reduce heat to low and cook, stirring occasionally, until very soft and caramelized, about 15 minutes more.
2. In a separate pan, cook the beef and pork on medium heat (in the bacon fat, if desired), stirring and breaking up meat with a wooden spoon, until the meat begins to brown, about 10 minutes. Add the mushrooms and cook for an additional 5 minutes.
3. Add the browned meats to the caramelized aromatics. Increase the heat to medium, add the wine, and simmer, stirring constantly, until evaporated, about 5 minutes. Add the tomato paste and cook, stirring frequently, for 2 minutes. Add crushed tomatoes, reduce heat to low, and simmer, stirring occasionally, until sauce is very thick, about 3 hours.
4. Season ragù with salt and pepper. Toss with the pasta of your choice, or use in lasagne. Serve with grated parmigiano-reggiano.
Jessica Webster coordinates Food & Drink and Books coverage for AnnArbor.com and is part of the Community Team. Contact her at jessicawebster@annarbor.com.