Posted on
Tue, Jul 2, 2013 : 1:30 p.m.
A local food vacation in northwest Michigan
By Kim Bayer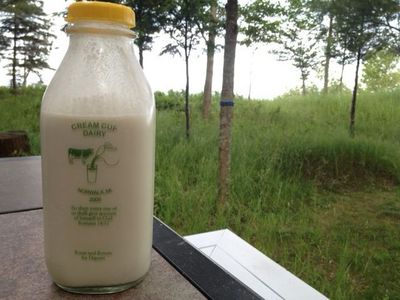 Kim Bayer | AnnArbor.com Contributor
For a vacation with extended family in northern Michigan, I came up with a goal that everyone could get on board with: making ice cream every day. Since we were renting a cottage on the lake, we threw the ice cream maker in the back seat with the coolers for the farm share. Three days in, we have roasted strawberry and buttermilk, dark chocolate, and vanilla ice creams in the freezer thanks to the Cream Cup Dairy in Norwalk, Mich.
Any trip for us these days is an opportunity to search out the food and farms that make a region unique, whether it's Mallard ice cream in Bellingham, roasted Hatch chiles in Tucson, or Cream Cup Dairy in Norwalk.
A quintessential "up north" experience is a visit to Manistee on Lake Michigan, about four hours from Ann Arbor (the way my husband drives). This trip is also a good example of how it's now possible to find local food restaurants along the way and find homegrown food upon arrival.
The town of Manistee, which just five years ago appeared tattered and down on its luck, now boasts the Manistee Community Kitchen project, and its Iron Works Cafe project which "will create a training facility and 2-acre community farm on Main street in downtown Manistee."
They say: "Despite having some of the most diverse crop production of anywhere in the nation, 81.2 percent of Manistee County residents report inadequate consumption of fruits and vegetables. The Manistee Community Kitchen understands that produce growing locally can solve this problem, and provide healthy foods to the hands and mouths that need it."
Every place has a local food culture, history and context waiting to be discovered. Searching out the people growing food for their own community is a way to discover the bright spots hidden in even neglected landscapes. In every place with an active local food movement there are examples of this "re-settling" of America in which people are reclaiming and restoring their beloved places.
For us, making ice cream is one way of connecting with family that we don't get to see very often, but it's also a way of connecting with a place we are learning to love and appreciate more and more.
If you're on your way up north, some places that we recommend include:
Madcap Coffee in Grand Rapids
Mia and Grace in Muskegon (try the incredible pork belly reuben)
Manistee Farmers Market on Wednesdays and Saturdays
Port City Organics for Cream Cup Dairy
Douglas Valley Winery
Manistee County Growers and Greenhouses

Kim Bayer is a freelance writer and culinary researcher. Email her at kimbayer at gmail dot com.