Posted on
Wed, Mar 14, 2012 : 1 p.m.
A Michigan March meal with kohlrabi, corn, tomatoes and whitefish from the freezer
By Kim Bayer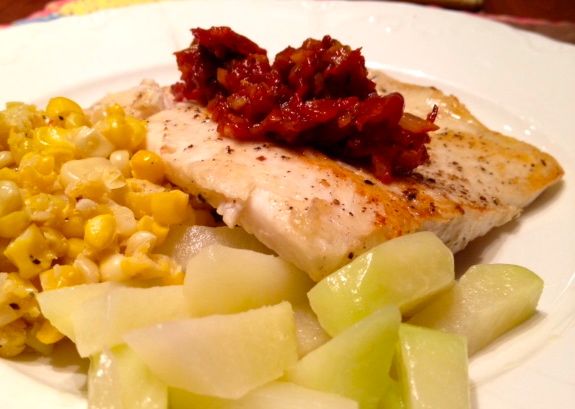 Photo | Kim Bayer
I quarrel with T.S. Eliot who proclaims in The Wasteland that April is the cruelest month. And I'm not sure he was thinking about meals when he talks about "feeding a little life with dried tubers," but I'd argue that March, the "long and hungry month," when the last shriveled carrots and sprouting potatoes disappear from the root cellar, is actually the meanest month. The dandelion greens, morels and ramps of the new season have not yet appeared, and the arrival of Eliot's lilacs is still a dream.
One of the longest-keeping foods I've noticed is that old-fashioned vegetable my grandfather loved, kohlrabi. A German word meaning "cabbage turnip," kohlrabi is "a turniplike enlargement of the stem above ground was apparently developed in northern Europe not long before the 16th century."
I noticed today that Tantre Farm kohlrabi is still on the shelf at the People's Food Coop. I've bought that kohlrabi every week that I've seen it at the Ann Arbor winter farmers' market, and enjoyed its sweet, juicy crunch more this year than I ever have before. Seeing the kohlrabi at PFC reminded me of a delicious recent meal. Exploring the depths of the freezer and storage bins of my household, I admit to feeling a little proud of myself for making a quintessential end-of-winter meal with what seemed like odds and ends.
I have been consulting my freezer more frequently now, doing some preliminary spring cleaning while thinking about filling it again with this year's rhubarb, asparagus, and strawberries. I noticed some frozen Lake Michigan whitefish, Locavorious corn and Frog Holler Organic Farm tomatoes that looked like dinner, and I combined them with the last of my Tantre kohlrabi for a fantastic local food meal which would have made T.S. Eliot weep comparing it to those "dried tubers."
Shantih, shantih, shantih indeed. In my limited postmodern way, my dinner did make me feel a small measure of that "peace which passeth understanding."

Adapted from Epicurious:

Seared Whitefish with Sweet Corn, Kohlrabi, and Tomato Compote
2 tablespoons olive oil
1/2 red onion (or 4 shallots), sliced
4 garlic cloves, sliced
1 pint frozen and thawed oven-roasted tomatoes (or 8 plum tomatoes seeded and diced)
Kosher salt and freshly ground black pepper
Sugar to taste
1 teaspoon dried marjoram
1 teaspoon thyme leaves4 small kohlrabi, leaves removed, peeled, cut into 1/2-inch wedges
1 tablespoon butter
4 boneless and skinless whitefish fillets (can use other firm, mild fish as well)
1 tablespoon olive oil
1 pint Locavorious frozen corn, thawed (or 2 ears white or yellow corn, kernels cut from the cob)

In a medium saucepan, heat 2 tablespoons of the olive oil over medium heat and add the onions (or shallots) and garlic. Cover and cook the mixture until it is soft. Add the tomatoes, reduce the heat, and continue cooking uncovered until thickened. Season to taste with salt, pepper, and sugar. Stir in the basil and thyme. The compote will be thick, like tomato jam.
Bring a medium saucepan of salted water to a boil. Cook kohlrabi wedges in the boiling water until the tip of a knife pierces through easily, about 3-5 minutes. Drain and set aside.
Pat the whitefish fillets dry and season generously with salt and pepper. In a large ovenproof skillet, heat 1 tablespoon olive oil over medium-high until almost smoking. Add the fish and cook on both sides until nicely browned, about 4 minutes per side. If necessary to finish cooking the fish, transfer the skillet to a 350 degree oven for about 5 minutes, or until the fish is slightly firm to the touch.
While the fish is cooking, heat 1 tablespoon butter in a saut&eacuate; pan and cook the kohlrabi and corn to heat through, seasoning to taste with salt and pepper.
Place the vegetables in the middle of warmed serving plates. Transfer the whitefish from the oven to the center of each plate, spoon a little compote over each fillet, and serve.
Kim Bayer is a freelance writer and culinary researcher. Email her at kimbayer at gmail dot com.