Posted on
Sat, Jan 28, 2012 : 5:53 a.m.
A rich Valentine's Day thanks to seafood and cream
By AnnArbor.com Staff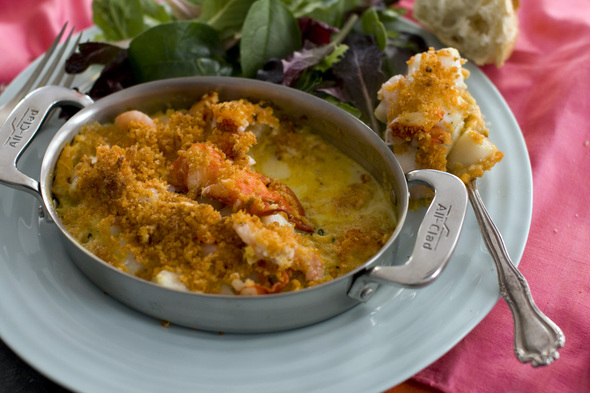 AP Photo | Matthew Mead
ALISON LADMAN, For The Associated Press
Warm and creamy, au gratin are perfect for a cold winter night. And what better way to say "I love you" than with a little indulgence of seafood and cream.
This dish goes together with just a little effort and you end up with an impressive and delicious dinner for two. Serve with crusty bread and a green salad dressed with a drizzle of olive oil, a squeeze of lemon juice, sea salt and ground black pepper.
SEAFOOD AU GRATIN
Some grocers and seafood markets sell frozen lobster meat. That's the easiest way to get it for this dish. Alternatively, ask for a 1 1/4-pound lobster at the grocer and have them steam it for you while you shop. That size lobster should produce about 4 ounces of cooked meat.
Start to finish: 45 minutes
Servings: 2
1 tablespoon olive oil
1 small sweet potato, peeled and grated (about 2 cups)
1/4 cup grated yellow onion
2 teaspoons chopped fresh thyme
Salt and ground black pepper
3 ounces haddock or other white fish
4 ounces cooked lobster meat (about a 1 1/4-pound lobster)
4 ounces raw shrimp, peeled and deveined
4 ounces bay scallops
1/2 cup heavy cream
1/3 cup panko breadcrumbs
1/4 teaspoon smoked paprika
1 tablespoon butter, melted
Heat the oven to 375 F. Place 2 shallow ramekins or gratin dishes on a sheet pan and lightly coat with cooking spray.
In a small saute pan over medium, heat the olive oil. Add the grated sweet potato and onion. Cook until tender, about 7 to 8 minutes. Stir in the thyme and season with salt and black pepper. Divide the mixture between the 2 baking dishes, spreading it evenly across the bottom.
Cut up the fish and lobster into bite sized pieces. Arrange the fish, lobster, shrimp and scallops over the sweet potato mixture. Sprinkle with salt and pour the cream over the seafood.
In a small bowl, combine the panko, paprika and a pinch of salt. Pour the butter over the mixture and toss to coat. Sprinkle the panko mixture over the seafood. Bake until the cream is bubbling, about 12 to 15 minutes. Let cool slightly before serving.
Nutrition information per serving (values are rounded to the nearest whole number): 700 calories; 330 calories from fat (48 percent of total calories); 37 g fat (19 g saturated; 1 g trans fats); 265 mg cholesterol; 44 g carbohydrate; 46 g protein; 5 g fiber; 560 mg sodium.