Posted on
Thu, Mar 18, 2010 : 6:30 a.m.
A savory rye bread pudding
By Mary Bilyeu

As promised when I wrote about my beloved
Mustard From Hell
, I made a savory rye bread pudding recently, rather than the sweet kind that I usually make for a dessert.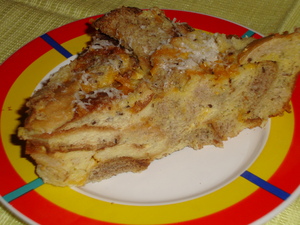 Mary Bilyeu, Contributor
It was a perfect simple meal, served with salad and asparagus, for a weeknight; but it would also be an ideal accompaniment to leftover corned beef from
St. Paddy's Day
celebrations.
The wonderful thing about bread pudding is that it transforms scraps and leftovers into a thing of beauty. Little tidbits of crusts at the end of loaves would get lost in a toaster and burn; they're barely worth buttering. But gather them together with their brethren from other loaves, and these outcasts become tremendously useful and delicious in their own right.
Since Tom and I eat rye toast with peanut butter virtually every morning for breakfast, and Jeremy adores Reuben sandwiches (particularly when they're on marble rye), it hasn't taken very long to save up enough pieces to make this pudding. And why waste them? Sure, they can make some birds happy, and there's absolutely nothing wrong with that; but they were also put to use making me happy. And although Tom has been fed quite a few meals from a variety of cuisines in his time with me, he told me that this was just about the best dinner I've served ....
Rye Bread Pudding
enough leftover rye bread (nubs, crusts, whatever) to make 6 cups of 2" torn pieces
1 cup Egg Beaters
3 eggs
1-1/2 cups half-and-half
1 tablespoon Mustard From Hell
pinch of kosher salt
1/4 teaspoon black pepper
1/2 cup shredded sharp Cheddar cheese
1/2 cup shredded Parmesan cheese
Preheat oven to 400 degrees F. Place bread pieces into a large mixing bowl. Beat together Egg Beaters, eggs, half-and-half, mustard, salt and pepper; pour over bread and stir to combine well. Let mixture soak for 10 minutes, pressing down on it occasionally to make sure all of the bread is immersed in the egg. Stir in Cheddar cheese, then pour into a greased 8" glass baking dish. Sprinkle Parmesan on top and bake for 35-40 minutes, until a knife inserted into the center comes out clean and the pudding is puffed up and golden.
Mary Bilyeu has won or placed in more than 60 cooking contests and writes about her adventures as she tries to win prizes, feeds hungry teenagers and other loved ones and generally just has fun in the kitchen. The phrase "You Should Only Be Happy" (written in Hebrew on the stone pictured next to the blog's title) comes from Deuteronomy 16:15 and is a wish for all her readers as they cook along with her ... may you always be happy here! You can contact Mary at yentamary@gmail.com or follow her on Twitter (twitter.com/foodfloozie). And look for her new food blog: foodfloozie.blogspot.com.