Posted on
Thu, Jan 5, 2012 : 1:08 p.m.
A simple but elegant grand raspberry chocolate trifle will make any evening a special occasion
By Jessica Webster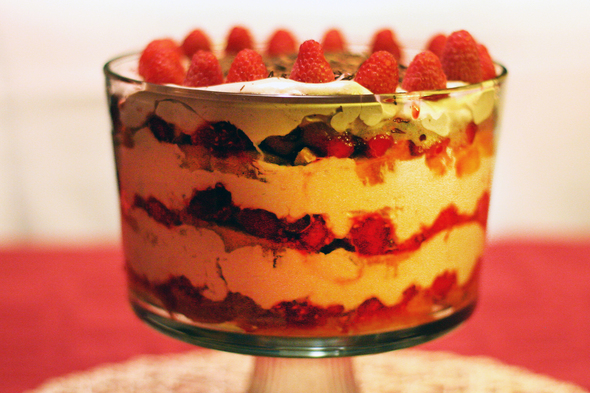 Jessica Webster | AnnArbor.com
We have a wonderful New Year's Eve tradition with our friends Colleen, James and Hank. They come over for dinner - cheese fondue and some kind of soup or additional course. We play games, the kids compare their favorite Christmas gifts and build a few small Lego models. Then we cap the evening off well before midnight with a decadent chocolate cake. It's a great way to celebrate the end of the year.
This year, my plan was to make a double chocolate torte from Bon Appetit, which food blogger Smitten Kitchen raved about a few years ago. It's a decadent recipe indeed, with a pound of chocolate and three quarters of a pound of butter. I gathered my ingredients together and set them aside, letting the butter get up to room temperature while I started my New Year's Eve Hoppin' John.
It wasn't until around 3:30pm that I got my measuring cups and bowls together to start this chocolate cake. And that's when I noticed this key sentence from the instructions: "Chill torte until mousse is set, at least 6 hours and up to 1 day." Oops.
Plan B was in order. I needed an easy, quick celebratory dessert that looks like more work than it really is. This sounded like a job for Martha Stewart's Grand Raspberry Trifle recipe.
When I was growing up, my favorite dessert by far was my Oma's trifle. Carefully constructed of alcohol-soaked ladyfingers, custards, whipped cream, and fresh and candied fruits, it was a sight to behold (not to mention delicious beyond your wildest imagination). It has been quite a few years since I last sampled Oma's trifle, so I recently set out to make my own.
Trifle is a traditional English dessert that dates back to the 16th century or earlier. The original recipe, as it first appeared in a book called "The good huswife's Jewell" in 1596, called for thickened cream flavored with sugar, ginger and rosewater. In the centuries that have followed, the recipe has grown to include nearly any combination of cakes, creams, custards and fruits, layered in a glass dish.
This recipe is one of the most simple trifle recipes I've come across, but its simplicity doesn't affect its impact and flavor at all. Martha Stewart skips the alcohol, instead instructing us to whip up a simple lemon syrup and brush it on slices of pound cake (which you can find in many area grocery stores if you don't have the time or inclination to bake your own).
Martha also skips the custard, choosing instead to layer just the lemony pound cake with a raspberry and jam mixture and sweetened fresh whipped cream. Simple and elegant, and your dinner guests will love it.
The first time I served this trifle, my son raved about it, saying that the only way it could possibly be better would be if I were to somehow incorporate chocolate into the dessert. I did that for this iteration, adding 2 tablespoons of cocoa powder to the cream as it whipped, and sprinkling shaved chocolate. The chocolate flavor is subtle, but it seemed to make him happy. Next time I might start with a chocolate pound cake.
Martha Stewart's Grand Raspberry Trifle
Ingredients
1/2 cup plus 2 tablespoons sugar
1/4 cup fresh lemon juice
1 cup seedless raspberry jam
4 cups raspberries
2 cups heavy cream
1 pound favorite pound cake
2 tablespoons cocoa powder (optional)
1 ounce bittersweet or semisweet chocolate, shaved
Directions In a small saucepan, bring 1/2 cup sugar, 1/4 cup water, and lemon juice to a boil, stirring to dissolve sugar, 1 to 2 minutes. Let cool.
In a small bowl, combine jam with 3 cups raspberries, mashing slightly. In a large bowl, whip cream, optional cocoa powder and 2 tablespoons sugar to stiff peaks.
Slice pound cake 3/4 inch thick; brush both sides of slices with lemon syrup.
Fit 1/3 of slices snugly in the bottom of a 2-quart trifle dish or other glass bowl, trimming edges if necessary. Gently spread top of layer with 1/3 of raspberry mixture, and then 1/3 of whipped cream. Repeat to make two more layers; garnish with remaining cup raspberries and optional chocolate shavings. Refrigerate until ready to serve, up to 24 hours.