Posted on
Tue, Jul 3, 2012 : 11 a.m.
Zingerman's class offers 'A Taste of Hungary'
By Mary Bilyeu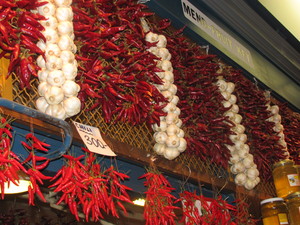 Peppers and garlic at Budapest's Central Market. Amy Emberling, Zingerman's Bakehouse
Hungarian food is all the rage at Zingerman's Bakehouse, where delicious pastries, hand-crafted breads, and flavorful soups are now offered as an introduction to "an incredibly rich and varied food tradition reaching back at least 1,500 years," according to the shop's website.
Many people don't know much about Hungarian cuisine, recognizing only Chicken Paprikash or Goulash (and, unfortunately, having eaten incorrectly named inauthentic versions of the latter, which is a dish of ground beef and macaroni only on this side of the ocean). Truth be told, I'm only a few steps ahead of that.
So it's time to expand upon my admittedly limited knowledge!
If you'd like to join me in learning about the history and traditions of this too-little-known cuisine, Zingerman's is offering a class on Saturday, July 14 - "Taste of Hungary with Amy and Frank" — at which Bakehouse managing partners Amy Emberling and Frank Carollo will take you on a virtual tour of the country and let you taste some of its amazing foods.
They've taken two trips to Hungary, experiencing everything from the more touristy hotels and restaurants to home hospitality of both the elite and those with more modest means. Their guide would introduce them to dishes and then comment that his mother made a better version; so Amy and Frank then asked if they could meet his mom, and she was able to cook her unpretentious, but still fabulous, meals for them.
When I met with her recently for a fascinating conversation about the class and the background behind it, Amy told me that there had been an intention to branch out from what Zingerman's was already providing — since businesses should always seek to remain fresh and creative — but to not reach out so far that any new offerings would be terribly divergent from the comfort zones of the bakehouse (its talented staff and equipment) or its customers.
They sought something unique and distinctive, and yet something still familiar. Since Eastern European foods are part of the regular repertoire, it made sense to look perhaps at Russia or the Czech Republic... but then, in doing research, Hungary kept calling out.
The Bakehouse serves daily soups; so it was not difficult to start offering Hungarian classics like the bean and ham soup made on Tuesdays or the authentic meat and vegetable gulyás [GOOL-yahsh] on Wednesdays. To Hungarians, a dining experience is not considered a full meal without the inclusion of soup.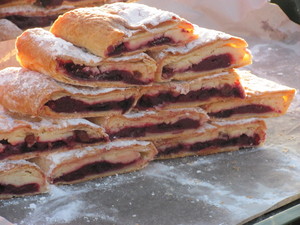 Strudel for sale in Budapest. Amy Emberling, Zingerman's Bakehouse
Breads, as well as rich pastries, are integral to Hungarian culture; how perfect for a bakehouse! Zingerman's stretches the strudel dough by hand, the old-fashioned way, and serves luscious multi-layered
tortes
that are perfect for savoring with a cup of coffee.
There is also a significant Jewish influence in Hungary (as there is, of course, at Zingerman's!), such that Amy found many Jewish classics — matzah ball soup, for example — served on menus that had no other connection to Judaism. Interestingly, some of these dishes have been assimilated to the extent that pork — forbidden by the dietary laws, but immensely popular in Hungary — is served in items such as cholent, a Sabbath stew that cooks on low heat overnight when observant Jews aren't permitted to cook.
Clearly, with all of these synchronicities, it was simply a matter of destiny that Zingerman's Bakehouse should branch out into Hungarian foods!
Bakehouse customers have been extraordinarily receptive to the new offerings. Amy told me that it has been immensely gratifying to have people come in and identify themselves as having Hungarian heritage while applauding the authenticity of the foods. This has reminded them of home and of family, providing them with a deep sense of pride.
The "Taste of Hungary" class will feature great stories, videos, and enough fabulous food samples that there should be no need to eat again afterwards, according to Amy. I look forward to seeing you there, as we learn about Hungarian cuisine and culture together.
Bon appétit! Or, in Hungarian, Jó étv ágyat!

Mary Bilyeu
writes about her adventures in the kitchen - making dinner, celebrating holidays, entering cooking contests ... whatever strikes her fancy. She is also on a mission to find great deals for her Frugal Floozie Friday posts, seeking fabulous food at restaurants on the limited budget of only $5 per person. Feel free to email her with questions or comments or suggestions:
yentamary@gmail.com
.
You should visit Mary's blog — Food Floozie — on which she enthuses and effuses over all things food-related. And be sure to look for her monthly articles about holiday foods and traditions in the Washtenaw Jewish News.
The phrase "You Should Only Be Happy" (written in Hebrew on the stone pictured in this post) comes from Deuteronomy 16:15 and is a wish for all her readers - when you come to visit here, may you always be happy.