Posted on
Wed, Apr 6, 2011 : 6:13 p.m.
Welcome to the world of coffee - it's never been easier to brew spectacular beverages at home
By Matt Roney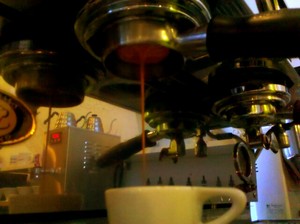 Matt Roney | Contributor
Given that coffee is consumed by over half of American adults every day, it's amazing how little thought most people give it. As a barista in an artisan-style café, I'm constantly amused by the reactions of a lot of our customers upon their first exposure to our latte art, our elaborately described drip coffee offerings and our hand-pour brewing method.
You see, it turns out that coffee innovation didn't stop with the automatic drip pot. In recent years, independent roasters and shops have pushed the boundaries of the centuries-old beverage.
Chemically, coffee is extremely complex, and thus can offer a wide range of subtle flavors. Dedicated professionals develop and endlessly test new brewing methods.
It's an addictive pursuit, and not just because of the caffeine; many of the people working in coffee are in love with the product, the culture or some combination of both. Personally, I was brought in by a small, now-defunct shop in my hometown of Gaylord, Mich. called Harmony Grounds.
The quintessential "third place," Harmony Grounds boasted an intensely loyal and close-knit community of regulars who became a sort of second family for me. The coffee itself was secondary to the constant debates, artistic collaborations and friendly meet-ups.
Maybe it was the social contact, or the mutual appreciation for coffee. Maybe it was just the stimulants. In any case, Harmony Grounds was an oasis of counter-cultural creativity in a small town with an otherwise depressingly homogenous culture.
The baristas ran the show, knew everyone, controlled the coffee. Naturally, when the opportunity arose for me to take a job at another shop, Brothers Coffee & Tea, I didn't hesitate. My boss at Brothers, Adam, was far more focused on coffee itself and taught me my first skills as a barista.
I was introduced to a world of exotic-sounding places, complex flavors, and esoteric skills. Coffee shops — in which I'd always felt comfortable — now felt like home, and coffee had become a passion that would stick with me through my liberal arts education at the University of Michigan and beyond.
You don't have to work in the industry, however, to appreciate the craft of coffee. As the professional world of coffee has developed, so have the resources available to the "home barista." It's easier than ever to brew spectacular coffee yourself if you're willing to take the time.
My goal in writing about coffee for AnnArbor.com is to make the subject as interesting and accessible for you as it has been for me. I've found during my years as a barista that many coffee drinkers feel intimidated by — in some cases, even indignant toward — the very concept of specialty coffee.
I can't say I blame them; with all the jargon and odd-looking equipment, one could be hard pressed to find any connection between a caffè macchiato and a comforting cup of automatic drip-brew from home.
I truly believe, however, that coffee — even the complicated, artisan café kind — is something that can be appreciated and enjoyed by anyone. I'll be using this space to discuss the happenings in the coffee world, locally and otherwise, as well as to provide educational information to the non-nerd.
So, I ask you: What would you like to know? Feel free to contact me with your questions about coffee, and I'll do my best to answer them.
Matt Roney is a barista at lab café and a contributor to Radio Free Chicago. He can be reached by email here.