Posted on
Sun, Nov 8, 2009 : 7:10 a.m.
Sharing day and the meaning of autumn across cultures
By Frances Kai-Hwa Wang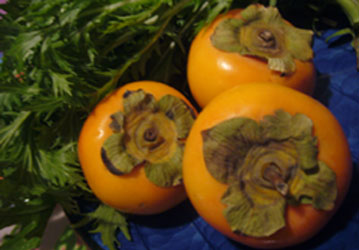 Fall favorites mizuna and persimmons
Every Friday is Little Brother's "Sharing Day" (Show and Tell) at school. Sharing Day is very serious business in Kindergarten, and he spends the entire week thinking about what to bring. This week, he is supposed to bring something that reminds him of autumn. He asks his sisters, who give him all the regular ideas: a leaf, a pumpkin, his sister M dressed up like the Ottoman Empire (Turkey). However, because his turn is on Friday, they are pretty sure that other kids will have already brought in all those things, so he will have to be especially creative.
Because of the work that I do, our family does not always see the world the same way as the mainstream or "normal people." There is often a multicultural twist.
When Little Brother was supposed to bring a circle, he brought a package of Korean Nong Shim ramen noodles. When he was supposed to bring a square, he brought a package of Indian masala ramens. When he was supposed to bring a triangle, he brought musubi (Japanese rice balls made into triangle shapes).
So what does autumn mean to us?
At the farmers' market, a Japanese woman talks with a vendor while waving a big bunch of mizuna, filling the air with its sharp fragrance. We pick a bag of crisp Fuji apples. Then I discover the most beautiful bright white daikons, with fresh green leaves, nearly hidden among the rutabagas. I have never seen such fresh daikon, or daikon with their greens intact—the best part. For me, autumn begins with the first pungent pot of daikon soup...followed by the sweet crunch of fuyu persimmons for dessert.
At China Market, we discover that persimmons are in season, too! The girls tell Little Brother about the 70 persimmon trees on Gong Gong Po Po's old farm in California where every autumn meant picking, peeling, drying, eating persimmons, and boxes of persimmons shipped to us 3-day express. We always shared our precious bounty with friends. I remember my friend Greg's mother's reveries about the hachiya persimmons she ate as a girl in Spain. My friend Kaori's family rationed them, only eating one a day. When I left a line of persimmons on my girlfriend Nina's back porch, they were so out of context that she did not even register them as the treasures that they were. She texted me, "Thanks for the perfect tomatoes."
As I look something up in the Yellow Pages, a small red maple leaf flutters out of its pages into Little Brother's lap. He picks it up and asks, "Why do you have this?" I realize that I always press red leaves in the autumn, and dreamily send them to friends far away, to share a little of the Midwest's romantic side, even as I long for the daikon and persimmons which are where they are.
Finally, Little Brother decides to bring persimmons. He carefully selects two that have good leaves and no bruises. We wrap each one and put them into a blue Hello Kitty bento box. When he stands up in front of his class, he says, "These are persimmons. They ripen in the fall. Look, they can turn into robots." He stacks one on top of the other, "Persimmon robots."
Frances Kai-Hwa Wang is a second-generation Chinese American from California who now divides her time between Ann Arbor and the Big Island of Hawaii. She is editor of IMDiversity.com Asian American Village, lead multicultural contributor for AnnArbor.com, and a contributor for New America Media's Ethnoblog. She is a popular speaker on Asian Pacific American and multicultural issues. Check out her website at franceskaihwawang.com, her blog at franceskaihwawang.blogspot.com, and she can be reached at fkwang888@gmail.com.