Posted on
Mon, Aug 29, 2011 : 11 a.m.
Aguas Frescas: the taste of summertime
By Kim Bayer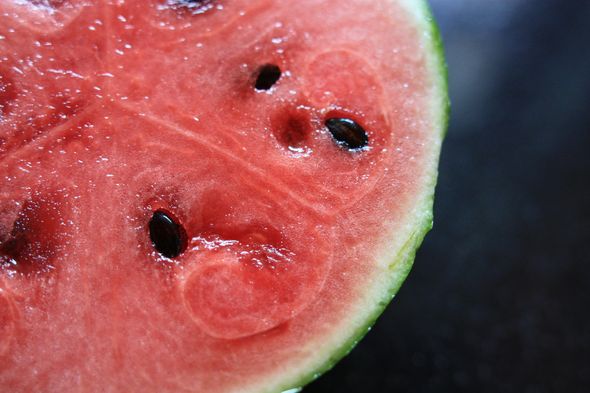 Photo | Kim Bayer
I may be late to the tomato water party, but I've got a new favorite beverage this summer based on the same concept: agua fresca. These lovely Mexican-inspired drinks are made from the "water" of cucumbers, melons and other fruit, and there's even a traditional recipe for a spaghetti squash agua fresca.
Agua fresca is different from a pulpy smoothie because the solids are usually strained out, leaving just the fruit-flavored taste of summer.
Since we don't have much in the way of really good and authentic Mexican restaurants in our area (in my humble opinion), these perfect summer beverages are hard to find. And as much as my husband loves the value proposition of $1 Taco Tuesdays, I know that if I want real Mexican food and drink, I'm probably going to have to make it myself. That's ok. These drinks practically make themselves.
Recently, the sight of a melon makes me think "Will it blend?" When it's aguas frescas that you need, the blender is a friend indeed.
In "The Food and Life of Oaxaca," Zarela Martinez discusses the interesting variety of traditional Mexican beverages, including corn-based atole and the "espuma" or foam-topped constellation of hot chocolates.
While those can be an acquired taste, for Americans, she says "easiest to embrace are the sweet, refreshing non-alcoholic cold drinks — "aguas frescas" or "cool waters" that restore body and soul in the tropical sun. ... The basis is usually fruit juice; however, there are aguas frescas made with fruit rind alone, herbs or even plants like alfalfa. When the drink is thickened with rice or ground nuts, the name is usually horchata and the liquid will be milky." So far, my favorite agua fresca is watermelon.
Photo | Kim Bayer
Happily, this has been a very good year for
melons
(and cucumbers). And right now it's high noon at the OK Corral of melons down at the Farmers' Market. Some of my favorite fruits have come from a new farm in our area.
Green Things Farm
is growing several varieties of sweet, sweet melons.

One is a "personal" size watermelon that Green Things Farmer, Jill Sweetman, told me is a variety called "Little Baby Flower."
Here's what I suggest you do with Little Baby Flower, or any other melon that crosses your path. Especially one that seems too sweet and ripe to eat with a fork:
Watermelon Agua Fresca
Cut in half, and separate flesh from rind (but no need to remove seeds)
Blend with 1/2 cup water (seeds will sink to the bottom)
Add 1 tablespoon lime juice, and/or 1 tablespoon honey (optional)
Strain and chill
Or, try a
Cucumber and Melon Agua Fresca




Put cucumber and melon chunks in blender (I used honeydew melon)


Add 4-8 basil leaves


Add juice of 1/2 lime


1-2 tablespoons of honey


Blend


Strain and chill. Serve over ice.



Serve with some amazing huitlacoche tacos. Or homemade tamales. Or birria de res. Or pork with salsa verde. And invite me for dinner.
Kim Bayer is a freelance writer and culinary researcher. Email her at kimbayer at gmail dot com.