Posted on
Wed, May 11, 2011 : 5:59 a.m.
Zingerman's Roadhouse chef Alex Young discusses James Beard award
By Jessica Webster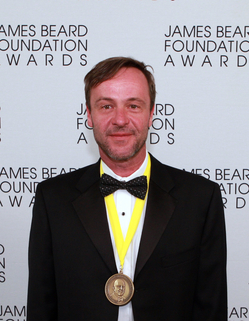 Photo courtesy of Zingerman's.
Zingerman's Roadhouse chef and owner Alex Young won his first James Beard Foundation Award at a ceremony in New York on Monday evening. AnnArbor.com caught up with Chef Alex by phone as he was driving home, with his family and his camper in tow.
AnnArbor.com: What does this mean to you personally and professionally?
Alex Young: Well, I have to say it's super exciting. I mean, you look at the other nominees, and it's just huge. I'm on cloud nine.
AnnArbor.com: Does it mean more after being nominated four times and not winning?
Alex Young: In some ways yes. It's like a weight was lifted off my shoulders. The first time or two, I was somewhat disappointed. You look at the competition, give yourself odds, go to New York with all your hopes and dreams. And yeah, it was disappointing. Of course it's an honor to just be nominated, and you always tell yourself that all the way home. But it's also really fun to win.
It's cool for the Roadhouse. When you look at the people who have won in the past, the kind of restaurants that win, this is a real confirmation for the big team we have here. I don't do this all alone. It's the whole team of the men and women who work at the Roadhouse.
When we didn't win the first few years, I told myself that I just had to work harder. And that's really what it's about in a restaurant. Always trying to do better.
AnnArbor.com: What do you think makes the Roadhouse special?
Alex Young: Well, we find traditional foods and do them right. We don't take shortcuts. Often, we do things the hard way. It's one of our core values.
Take our fried chicken. It's one of the most popular items on the menu. We've spent the last six months trying to make it better. People already really like it, but we've spent six months working out a slight seasoning adjustment to make it even better.
AnnArbor.com: I understand the whole family was with you in New York. Do your kids get what a big deal this win is for you?
Alex Young: Yes, I think they get it. Well, actually I am not even sure I get it yet. But yeah, they're in the restaurant as much as possible with me, and I think they understand that this is a big honor.
Jessica Webster leads the Food & Drink section for AnnArbor.com. You can reach her at JessicaWebster@AnnArbor.com.