Posted on
Thu, Dec 10, 2009 : 10:02 a.m.
Lovely weather to stay inside together with brews
By David Bardallis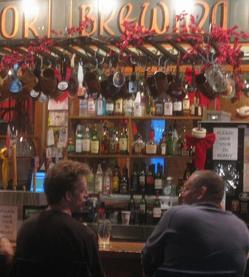 David Bardallis | Contributor
With snow and bitter cold officially here, keeping warm with some high-octane craft beer has never been more important. In fact, I can't imagine how anyone could even survive the winter without partaking of all the delicious bocks, dopplebocks, spiced Christmas ales, and other seasonal wonders that appear as magically as does Santa Claus this time of year. As usual, there are several notable opportunities to enjoy the riches of local (and even not-so-local) beer in the week ahead.
That's right, all you metaphorical kiddies, it's time for your latest, greatest Week in Beer.
Saturday, December 12 At 7pm, Arbor Brewing, 114 E. Washington, is tapping Old Cantankerous Ale, a malty but well balanced (50 IBUs) beer co-brewed in September by Ann Arbor gold medalist homebrewers Jeff and Susan Rankert at Sierra Nevada's Beer Camp in Chico, Calif. (For those unfamiliar, brewing at Sierra Nevada's pilot facility is a real honor, so congratulations to Jeff and Susan!) At 7.3% ABV, it's sure to warm even the Grinchiest heart (and gullet).
Monday, December 14 Big doings today at Jolly Pumpkin Café and Brewery, 311 S. Main. From 4-6pm downstairs is the release of the Maracaibo Especial, a rich brown ale "inspired by the enigmatic monastic brews of Belgium and the mysterious mist-shrouded jungles of the tropics." In more prosaic terms, the beer is brewed with cacao, cinnamon, and sweet orange peel. Brewer Ron Jeffries will be on hand to discuss the finer points of his latest creation.
Upstairs at the café, from 7-9pm, is a special beer auction to benefit Peace Neighborhood Center. Many rare, aged Jolly Pumpkin beers from the cellar of Ron Jeffries will be on the block, including bottles from the first batches ever of La Roja, Oro de Calabaza, and Luciernaga. Don't miss out on this chance to greatly enhance your beer cellar.
Decisions, decisions! At the same time over at 338 S. State is Ashley's Christmas Ale Bash featuring kegs and bottles of some truly top-notch holiday brew, including Delirium Noel, Great Lakes Christmas Ale, Petrus Winter Ale, St. Bernardus Christmas Ale, Gouden Carolus Noel, Bell's Christmas Ale, and Sierra Nevada Celebration Ale. Rumor has it both the 2008 and 2009 holiday collaboration Nøgne-Ø ales from Stone Brewing and Jolly Pumpkin (the latter named No. 9 in Wine Enthusiast's Top 25 Beer Selections of 2009) will be on hand as well. And to all a very, very good night.
Tuesday, December 15 At 6pm in Milan, Original Gravity, 440 County, is hosting a Winter Ale Release and Ugly Holiday Sweater Party. The Winter Ale is an amber brewed with honey, cinnamon sticks, orange peel, and crystallized ginger. If you wear your (or your dad's) ugliest holiday sweater, you get to try pints of the stuff for $3 each all night long. At 8pm, the person deigned to be wearing the ugliest sweater of all will receive a $50 Original Gravity gift card.
Wednesday, December 16 Arbor Brewing kicks off its annual Holiday Sale at 11:30am. All day, gift items (including clothing, glassware, mug club memberships, gift sets, gift cards, and carry-out beer) will be discounted anywhere from 10% to 50%. Plus while you shop, you can enjoy happy hour prices on all beers, including a special Honey Lavender Ale brewed just for the occasion. It sure beats going to the mall.
A similar deal begins over in Ypsi's Corner Brewery, 720 Norris, at 2pm, with merchandise marked down from 10% to 40% and a festive Rat Pad being tapped at 6pm and happy hour prices extended until 9pm.
Notes on the Napkin
Reminder 1: Tonight Original Gravity is showing the documentary Beer Wars as part of a fundraiser to benefit Pints for Prostates. See last week's Week in Beer for more details.
Reminder 2: Tonight is also Arbor Brewing's holiday beer tasting. Once again, last week's missive has the scoop.
Tha'ts all the brews fit to pint for your mid-December. Back next week with plenty more holiday hops and malty mayhem. Until next time, keep your beer cool and your body warm.
David Bardallis is a freelance writer and editor, blogger, bon vivant, and man about town. Visit his Web site, DavidBardallis.com, to engage his services or read his latest. Email your beer-related thoughts to annarborbeer@gmail.com.