Posted on
Thu, Apr 22, 2010 : 6:30 a.m.
An anthropological study, thanks to Gourmet Magazine
By Mary Bilyeu

As anyone who knows me or reads my posts can attest, I adore thrift shops. And I love to find unique and unusual items, rather than merely looking for jeans or sneakers or scarves. A light green Depression-era
Fiestaware
cup for 80¢ ... a $4 black denim jacket with a heart-shaped lace insert on the back ... a
Jewish cookbook written in French
... these are prizes.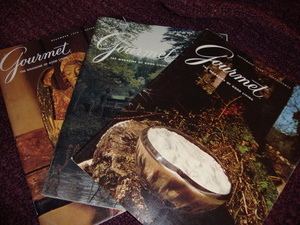 Mary Bilyeu, Contributor
And yet another treasure found recently at the
PTO Thrift Shop
was an assortment of old
Gourmet magazines
, ones nearly as old as I am!
Not only were they in nearly pristine condition, but they were only 50¢ apiece — the actual price of the copy from September, 1969. (The other two issues are from 1975 and 1979.) And they document a different era, a different time, seemingly an entirely different culture.
On the very first page of one issue, in the "Sugar and Spice" section featuring letters to the editor and reader-submitted recipes, an offering of Applesauce Cake was sent in by "Mrs. Bernard Maggin" of Rockville, Md., rather than Sandy or Anne or whatever-her-own-first-name-was Maggin.
The ads are also most entertaining. American Express called itself "The New Money" several decades ago. Godiva chocolates cost only $9.50 per pound, as opposed to their current price of $40. Hamilton Beach was singing the virtues of "the fool-proof food processor that even speaks metric," in case anyone was "worried about the new metric measurements" back in the days when we were all told that switching to that system was imminent. A 1976 Chrysler New Yorker Brougham is not only as big as my Suburban, but it proudly boasts that "Most every luxury is standard. Like power front disc brakes, power steering, and power windows" and even an "electronic digital clock." But I think my favorite is for the Kodak Ektasound gadgets. "Ektasound cameras don't need movie lights. All you do is drop a sound film cartridge into the camera. Plug in a mike. And put the sight and the sound of your holidays ... right on the film. Then you can relive it all in bright sound movies with your Kodak Ektasound movie projector!"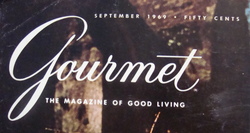 Mary Bilyeu, Contributor
Of course,
Gourmet magazine
is — sorry,
was
... some of us still can't believe it's gone — devoted to food. In 1975, there was an entire category in the Recipe Index for "Pâtés and Terrines." On page 58 of the copy from 1969, in the "You Asked For It" section in which readers can ask the magazine to hunt down recipes from their favorite restaurants, there is this quaint request: "Are you familiar with the hors d'oeuvre baba ghanouj, that thick oyster-colored cream made with aubergine, sesame oil and probably onion or garlic?" Of course, now you can find it at any grocery store! But when I was 6 years old, apparently baba ghanouj was quite the rarity.
My, how the times have changed!
Mary Bilyeu has won or placed in more than 60 cooking contests and writes about her adventures as she tries to win prizes, feeds hungry teenagers and other loved ones and generally just has fun in the kitchen. The phrase "You Should Only Be Happy" (written in Hebrew on the stone pictured next to the blog's title) comes from Deuteronomy 16:15 and is a wish for all her readers as they cook along with her ... may you always be happy here. You can contact Mary at yentamary@gmail.com or follow her on Twitter (twitter.com/foodfloozie). And look for her new food blog: foodfloozie.blogspot.com.