Posted on
Tue, Dec 6, 2011 : 10 a.m.
A gifting guide for the holidays: Eco-friendly and locally-made options abound
By Kim Bayer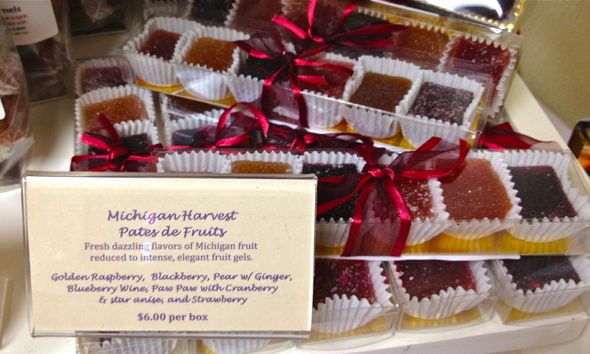 Kim Bayer | Contributor
The food you eat

and the wine you drink

are the landscape you create

— Bainbridge Island, Wash. Vineyard and Winery
If I've learned anything in the last couple of decades it's that mindless holiday shopping brings out my inner grinch. Now that the little kiddies in the family are grown and everyone's basics are provided for, I'd like to take holiday gift giving out of the realm of generic obligation and into the realm of the meaningful.
For sure it feels good if I can choose gifts the way I could ideally make food purchases — with some knowledge of who made it and how it was made, and a sense that neither the making nor what was made wreck the natural world or someone else's life. And it's a bonus if it's food-related too.
I know that I can't make my purchasing perfect. But I can use what I buy to vote for the kind of world I want to live in, and the world that I want for my family and friends. That intention is, I think, an aspect of caring. And it doesn't have to be expensive either.
Some of my favorite "mindful" gifts
Stone Cloud Gardens
Frankincense Soap

In addition to her market gardening, Marjie Johns makes beautiful handmade soaps that come in "flavors" like ginger-grapefruit, bay-cypress and lemon-eucalyptus. At Christmas she makes frankincense soap. She explained to me that frankincense, made from the resin of a hardy tree grown in the Middle East, was the first true incense — hence its name "frank incense."
How does she do it? Marjie's website says: "I practice bio-intensive mini-farming and cold-process soap making. My cultural practices are focused on becoming sustainable. I limit off-farm inputs and recycle everything I can. I have adopted the label ecologically grown to highlight my bond with other local farmers with whom I share this focus....We make handmade soaps, using natural essential oils, (aromatherapy), naturally grown herbs, saponified coconut, & olive oil, beeswax, and other ingredients. We then hand cut & stamp our homemade soap with our own unique symbols, and ship it fresh to you."
They cost $10 for three bars of soap at the Ann Arbor Farmers Market. Or online for $3.50 each.

-----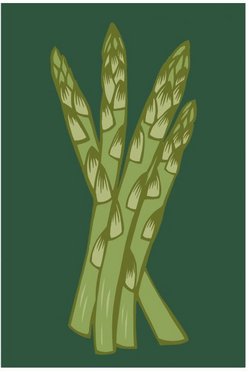 Photo | Melanie Boyle
Foods of Michigan Notecards and Native Plant Calendar
Melanie Boyle's
Clever Lotus
calendar and hand made notecards feature graceful and closely observed designs from nature that have the feel of woodblock prints. Her designs, based on the folk art of Chinese paper cuts, include a fruit and vegetable series of foods of Michigan with blueberries, asparagus, morels, rhubarb, pawpaw, cherry and more.
Melanie notes, "While studying traditional landscape painting in China in the early 1990s I discovered the folk art of Chinese paper cuts — red paper silhouettes created during the Lunar New Year celebration to bring fortune and happiness to a home. I have adapted this technique in a way that combines my graphic sensibility, cultural heritage and an appreciation for the beauty of form and pattern in the natural world."
Her calendar "celebrates perennials and trees native to the Great Lakes region. The plants featured in this year's calendar are: Virgin's Bower, Eastern Juniper, Wintergreen, Redbud, Northern Maidenhair Fern, Shooting Star, Spiderwort, Splatterdock, Aster, Witch Hazel, Switchgrass, Highbush Cranberry."
Order online, or find the notecards at Everyday Wines, Ann Arbor Art Center, Downtown Home and Garden, or Matthaei Botanical Gardens.

-----

At Sweet Gem Confections
Nancy Biehn is an artist whose medium involves sugar, and more specifically chocolate. The tiny "studio" where Nancy teaches and turns out handmade chocolate and other treats is located inside the Morgan and York store on Packard.
According to her website: "The very best cacao comes from chocolatiers who are deeply connected with the growing, harvesting, fermenting, drying and roasting processes. These dedicated chocolatiers transform the cacao beans into the base chocolate used in our exclusive recipes…..Our truffles are created and inspired by the natural flavors of the seasons, as well as by your suggestions and feedback. Our expertise lies in enhancing the already amazing flavors of expertly created chocolate with infusions made from local, organic, farm-fresh cream and butter...fresh local fruits and herbs... exotic teas and spices... and choice spirits from around the world."
Many of Nancy's chocolates are infused with local flavors — like lavender, mint, or raspberries that she picks herself. But this year, she made something I'd only seen before in Paris, the absolute essence of summer, called "pate de fruit." Made from Michigan fruits — including blackberry, golden raspberry, pear with ginger, pawpaw with cranberry and star anise, strawberry and blueberry wine — eating one of these small jellied squares is like being punched in the mouth with concentrated fruit flavor. Sold for $6 for a box of six, they are so good!
Nancy also offers classes in Chocolate Making 101. In a two and a half-hour class, you learn how to temper chocolate, make ganache, and hand-dip truffles. Then you take home two dozen truffles and all the recipes, for $75.

-----

For her Locavorious Frozen Food CSA from the spring through the fall, Rena Basch and her kitchen crew take food from our local farms and process it by hand, in small batches, for your freezer. The Locavorious frozen food CSA includes strawberries, sugar snap peas, rhubarb and asparagus, sweet corn, cranberries and blueberries, tomatoes and squash. New this year — organic tart cherries from up north. You'll receive about 28 packages of different foods in four distributions.
Rena steam blanches to preserve the nutritional content and taste. She packages the produce in re-sealable bags and stores them at a commercial-grade freezer (way below zero) until distribution. The taste will make you think of summer — it is unbelievably better than the white packages in the freezer section at the grocery store, and it supports local farms.
You can sign up for the CSA online for $200. Pick up is at Morgan and York, the Ann Arbor Farmers Market or Corner Brewery.

-----

Food Gatherers
Two years ago one in eight Michigan residents was eligible for food assistance. Today one in six is eligible. Couples can make a donation to Food Gatherers of up to $400 (you can make it in someone's name for a gift), and also receive a tax credits that results in a total cost of $56. Food Gatherers gets the benefit of $400 to buy food for people in need; you get the benefit of knowing that you helped feed a family of four for two months, and it only cost you $56.

-----

Tammy's Tastings 2011 Holiday Treats Collection
Tammy is one of Ann Arbor's best cooks, mixologists, and bon vivants. She offers incredible, seasonal 8-course dinners at her home to raise money for worthy non-profits through her TT Supperclub. And in her spare time(!!) she makes amazing holiday treats. She's just back from a food tour of Italy. Do not fail to get some of these!
She says: "This year's collection of my signature filled chocolate bonbons features the following four flavors: yuzu, ginger, salty bourbon caramel, and chai. They're available in three different size boxes. In addition to the bonbons I'm offering two kinds of bark - bacon & smoked almond in milk chocolate, and pecan & dried cherry in dark chocolate. For coffee lovers, there's my Pick Me Up bar, available on its own or in gift pack with a bag of coffee from Zingerman's Coffee Company. And what would hot chocolate by the fire be without my peppermint marshmallows? Last but not least, luscious cinnamon almond caramels for those who like like their sweets without any chocolate. Orders will be available for shipping or pickup beginning December 4, but you can specify a date if you'd like to receive your items later in the month."

-----


Other Favorites (in no particular order)

People's Food Coop
Food for Thought Jam
Tasty Bakery
Gluten-free donuts, cutout cookies, pumpkin pie, and chestnut thumbprint cookies for the holidays. "Tasty offers high-quality, gluten-free artisan baked goods that are indiscernible from any high-end glutinous baked goods. As a person with Celiac Disease and a tremendous love for excellent food, I make everything with you, and me, in mind! Because it is very important to me, everything is made to order by hand in small batches, using natural and organic, local and fair-trade ingredients whenever possible, no preservatives, and the packaging is compostable."
Miette Sweets
Homemade Dark Chocolate Nutella
Mill Pond Bread
Lebkuchen, stollen, schnitzbrot
Community Farm of Ann Arbor
Cookbook and holiday wreaths
Bernie Bee - Beeswax candles
Michigan Chestnut Growers Inc - Chestnut flour
Project Grow Seeds $2.50 per package
Ann Arbor Cooks Classes and Gift Certificates from
$5-$1,000
Kim Bayer is a freelance writer and culinary researcher. She would love any news about interesting local food and agriculture efforts. Email her at kimbayer at gmail dot com.