Posted on
Wed, Aug 17, 2011 : 8 a.m.
Angel Hair Pasta with Purple Basil as flavorful as it is colorful
By Mary Bilyeu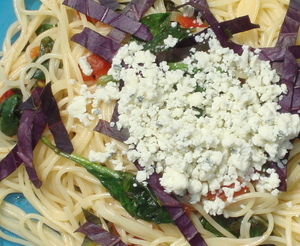 Mary Bilyeu, Contributor
Okay, once again I'm going to seem pretentious. But Tom and I made a fabulous pasta dish over the weekend, and simply calling it "Angel Hair Pasta with Purple Basil" does not begin to do it justice! It deserves its beautiful, lyrical Italian name: Capelli d'Angelo con Basilico Viola. [kah-PAY-lee DAHN-jel-OH kohn bah-SEEL-ee-koh vee-OHL-uh]
Such simplicity — beautiful tomatoes and deeply violet-colored basil from the farmers' market, some contrasting color from baby spinach leaves, the depth of flavor from the Gorgonzola... sigh. It doesn't take anything very complicated to make a spectacular meal, just exceptional ingredients.
There was no grand plan for this dish; while perusing the bounty at the Farmers Market on Saturday, we found a gorgeous bouquet of purple basil. It cost $1... well, how could we refuse? We didn't know what we'd do with it, but there had to be something it could work with.
A few other items were thrown into the mix, and there was lunch — a lovely light meal featuring summer produce, colorful and immensely flavorful!
Angel Hair Pasta with Purple Basil
8 ounces angel hair pasta, cooked according to package directions
2 tablespoons oil
1 small garlic clove, minced
1/2 teaspoon sea salt
1/4 teaspoon freshly ground pepper
1/2 teaspoon Italian seasoning (i.e. Mrs. Dash)
1 large tomato, chopped
2 cups baby spinach leaves
1/4 cup purple basil leaves, cut into fine strips
1/2 cup crumbled Gorgonzola
While pasta is cooking, heat oil in a small saucepan over medium heat. Add garlic and saute for 1 minute. Add salt, pepper, Italian seasoning, and tomato; cook until the tomatoes produce some juice, then add spinach and cook just until wilted. Stir vegetables into pasta, and place onto a serving platter.
Sprinkle basil over the pasta, then top with the Gorgonzola.
Serves 2-4.

Mary Bilyeu has won or placed in more than 60 cooking contests and writes about her adventures in the kitchen. She was thrilled to have her post about Scottish Oatmeal Shortbread named as one of the daily "Best of the Blogs" by the prestigious Food News Journal.
Go visit Mary's blog — Food Floozie — on which she enthuses and effuses over all things food-related. Her newest feature is Frugal Floozie Friday, seeking fun and food for $5 or less ... really! Feel free to email her with questions or comments or suggestions: yentamary@gmail.com.
The phrase "You Should Only Be Happy" (written in Hebrew on the stone pictured in this post) comes from Deuteronomy 16:15 and is a wish for all her readers as they cook along with her ... may you always be happy here.