Posted on
Thu, Jul 26, 2012 : 10:30 a.m.
Banh mi, the Vietnamese sandwich that took New York by storm, arrives in Ann Arbor
By Jessica Webster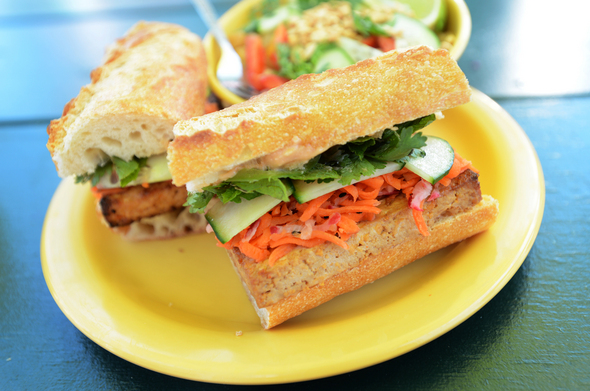 Melanie Maxwell | AnnArbor.com
I've fallen in love with a sandwich. It started with a photograph, something I saw on one of those
food porn
sites I surf. I walked around showing the photo to my friends and coworkers.
"Where can I get one of these? I must have this sandwich!"
It was a banh mi — a Vietnamese sandwich, prepared on a crusty baguette and filled with a delicious mix of crunchy pickled vegetables, meats or tofu, cucumber and jalapeno slices and cilantro. It's fresh, a little spicy and delicious. It's one of the most popular sandwiches in New York, but there wasn't one to be had anywhere near here.
And then, suddenly, there was a banh mi revolution.
The Lunch Room, a food cart in the Mark's Carts courtyard (211 W. Washington) operated by Phillis Engelbert and Joel Panozzo, fired the first shot. The idea was Panozzo's — he had tasted his first banh mi on a youthful backpacking trip through France.
"I said to myself: 'What is this sandwich?' I've been trying to replicate it ever since," remembered Panozzo.
Panozzo and Engelbert spent the cart's off-season perfecting the recipe and debuted it once summer hit.
"Banh mi feels like a summer sandwich," said Engelbert. "So we waited for the perfect weather to roll it out, once it was too hot for chili and some of our cooler-weather menu items."
The Lunch Room's banh mi is a delight. Tofu is marinated in a sesame ginger garlic marinade and roasted to a surprisingly (for this tofu-skeptic) palatable texture, and then layered on a Zingerman's baguette with veggies and a tangy garlic vegan mayonnaise.
Shortly after The Lunch Room launched their sandwich, tofu banh mi sandwiches started popping up all over town. Seva was serving a seitan (a wheat-based meat substitute) version for a few weeks. Blue Tractor (207 East Washington) has a sandwich advertised as a smoked tofu hoagie — kind of a mustard barbecue version of the banh mi. And Sava's (216 South State) recently added one too.
"We were looking for a new vegetarian menu item," said Sava's bar manager, Chene Pena. "I'm from Chicago, in a neighborhood with a lot of Vietnamese immigrants, and I've always loved the sandwich."
Pena says the sandwich has done well since they started serving it.
"It's quite popular with both vegetarians and carnivores."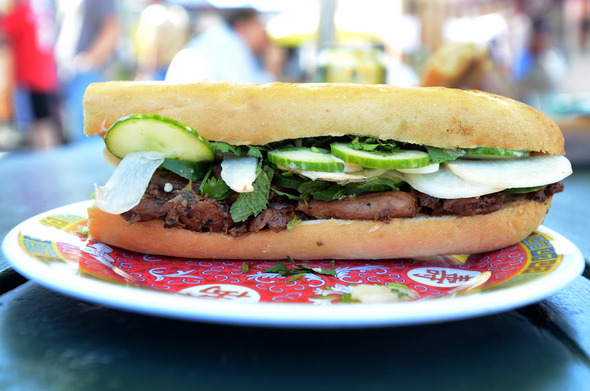 Melanie Maxwell | AnnArbor.com
Tofu banh mi is only one of several options available at San Street, a food cart at Mark's Carts (211 W. Washington). With a specialty in Asian street food and a brisk business in steamed buns already going strong, adding a Vietnamese classic seemed like a no-brainer to San Street cofounder Ji Hye Kim.
"I actually always wanted to have banh mi on the menu," explained Kim. "And the response has been very positive."
The banh mi are offered with the same rotating selection of fillings as San Street's steamed buns, including Berkshire pork belly, tofu, mushrooms, beef brisket and marinated chicken. All of the sandwiches are topped with quick-pickled (from scratch) vegetables and fresh, locally sourced herbs.
"For me, a banh mi is all about crunch and texture," said Kim.
Diversifying the menu has had an unexpected added bonus for Kim.
"The steamed buns are all made from scratch, and making all those buns every day was kind of killing my back. It's good to have some relief."
Ypsi is rocking the banh mi these days too. Bona Sera, a former "underground supper club" that has now opened a delicious public restaurant at 200 W. Michigan Ave. in Ypsilanti, recently launched their menu with a selection of five banh mi sandwiches.
"We mess ours up a bit," says cofounder Annette "Bad Fairy" Weathers. "We get a little fusiony."
When putting together their menu, Weathers says that she and her cofounder (who is known only by her moniker: "Wonder Woman") noticed that there weren't any banh mi available in Ann Arbor or Ypsilanti. So they set out to rectify the situation.
"We put a twist on it, though," says Weathers. "Ours aren't served on a French crusty loaf. Instead, we have a kind of sweet steamed white bun specifically made for our sandwiches."
A lot of thought went into building each of the banh mi choices on the menu. The porchetta banh mi is topped with an apple fennel slaw and cilantro fennel vinaigrette. The cheese banh mi has tomato and sriracha mayonnaise. Banh mi are also available with tofu, tom yum shrimp or chicken.
With all these choices springing up in just the past month, I no longer have to pine for the unattainable banh mi. In fact, you might say I've developed something akin to an addiction. But if loving banh mi is wrong, I don't want to be right.
Jessica Webster leads the Food & Grocery section for AnnArbor.com. You can reach her at JessicaWebster@AnnArbor.com.