Posted on
Mon, Dec 26, 2011 : 8 a.m.
Red chorizo chili dish might inspire you to enter Ann Arbor Civic Theatre chili cook-off
By Mary Bilyeu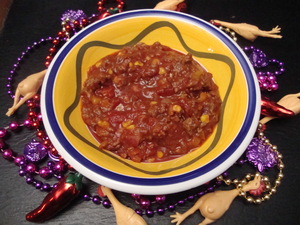 Mary Bilyeu | Contributor
Come join the frivolity at the Ann Arbor Civic Theatre's annual Chili Cook-Off! It's being held on Sunday, Feb. 12 from noon-3 p.m. at the Corner Brewery in Ypsilanti. They're looking for more participants, and now is the time to sign up if you'd like to be a competitor.
This is one of the best events I go to, with lots of food, fun, festivity, a bit of foolishness... and beer! Chili and beer — what else do you need on a cold winter afternoon?
So register to bring a large pot of your very best chili, as well as some festive decor for your table (I used mardi gras beads strung with rubber chickens last year) and compete with the best chili artisans we have to offer in this area.
Come show off for the judges... 'cause I'm one of them!
Show me what you've got! Vegetarian chili with lots of vegetables? Chili made with beans or without — the never-ending debate? Chili made with chicken or pork? Chili that will sear my lipstick off? Chili that's thick enough to eat off a corn chip? Chili with a secret ingredient? C'mon — bring it!
If you'd like to get registered as a contestant, email Suzi at manager@a2ct.org. She's wonderful — she'll offer you a hearty welcome and send you all the information you need.
If you're not up for the challenge of competing but want to attend, mingle and schmooze, you're more than welcome. You can come to the cook-off and buy samples to support the cause, but there's no need to make reservations for that part. Just be sure you put it on your calendar now, so you don't forget.
The Cook-Off is loud and it's lots of fun — go email Suzi and get registered!
And in the meantime, here's a great recipe to warm you on a cold evening and inspire your own visions of award-winning chili. Jeremy thinks it's the best chili I've ever made; good thing I'm judging this year and not competing with this entry, huh?
Red Chorizo Chili
1/4 pound fresh chorizo
3/4 pound ground beef
1 small yellow pepper, chopped
1 small red onion, chopped
1 small yellow onion, chopped
2 large green onions, chopped
1/2 cup corn kernels
1/4 teaspoon red pepper flakes
2 teaspoons chili powder
1-1/2 teaspoons cumin seed
1 tablespoon kosher salt
3 ounces tomato paste
6 ounces chili sauce
1 14.5-ounce can diced tomatoes with chilies
generous splashes cayenne pepper sauce
1/2 cup beer
miscellaneous accompaniments (sour cream, cheese, corn chips, etc.)
In a large saucepan, brown the chorizo and ground beef over medium heat; drain, then return to saucepan. Add yellow pepper, all 3 types of onions, corn, red pepper flakes, chili powder, cumin seed and salt; cook for 10 minutes, stirring occasionally. Stir in the tomato paste. Add the remaining ingredients, bring to a boil, then cover and turn heat down to medium-low; cook for 20 minutes.
The chili is great served immediately, but — of course! — it's even better if you can wait a day or so to let the flavors blend.
Serves 4-6.

Mary Bilyeu has won or placed in more than 60 cooking contests and writes about her adventures in the kitchen. She was thrilled to have her post about Scottish Oatmeal Shortbread named as one of the daily "Best of the Blogs" by the prestigious Food News Journal.
Go visit Mary's blog — Food Floozie — on which she enthuses and effuses over all things food-related. Feel free to email her with questions or comments or suggestions: yentamary@gmail.com.
The phrase "You Should Only Be Happy" (written in Hebrew on the stone pictured in this post) comes from Deuteronomy 16:15 and is a wish for all her readers as they cook along with her ... may you always be happy here.