Posted on
Wed, Jul 10, 2013 : 8 a.m.
Ann Arbor Civic Theatre's Pie Bake-Off highlights extraordinary local bakers
By Mary Bilyeu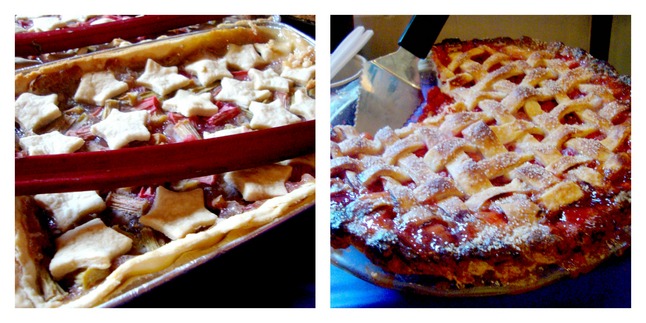 Is there a better way to spend a summer afternoon than eating pie?
The Ann Arbor Civic Theatre held its first annual Pie Bake-Off recently, and I was honored and thrilled to join Theresa Rickloff of Beezy's Cafe and Riki Tiki Pies and Janice Leach of Why Not Pie? as a judge for this fun and fabulous event. It was held at Wolverine State Brewing Co., which is always such a gracious host to guests.
People are often envious of me when I get a judging gig, not realizing that it isn't only about eating amazing food; it's a really hard job. Theresa, Janice, and I debated crusts and fillings, spices and sugar, flakiness and flavor... every little nuance you can imagine. It's not just about the sugar rush, especially when so many eager contestants have offered us their highest hopes and their very best recipes. Judging is a responsibility, although admittedly a delicious one!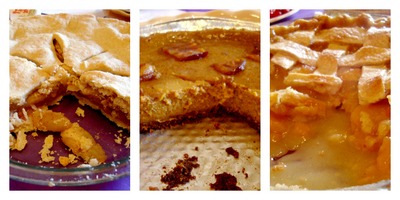 Mary Bilyeu | Contributor
Each pie had a special touch, a little something extra to take it beyond the mere ordinary:
Apple Pie with Nutmeg Crust from Amanda Barnett: The crust reminded me of shortbread, which is one of my favorite treats. Spices are usually reserved for the filling, so it was distinctive to add a bit of nutmeg to the crust, as well.
Ba Ba Ba Rhubarb Pie from Thom (TJ) Johnson: No fear of the lard! And no strawberries or orange, which are often added to rhubarb. This showed respect for the ingredient, letting it shine rather than treating it as something deficient that needs to be masked because it's too tart.
Dreamy Peaches and Cream Pie from Heather Wing: A beautiful pie with a woven lattice crust and also crimped edges. The accompanying whipped cream was a rich complement to the sweetness of the fruit.
Honeyed Stone Fruit Pie from Jackie Giletto: The filling included touches of honey and balsamic vinegar, which didn't announce their presence but rather nudged forth the complex flavors of the peaches and plums.
"Ma Cherie" Cherry Pie from Rob Roy: Filled with hand-pitted cherries fresh from the farmers' market, this one showed off a beautifully woven lattice crust more intricate than the 4-strip ones I make. The crust recipe came from Rob's grandmother and dates to the 1890s.
Pumpkin Pie (with or without bacon) from Andrew Freddo: This creamy pie was topped with bacon, if desired, to offer a sweet-salty contrast ... and, of course, I desired! And the crust wasn't made of mere graham crackers, but rather gingersnaps for extra flavor.
Sweet Potato Pie from Cami Ross: With gorgeous, vibrant color, this pie was much lighter than traditional versions. And it featured not only buttermilk, which enriched the filling, but the ingredient list also included "love."
Mary Bilyeu | Contributor
But now, to announce the winners ... drum roll: TJ's rhubarb pie won the judges' hearts, and Rob Roy's cherry pie earned the People's Choice Award.
Nico Duca, of Achatz Handmade Pie Company, also joined in the celebration by serving samples of lovely Michigan 4-Berry and Double-Crust Apple pies.
As I looked out across the room, I saw people who were chatting, smiling, laughing. Happy people — friends, family members — enjoying the flavors and beauty of handmade, homemade pies.
Really, it was a perfect way to spend a summer afternoon.

Mary Bilyeu - a self-proclaimed Food Floozie (named for her blog, which is taking a summer vacation) - writes for AnnArbor.com on Tuesdays, Wednesdays, and Fridays, telling about her adventures in the kitchen. She is also on a mission to find great deals for her Frugal Floozie Friday posts, seeking fabulous food at restaurants on the limited budget of only $5 per person. Feel free to email her with questions, comments, or suggestions: yentamary@gmail.com.

The phrase "You Should Only Be Happy" (written in Hebrew on the stone pictured in this post) comes from Deuteronomy 16:15 and is a wish for all her readers - when you come to visit here, may you always be happy.