Posted on
Wed, Feb 20, 2013 : 5:55 a.m.
Ann Arbor company releases happy hour iPhone app
By Jessica Webster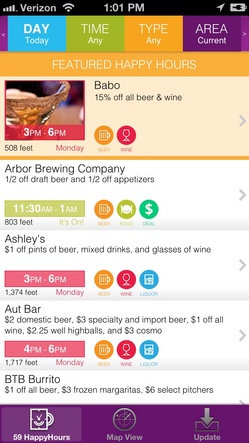 Planning a post-work drink with friends, but not sure which area bar or restaurant has the best
happy hour
deals? There's an app for that, and a local entrepreneur is behind it.
Tom Crawford, owner of Visualization Network, says he developed his new Happy Hour iOS app when he found himself scrambling for information about area happy hours.
"If this is a problem I am having, I need to come up with a solution," Crawford said in a phone interview.
When it launched on Friday, the Happy Hour app covered the downtown areas of six of the most walkable cities in southeast Michigan, said Crawford, but there are more to come.
"We started with Ann Arbor, Ypsilanti, Detroit, Royal Oak, Ferndale and Birmingham because there are so many bars you can walk to," said Crawford. "A city like Westland has amazing bars, but you have to drive to them."
Crawford hopes to branch out in circles from Detroit, eventually adding cities in Ohio and beyond.
"We're already wrapping up the research today on Kalamazoo and Lansing/East Lansing. Those will be added this week if everything goes well. Rochester and Troy will come after that."
Rather than relying on Yelp or other sites, Crawford has a team of three people calling bars and restaurants directly.
"The reality of this data is that it doesn't exist anywhere in one central place," said Crawford. "We are actually hand calling every location. It's a very time-intensive and labor-heavy process, but it's the only way to get reliable information."
The app is free to users; Visualization Network covers costs by selling featured listings. Sava and Babo were the company's first advertisers in Ann Arbor.
Jessica Webster leads the Food & Grocery section for AnnArbor.com. Reach her at JessicaWebster@annarbor.com. You also can follow her on Twitter or subscribe to AnnArbor.com's email newsletters.