Posted on
Fri, Oct 28, 2011 : 10:35 a.m.
Ann Arbor food and drink calendar
By AnnArbor.com Staff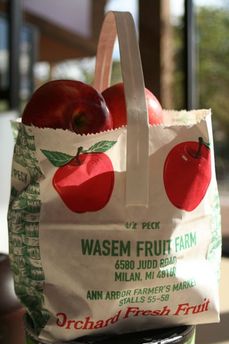 Jessica Webster | AnnArbor.com
Today
Cin-ful Cinnamon Rolls. 1-5 p.m. Zingerman's Bakehouse, 3711 Plaza Drive, Ann Arbor. Learn the basic techniques of creating sweet dough and form hand-shaped cinnamon rolls to take home. You'll leave with the recipe, dough to bake at home and a dozen cinnamon rolls you made in class. $125. Register at www.bakewithzing.com.
Oktoberfest Dinner. 4:30 p.m. Saline Area Senior Center, 7190 N. Maple Road, Saline. A meal with German food and music by The German Band, an offshoot of the local senior band New Horizons Band. $8. 734-429-9274.
Crispin Cider tasting. 6-7 p.m. Cranbrook Whole Foods, 990 W. Eisenhower Parkway, Ann Arbor, at the wine bar. Hard cider tasting led by a Crispin representative. $6. 734-997-7500.
Halloween Party in the Courtyard. 7-9 p.m. Mark's Carts, Food Cart Courtyard, 211 W. Washington St., Ann Arbor. Electronic-pop-dance music by Charlie Slick and the Thunda Clap. Features a campfire, marshmallow roasting, costumes and trick-or-treating. Hot foods and drinks will be available from the carts. The event has fun for the whole family. No admission charge. 734-213-7482.
Chef's Table. 7-10 p.m. Ann Arbor Cooks, 5060 Jackson Road, Ann Arbor. An interactive evening where we do the cooking right in front of you with the area's finest local ingredients, sourced from our local farms and markets.. You will receive a recipe packet to take home with you detailing the evening's entire menu. Menu: Braised Pork Belly with Stuffed, Roasted Petite Apple on a Bed of Root Vegetable Puree and Cider Jus Duck Confit and Parsnip Risotto with Sage-Garlic Brown Butter served with seasonal local vegetables, Darkest Chocolate Crepe Cake. You are welcome to bring wine to accompany your meal. $50. 734-645-1030.
Saturday
Pancake Breakfast to Support Ypsilanti Meals on Wheels. 9-11 a.m. Sanctuary at St. Joseph's Village, 5341 McAuley Drive, Ypsilanti. Support Ypsilanti Meals on Wheels (YMOW) while eating a good pancake breakfast. $10. 734-712-1600.

Sunday
Thankgiving Desserts: Classic & Contemporary. 1-5 p.m. Ann Arbor Cooks, 5060 Jackson Road, Ann Arbor. This class meets consecutive Sunday afternoons, Oct. 30 and Nov. 6. The first class will teach you the art of the pie crust followed by making the old classics that everyone loves - pumpkin pie, peacan pie and apple pie. The second class will focus on new Thanksgiving desserts such as Cranberry Maple Pudding Cake and Apple Dumplings filled with Raspberry Preserves, Cinnamon and Walnuts. $130. 734-645-1030.
Fermentation Workshop: Learn to Brine with The Brinery! 1-3 p.m. Pittsfield Grange, 3337 Ann Arbor-Saline Road, Ann Arbor. David Klingenberger of The Grange is back to bring you the secrets of the ancient art of lacto-fermentation at this hands-on workshop. $15 fee includes all materials needed. outreach@peoplesfood.coop or 734-994-4589.
Vegetarian Irish Cuisine with Rita Conroy-Martin. 1-2 p.m. Hollander's, 401 N. Fourth Ave., Kerrytown Shops, Ann Arbor. Learn to make an authentic Irish aubergine (eggplant), potato and fennel stew with red wine, thyme and chilies, and served with goats cheese gougeres. $16. 734-741-7531.
Tours of the Creamery. 2 p.m. Zingerman's Creamery, 3723 Plaza Drive, Ann Arbor. Cheesemaker and managing partner John Loomis gives the inside scoop on how they make artisan cheeses and old-fashioned gelato. $5. 734-929-0500.
Monday
Baking with Pumpkin. 7 p.m. Cranbrook Whole Foods, 990 W. Eisenhower Parkway, Ann Arbor. Our bakery team members will demonstrate how to make pumpkin scones, cake and bread. $10. Stop by the customer service desk or call 734-997-7500.
Milan Senior Nutrition Program. 11:45 a.m. Milan Senior & Community Activity Center, 45 Neckel Court. A nutritionally balanced meal offered on Mondays, Tuesdays and Thursdays. Suggested donation of $2.50 for anyone who is 60 years or older and a fee of $5 for anyone under the age of 60. 48-hour advance reservations. Call or stop by the office. 734-439-1549.
Tuesday
Mini Mambo Italiano: Italian Breads. 5:30-9:30 p.m. Zingerman's Bakehouse, 3711 Plaza Drive, Ann Arbor. We'll make ciabatta from Puglia, and focaccia from Genoa. You'll leave with the knowledge to make these breads at home, two recipes and five loaves of bread you made in class. $100. Register at www.bakewithzing.com.
Tasty Fall Side Dishes with Marge Biancke. Noon-1 p.m. Hollander's. 401 N. Fourth Ave., in the Kerrytown Shops, Ann Arbor. Learn to make Finnish cauliflower, a harvest salad, couscous with cherries and pecans, carrots with sage and green beans with citrus butter to spruce up your entrees. $16. 734-741-7531.
An Introduction to Classic Wines. 6:30-9:30 p.m. Washtenaw Community College, Morris Lawrence Building, 4800 E. Huron Drive, Ann Arbor. This class will introduce you to the classic wine styles of Europe, the origin of all modern grapevines. We'll discuss wine terms, grape varieties, and winemaking, and we'll taste and discuss specific wines. $75. www.wccnet.edu/lifelong-learning.
Michigan Autumn Dinner with Bill Loomis. 6:30-8:30 p.m. Ann Arbor Whole Foods, 3135 Washtenaw Ave. Start with an appetizer made with Pinconning cheese, followed with a cream of wild mushroom soup and a pear Salad with mixed greens. The main event is a delicious Hemmingway pan-fried trout and for dessert, a honeycrisp apple tart. $39. www.aareced.com.
Lunch is Served. Noon-1 p.m. Turner Senior Resource Center, 2401 Plymouth Road, Ann Arbor. Repeats every Tuesday and Friday. Reservations are required with two days prior notice. Suggested donation for those over 60 years of age is $2.50, for all others, $5. Call 734-998-9353 for reservations.
Wednesday
Culinary Bootcamp II. 6-10 p.m. Ann Arbor Cooks, 5060 Jackson Road, Ann Arbor. This is a three-class intensive journey taking what was previously learned in Bootcamp I to the next level. We're going to expand on what you've already learned, add to it some basic butchery skills, talk a lot about flavors, textures, and plating. Culinary Bootcamp I is a prerequisite - no exceptions. Class dates are Nov. 2, 9 and 16. $300 per person for three sessions. 734-645-1030.
Zingerman's Annual Holiday Cocktail Party. 5:30-8:30 p.m. Zingerman's Events on 4th space, 415 N. Fifth Ave., Ann Arbor. Get in the holiday spirit with Zingerman's Catering. A cash bar will be available, featuring beer, wine and signature cocktails. All proceeds benefit C.S.Mott Children's Hospital. $20 suggested donation. www.zingermansdeli.com.
Wednesday Wine Tasting. 6:30 p.m. Paesano's Italian Restaurant , 3411 Washtenaw Ave., Ann Arbor. Sample five up and coming Italian wines, accompanied by appetizers. $25. www.paesanosannarbor.com.
Nov. 3
Savor: A Chelsea Community Kitchen Event - Local Wine & Food Tour. 11 a.m.-4 p.m. First United Methodist Church of Chelsea, 128 Park St., Chelsea. Fundraiser for Chelsea Community Kitchen. Get a tour of Sandhill Crane Vineyard, Lone Oak Vineyard Estate and Mill Pond Bread whose specialties will be paired with Cherry Creek wines - all located in the nearby Waterloo State Recreation Area. Six-passenger vans will leave the Park Street parking lot with two vans at a time visiting each site to enjoy a peek behind the scenes, wine tasting and snacks featuring local ingredients. $100 for a basic tour, $150 for the premium tour. www.chelseacommunitykitchen.org.
Coney Dog and Root Beer Float Night. 5-8 p.m. American Legion Post #419, 9807 Whitewood Road, Pinckney. $1. 734- 878-9522 or 734-341-4249.
(un)Corked Wine Tasting: Riesling RUCKUS! 7:30 p.m. Alley Bar, 112 W. Liberty St., Ann Arbor. Riesling has made a home in many different regions of the world and hosts Andrew Gorsuch and Jorge Lopez Chavez will bring four distinctive examples of dry wines and maybe one sweeter one to capture the contrast. $10 fee includes a sampling of five wines. 734-662-8757.
Thursday Night Rush Hour Relief at the Wine Bar. 5-8:30 p.m. Cranbrook Whole Foods, 990 W. Eisenhower Parkway, Ann Arbor. An exploration of wine, cheese and appetizers. This week's topic: California Chardonnay. $17.
To submit events for this calendar, e-mail calendar@annarbor.com.