Posted on
Thu, Nov 17, 2011 : 12:48 p.m.
Ann Arbor food and drink calendar
By AnnArbor.com Staff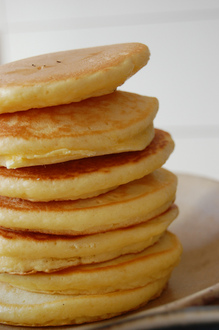 Photo by Flickr user potaufeu
Today
Pancake Supper: Ann Arbor Pack 5 Cub Scouts Fund-Raiser. 5:30-7:30 p.m. Eberwhite Elementary School gym, 800 Soule, Ann Arbor. All-you-can-eat pancake supper. Bring nonperishable food items to donate to local charities. $8 for adults, $5 for kids, $25 for a family ticket. 734-693-4506.
Jump & Jambalaya: Music Under the Arch. 6:30-9:30 p.m. Stone Arch Arts & Events, 117 S. Ann Arbor St., Saline. Dancing to live music by the local classic rock quartet The Fun Guys. Food from Mac's Acadian Seafood. Bring your own drinks. $20-$50. 734-657-5428.
Fall Soups & Stews. 6:30-9:30 p.m. Ann Arbor Cooks, 5060 Jackson Road, Ann Arbor. This class will introduce or refine your soup and stew-making skills. $65. 734-645-1030.
Thursday Night Rush Hour Relief at the Wine Bar. 5-8:30 p.m. Cranbrook Whole Foods, 990 W. Eisenhower Parkway, Ann Arbor. An exploration of wine, cheese and appetizers. This week's topic: Wines for the Thanksgiving table. $17. 734-977-7500.
Coney Dog and Root Beer Float Night. 5-8 p.m. American Legion Post #419, 9807 Whitewood Road, Pinckney. $1. 734- 878-9522 or 734-341-4249.
The Monthly Slurps. 5-7 p.m. Spotted Dog Winery, 108 E. Michigan Ave., Saline. Stop in for an after-hours wine and food event. www.spotteddogwinery.com.
Friday
Holiday Coffee Tasting. 1-3 p.m. Zingerman's Coffee Co., 3723 Plaza Drive, Ann Arbor. Managing partners Allen Leibowitz and Steve Mangigian offer taste samples and discuss a few of its coffees and demonstrate different brewing devices. Free, but reservations are requested at 734-929-6060.
Italian Style Sauteed Duck Breasts with Francesca Giarraffa. 4-5:30 p.m. Hollander's, 410 N. Fourth Ave., Kerrytown Shops, Ann Arbor. This class features duck breasts sautéed in a white wine, truffle oil, herb sauce, served with homemade polenta and a seasonal salad. $25. 734-741-7531.
Chef's Table. 7-10 p.m. Ann Arbor Cooks, 5060 Jackson Road, Ann Arbor. An interactive evening where we do the cooking right in front of you with the area's finest local ingredients, sourced from our local farms and markets. You will receive a recipe packet to take home with you detailing the evening's entire menu. Menu: Braised Pork Belly with Stuffed, Roasted Petite Apple on a Bed of Root Vegetable Puree and Cider Jus Duck Confit and Parsnip Risotto with Sage-Garlic Brown Butter served with seasonal local vegetables, Darkest Chocolate Crepe Cake. You are welcome to bring wine to enjoy with your meal. $50. 734-645-1030.
Beer tasting: Bell's Brewery. 5-7 p.m. Cranbrook Whole Foods, 990 W. Eisenhower Parkway, Ann Arbor, at the wine bar. Pricing varies; usually $6 for six tastes. 734-997-7500.
Saturday
Baking Madeleine Cookies with Brigitte Romero. 10 a.m.-1 p.m. Downtown Home & Garden, 210 S. Ashley St., Ann Arbor. Brigitte will visit the store to demonstrate baking French Madeleine cookies. We'll bake the cookies in our venerable 75-year-old Magic Chef stove. Free and open to the public. 734-662-8122.
Harvest Dinner fundraiser. 5-7:30 p.m. First United Methodist Church, 120 S. State St., Ann Arbor. A traditional Thanksgiving dinner with homemade pies. Proceeds benefit local and global service projects. Tickets are $12 (students, $8, kids ages 4-11, $4; kids age 3 and under, free; families, $40) in advance at the church office and at the door. 734-662-4536.
Local Food Artisan Vendor Fair. 11 a.m.-1 p.m. and 3-7 p.m. Ann Arbor Whole Foods, 3135 Washtenaw Ave., Ann Arbor. Visit with some of our local food producers. Learn their stories and taste the delicious products they produce. Consider the importance of buying locally produced products to build our local economy and the positive the environmental impact. Free. 734-975-4500.
Learn to Make Fresh Mozzarella. Noon-2:30 p.m. Zingerman's Creamery, 3723 Plaza Drive, Ann Arbor. Learn how to stretch your own from-scratch fresh mozzarella at home. First and third Saturday of each month, September through May. $60 (or $55 if paid in advance). Reservations required at 734-929-0500.
Sunday
Spruced-up Leftovers with Monique Deschaine. 1-2 p.m. Hollander's, 410 N. Fourth Ave., Kerrytown Shops, Ann Arbor. The owner of Al Dente Pasta Co. will share her tricks on how to spruce up dishes using a variety of leftovers. Included in this class will be Turkey Tetrazzini, 10 minute Minestrone, Rosy Pappardelle, and Pasta with Beans and Greens. $16. 734-741-7531.
Halcyon Holidaze. 5-10 p.m. Corner Brewery, 720 Norris, Ypsilanti. Kick off the holiday season with Corner Brewery. Bundle up in your warmest flannels, sip hot cocoa (or high gravity brews) under the crazy fantastical Holidaze tree, listening to stories, while DJs spin melodic seasonal tunes. We'll also be tapping a special Halcyone Holidaze brew. This is our final day of our food drive for Food Gatherers. We are asking that everyone in attendance bring in one non-perishable item per person. For a list of suggested items to donate go to: www.foodgatherers.org. No cover. 734-480-2739.
Tours of the Creamery. 2 p.m. Zingerman's Creamery, 3723 Plaza Drive, Ann Arbor. Cheesemaker John Loomis gives the inside scoop on how they make artisan cheeses and gelato. $5. 734-929-0500.
Monday
Milan Senior Nutrition Program. 11:45 a.m. Milan Senior & Community Activity Center, 45 Neckel Court. A nutritionally balanced meal offered on Mondays, Tuesdays and Thursdays. Suggested donation of $2.50 for anyone who is 60 years or older and a fee of $5 for anyone under the age of 60. 48-hour advance reservations. Call or stop by the office. 734-439-1549.
Tuesday
Make-n-Take Thanksgiving Sides. 10 a.m.-2 p.m. Ann Arbor Cooks, 5060 Jackson Road, Ann Arbor. Prepare dishes including a wild mushroom and pecan stuffing, glazed carrots with pink peppercorn and star anise, as well as best-ever warm spiced cranberry sauce in class and take them home packaged and ready to re-heat and serve to your guests. $95. 734-645-1030.
Lunch is Served. Noon-1 p.m. Turner Senior Resource Center, 2401 Plymouth Road, Ann Arbor. Repeats every Tuesday and Friday. Reservations are required with two days prior notice. Suggested donation for those over 60 years of age is $2.50, for all others, $5. Call 734-998-9353 for reservations.
Wednesday
Beer event: Terminator Release Party. 6-8 p.m. Arbor Brewing Co., 114 E. Washington St., Ann Arbor. We're releasing our infamous Terminator Dopplebock on the Wednesday before Thanksgiving. This year, we'll be raffling off a sixth barrel of Terminator (retail value $99). Admission is free for all mug club members and $10 for visitors and guests. 734-213-1393.
Wednesday Wine Tasting. 6:30 p.m. Paesano's Italian Restaurant, 3411 Washtenaw Ave., Ann Arbor. Sample five up and coming wines from Italy, accompanied by tasty appetizers. $25. www.paesanosannarbor.com.

To submit events for this calendar, e-mail calendar@annarbor.com.