Posted on
Thu, Dec 15, 2011 : 11 a.m.
Ann Arbor food and drink calendar
By AnnArbor.com Staff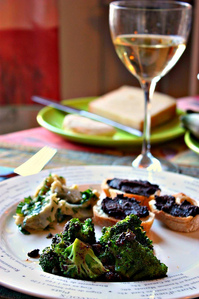 Photo by Flickr user austinevan.
Today
Health Starts Here Cooking Class: Holiday Favorites with a Twist. 6-8 p.m. Ann Arbor Whole Foods, 3135 Washtenaw Ave. Join Healthy Eating Specialist, Jan Kemp, in this fun holiday class as she highlights some seasonal favorites like Almond Nog, Fresh Cranberry Citrus Relish, Roasted Brussels with Almonds, Pumpkin Bisque, and Macaroon Tartlets with Citris Creme. $15. Stop by the Whole Foods Market customer service desk or call 734-975-4500.
Coney Dog and Root Beer Float Night. 5-8 p.m. American Legion Post #419, 9807 Whitewood Road, Pinckney. $1. 734- 878-9522 or 734-341-4249.
Thursday Night Rush Hour Relief at the Wine Bar. 5-8:30 p.m. Cranbrook Whole Foods, 990 W. Eisenhower Parkway, Ann Arbor. An exploration of wine, cheese and appetizers. This week's topic: 90 point-rated wines. 734-997-7500.
The Monthly Slurps. 5-7 p.m. Spotted Dog Winery, 108 E. Michigan Ave., Saline. Stop in for an after-hours wine and food event the third Thursday of each month. www.spotteddogwinery.com.
International Neighbors tea sampling event. 1-2:30 p.m. Westminster Presbyterian Church, 1500 Scio Church Road, Ann Arbor, in the social hall. All area women are invited to sample teas from around the world. Turkey, beverages, & table settings provided; bring a side dish to share. Nursery care provided for preschoolers. Free. 734-995-1645.
Friday
BeerTasting: Dark Horse Brewing. 6-7 p.m. Cranbrook Whole Foods, 990 W. Eisenhower Parkway, Ann Arbor. Taste local brews. Pricing varies, but usually $6 for six tastes. Preregistration required by calling 734-997-7500.
Saturday
Eat, Meet, & Be Cherry. 2-4 p.m. Cherry Republic, 223 S. Main St., Ann Arbor. Event includes a tasting from Melange. Free. 734-585-5231.
Artisan Champagnes. 2-4 p.m. Morgan & York, 1928 Packard St., Ann Arbor. Join us for a tasting of small-producer champagnes! Two of our three featured producers grow all their own fruit, and the third is a small family owned house that buys some fruit. The wines are terrific, and less expensive than most famous brands. Free, no registration required. 734-662-0798.
Gingerbread House Decorating Workshop. 2 p.m. Cranbrook Whole Foods, 990 W. Eisenhower Parkway, Ann Arbor. We'll provide the frosted gingerbread house, candy and some help from our bakery pros, you bring the creativity! All ages welcome; pre-registration required. $19.99 per house. Stop by the customer service desk or call 734-997-7500.
Learn to Make Fresh Mozzarella. Noon-2:30 p.m. Zingerman's Creamery, 3723 Plaza Drive, Ann Arbor. Learn how to stretch your own from-scratch fresh mozzarella at home. First and third Saturday of each month, September through May. $60 (or $55 if paid in advance). Reservations required at 734-929-0500.
Sunday
Tours of the Creamery. 2 p.m. Zingerman's Creamery, 3723 Plaza Drive, Ann Arbor. Cheesemaker and managing partner John Loomis gives the inside scoop on how they make artisan cheeses and old-fashioned gelato. $5. 734-929-0500.
Monday
Christmas Celebration and Community Lunch. Noon. Chelsea Senior Center, 45 Neckel Court, Milan. All seniors are invited for a Christmas feast followed at 1 p.m. by a sing-along of favorite Christmas carols. $5 suggested donation. 734-475-9242.
Milan Senior Nutrition Program. 11:45 a.m. Milan Senior & Community Activity Center, 45 Neckel Court. A nutritionally balanced meal offered on Mondays, Tuesdays and Thursdays. Suggested donation of $2.50 for anyone who is 60 years or older and a fee of $5 for anyone under the age of 60. 48-hour advance reservations. Call or stop by the office. 734-439-1549.
Tuesday
Lunch is Served. Noon-1 p.m. Turner Senior Resource Center, 2401 Plymouth Road, Ann Arbor. Repeats every Tuesday and Friday. Reservations are required with two days prior notice. Suggested donation for those over 60 years of age is $2.50, for all others, $5. Call 734-998-9353.
Wednesday
Christmas Cookies. 5:30-8:30 p.m. Sweet Heather Anne, 359 Metty Drive, Ann Arbor. Unwind from the holiday rush and let us do the baking. We'll leave you with the fun part: the decorating. Learn how to make our beautiful decorated brown sugar cookies. We'll provide the cookies in holiday themed shapes and delicious maple icing in festive colors. Each student will leave with two dozen decorated cookies. All classes are hands-on, so come ready to work in comfortable clothes. Class fees include all the materials. Classes with three students or less are subject to cancellation. $75. 734-913-2025.
Rat Pad Release. 6 p.m. Local amateur and professional brewers create imaginative beers on Corner Brewery's 10-gallon Rat Pad brew system. They're released to the public the third Wednesday of each month. No cover; price of purchases. 734-480-2739.
Wednesday Wine Tasting. 6:30 p.m. Paesano's Italian Restaurant, 3411 Washtenaw Ave., Ann Arbor. Sample five up and coming wines from Italy, accompanied by appetizers. $25. www.paesanosannarbor.com.
To submit events for this calendar, e-mail calendar@annarbor.com.