Posted on
Fri, Aug 26, 2011 : 7:30 a.m.
Ann Arbor food & drink calendar
By AnnArbor.com Staff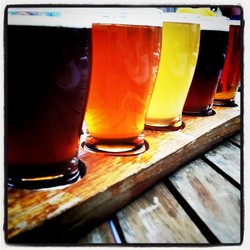 Jessica Webster | AnnArbor.com
Today
Free Cooking Demos by Weight Watchers Group Chef. Three sessions at 9:30, 10:30 and 11:30 a.m. Ann Arbor Weight Watchers - Oak Valley Center, 2809 Oak Valley, Ann Arbor. Chef Isabella Nicoletti will offer eggplant cooking demonstrations and share tips on healthful eating and cooking techniques. Free. 248-479-1362.
Beer Class: World Favorites. 6-7 p.m. Cranbrook Whole Foods, 990 W. Eisenhower Parkway, Ann Arbor. Beer expert Jimmy explores light summer beers. $6 for 6 tastes. RSVP at the customer service desk or call 734-997-7500.
Saturday
German Park Picnic. 4-11 p.m .German Park Recreation Club, 5549 Pontiac Trail, Ann Arbor. Old-fashioned German dinner served a la carte (approx. $5-7) with wine, beer, pop, and coffee for sale. Dancing to German and American music. $5 cover; children 12 and under get in free. No one under 21 admitted without parent or legal guardian. 734-769-0048.
Martini Bar Tour. 4-10 p.m. Passport Restaurant and Lounge, 3776 S. State St. Ann Arbor. Spending the evening strolling through revitalized downtown Detroit. Tour includes transportation & tour guide; first drink is included; touring of martini bars begins in Ann Arbor and continues throughout Detroit. $59. www.goldenlimo.com/winetours.
TT Supper Club to Benefit Food System Economic Partnership. 6-9:30 p.m. TT Supper Club is an occasional underground dining experience in Ann Arbor. Each TT Supper Club meal is created for just 8 guests. The menu is created just days before the dinner and reflects what's freshest and most enticing at the Farmer's Market that week, as well as guests' preferences and food restrictions. BYOB, but wine pairing recommendations are available. All proceeds beyond cost of food go directly to FSEP and are tax-deductible. Email ttsupperclub@gmail.com with your food restrictions and preferences. Attendees will receive the location after registration. ttsupperclub@gmail.com. Minimum donation: $55 per person.
Neighborhood Can-A-Thon with Preserving Traditions. 6 p.m. Pittsfield Grange, 3337 Ann Arbor-Saline Road, Ann Arbor. How many cans can local canners can? Find out at the Neighborhood Can-A-Thon! Sign up with a team, or sign up solo and we'll match you up with other canners in your general neighborhood. Can any time during the day; local dinner (cooked by us) at the Pittsfield Grange at 6 p.m. $5 for dinner. More info: preservetrad@gmail.com.
Chelsea Farmers Market. 8 a.m.-noon. Farmers Market on Park Street, off Main in downtown Chelsea. Purchase produce and goods from local farmers and enjoy free live entertainment and kids activities. 734- 475-6402.
Learn to Make Fresh Mozzarella. Noon-2:30 p.m. Zingerman's Creamery, 3723 Plaza Drive, Ann Arbor. Learn how to stretch your own from-scratch fresh mozzarella at home. $50 (or $45 if paid in advance). Reservations required at 734-929-0500.
Sunday
Annual Backyard BBQ. 2 p.m. Corner Brewery, 720 Norris St., Ypsilanti. This month, Corner Brewery has scheduled Halcyon Sunday to coincide with their annual BBQ! The celebration features a special menu, as well as classic backyard competitions like corn-hole and three legged races. Music begins at 2 p.m. with food at 4 p.m. No cover charge. 734-480-2739.
Growing Hope's Hope's Harvest. 3-6 p.m. Growing Hope Center, 922 W. Michigan Ave., Ypsilanti. The seventh annual Hope's Harvest fundraiser will take place in the afternoon at the future headquarters of the Growing Hope Center. This annual ticketed strolling dinner brings together local growers, chefs, and connoisseurs for a delicious and enjoyable afternoon. Delectable dishes, live music. $75. 734-786-8401.
Country Breakfast. 8-11:30 a.m. American Legion Post#419, 9807 Whitewood Road, Pinckney. $6 for adults, $5 for seniors, $3 for children 9 and under. 734-878-9522 or 734- 341-4249.
Tours of the Creamery. 2 p.m. Zingerman's Creamery, 3723 Plaza Drive, Ann Arbor. Cheesemaker and managing partner John Loomis gives the inside scoop on how they make artisan cheeses and old-fashioned gelato (that's Italian ice cream). $5. 734-929-0500.
Monday
Healthy Food Talk: Dining Out. 7 p.m.The Nutritional Healing Center of Ann Arbor, 3610 W. Liberty Road, Ann Arbor. Aug. 29 topic: Chiropractor Amanda Childress on "Dining Out." Free. 734-302-7575.
Milan Senior Nutrition Program. 11:45 a.m. Milan Senior & Community Activity Center, 45 Neckel Court, Milan. A nutritionally balanced meal offered on Mondays, Tuesdays and Thursdays. Suggested donation of $2.50 for anyone who is 60 years or older and a fee of $5 for anyone under the age of 60. 48-hour advance reservations. Call or stop by the office. 734-439-1549.
Tuesday
Ladies Night. 5-10 p.m. The Melting Pot, 309 S. Main St., Ann Arbor. Special Ladies Night Out package, including Signature entrée. 734-622-0055.
Lunch is Served. Noon-1 p.m. Turner Senior Resource Center, 2401 Plymouth Road, Ann Arbor. Repeats every Tuesday and Friday. Reservations required with two days prior notice. Suggested donation for those over 60 years of age is $2.50, for all others, $5. 734-998-9353 for reservations.
Wednesday
Kid's Club: After School Snacks. 4 p.m. Cranbrook Whole Foods, 990 W. Eisenhower Parkway, Ann Arbor. Learn how to prepare easy, tasty and nutritious after-school snacks. Ideal for children ages 3 - 12 years old, accompanied by a parent or legal guardian. $5. Stop by the customer service desk or call 734-997-7500.
Original Gravity Farmer's Market. 5-7 p.m. Original Gravity Brewing Co., 440 County Str., Milan. Fresh beer, fresh vegetables and more on Wednesdays throughout the growing season . No cover. 734-439-7490.
Wednesday Wine Tasting. 6:30 p.m. Paesano's Italian Restaurant , 3411 Washtenaw Ave., Ann Arbor. Sample five up and coming Italian wines, accompanied by appetizers. $25. www.paesanosannarbor.com .
Sept. 1
(un)Corked Wine Tasting: Excursion -- Pinot Noir! 7:30-8:30 p.m. Alley Bar, 112 W. Liberty St., Ann Arbor. These wines tend to be lush and lean, but bursting with red fruits. We will bring some Pinot from its original home in France and also from other renowned regions like Oregon, California, and perhaps even New Zealand (who knows, maybe even Michigan will be represented). (un)Corked is hosted at Alley Bar the first Thursday of every month at 7:30 p.m. Tasting fee $10, includes a sampling of five different wines. 734-662-8757.
Brew for the River benefit event. 4 p.m. Arbor Brewing, 114 E. Washington, Ann Arbor. (See Aug. 25 entry) Today, from 4 to 7 p.m., ABC will celebrate the completion of their Green Brewery Project. Matt and Rene of ABC will talk about the green impact of the project, followed by a brief talk by Laura Rubin, executive director of HRWC. Enjoy the special Blackberry Blonde beer only at this event. www.hrwc.org/events/brew-for-the-river.
Chinese Dumplings with Yuyang Ye. Noon-1 p.m. Hollander's, 401 N. Fourth Ave., Kerrytown Shops, Ann Arbor. Home-style recipes for Chinese Dumplings based on various combinations. Ingredients will include pork, seafood, beef or lamb, Napa cabbage, Chinese chives, mushrooms, celery, carrots, eggplant, etc. In addition, learn how to make the dough and both hot and mild sauces for dipping. $16. 734-741-7531.
Thursday Night Rush Hour Relief at the Wine Bar. 5-8:30 p.m. Cranbrook Whole Foods, 990 W. Eisenhower Parkway, Ann Arbor. An exploration of wine, cheese and appetizers. This week's topic: Medal Winning Michigan Wines. $17.
To submit events for this calendar, e-mail calendar@annarbor.com.