Posted on
Thu, Feb 14, 2013 : 8:26 a.m.
Ann Arbor food & drink calendar for the week of Feb. 14-21
By AnnArbor.com Staff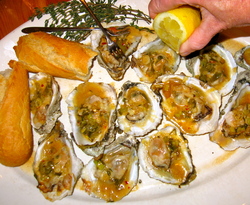 AnnArbor.com file photo | Peggy Lampman
Today
Culinary Aphrodisiacs
. 6:30-9:30 p.m. Ann Arbor Cooks, 5060 Jackson Road, Ann Arbor. Come love, laugh and enjoy the company as we draw on the knowledge of the ancients while exploring the indulgences that purport to turn us on. This class is about pairing up, so from this attractive bunch we will be creating sensuous small bite plates by coupling one fired-up ingredient with its equally adventurous partner. You'll love the matchmaking and leave with plenty of ideas for your own get-togethers. Menu: Bananas Foster (banana and rum flambe); chips and dips (avocado and coriander; pineapple and hot chilies); oysters on the half shell (ginseng & oysters; champagne & basil); Russian toast points (caviar & smoked salmon with vodka shooters); cookies (pine nuts and anise; honey and almonds); Dressed Up Strawberries (strawberries and chocolate). $75.
www.annarborcooks.com
.
Love Stinks! Chocolate Fest. 7-8 p.m Ypsilanti District Library - Whittaker branch, 5577 Whittaker Road, Ypsilanti. Teens, make chocolates for someone special or even yourself. Free. 734-482-4110 ext. 1340.
Hop Heads: Arbor Brewing Beer Tasting. 7-9 p.m. Arbor Brewing Co., 114 E. Washington, Ann Arbor. A chance to sample and learn about some two dozen "hop bombs"— beers with an unusually heavy hop-content. Also, a drawing for beer-related prizes. The price of admission includes unlimited beer sampling and a German appetizer buffet. $25 in advance, $30 at the door. 734-213-1393.
Thursday Night Rush Hour Relief at the Wine Bar. 5-8:30 p.m. Cranbrook Whole Foods, 990 W. Eisenhower Parkway, Ann Arbor, at the wine bar. Each Thursday evening, experts lead an exploration of wine, cheese and appetizers. This week's topic: Fruit Creme Brulee Tart and Champagne. Celebrate Valentine's Day with dessert and sparkling wine. Special holiday pricing TBA. 734-997-7500.
Friday
St. Mary Lenten Fish Dinner. 4-7 p.m. St. Mary's Catholic Parish, 10601 Dexter Pinckney Road, Pinckney. The Men's Club of St Mary's Catholic Parish in Pinckney sponsors its annual Fish Dinners on Friday evenings during Lent, through March 22. The Parish is located south of M-36 at 10601 Dexter Pinckney Road in Putnam Township. Dinner includes baked or beer battered fried fish, choice of french fries, scalloped or baked potato, beets, coleslaw, homemade macaroni and cheese, cut vegetables, Jell-o, homemade rolls and dessert and assorted beverages. Take outs are available. $9 adults, $8 seniors, $4 children (under age 12) with a family (immediate only) plan available at $30. 734-878-3161.
Chinese Hot-Pot: Chinese Style Fondue with Angela Yang. 6-8 p.m. Ann Arbor Whole Foods, 3135 Washtenaw Ave., Ann Arbor. Chinese hot-pot boasts a history of more than 1,000 years. It is a healthy, versatile meal that can range from simple to fancy, and is typically enjoyed during the winter months in China - especially around the Chinese New Year. In many modern homes, the traditional coal-heated "steamboat" or hot-pot has been replaced by the electric wok. The typical hot-pot meal contains clear broth, and can include meat, seafood, leafy vegetables, and cooked bean noodles with a dipping sauce (according to individual preference). Join Angela Yang as she guides students through the creation of this fun and satisfying meal for the whole family. This class is held in the Cooking and Lifestyles Classroom. Tuition: $35. Mandatory fee: $15. Students may register on-line through www.wccnet.edu.
Date Night. 6:30-10 p.m. Ann Arbor Cooks, 5060 Jackson Road, Ann Arbor. Bring your special someone and have some fun in the kitchen cooking up this fun Spanish tapas menu. Feel free to bring a bottle of wine to enjoy with your meal. Menu: Gambas al ajillo (chili-garlic shrimp); albondigas en salsa (saucy Spanish meatballs); calcots con romesco (charred green onions with authentic red pepper sauce); aceitunas fritas (fried spanish olives); alemandras (pan-fried almonds with rosemary); roasted manchego stuffed figs wrapped in prosciutto. Also, enjoy a complimentary glass of sangria. $150 per pair. Register online at www.annarborcooks.com.
Fish Fry: Saline Knights of Columbus. 4-7 p.m. St. Andrew's Catholic Church, 910 Austin Drive, Saline.Baked tilapia, beer-battered fried cod, salad, fries, beverages, and homemade cheesy potatoes, broccoli salad, coleslaw, mac and cheese, and desserts. $10, with discounts for seniors and children. 734-944-7790.
34th Annual Lenten Fish Fry. 4:30-7:30 p.m. Old St. Patrick's Church parish hall, 5671 Whitmore Lake Road, Whitmore Lake. Every Friday, Feb. 15-Mar. 22, the church offers fried Alaskan pollack, choice of potato or macaroni and cheese, salad bar, and beverage. Desserts are available for a nominal additional charge. Beer and wine are available for a donation. $8, with discounts for seniors and children. oldstpatrick-annarbor.com or 734-662-8141.
Lenten Fish Dinner. 5-7:30 p.m. St. Francis of Assisi Catholic Church Parish Activities Center, 2250 E. Stadium, Ann Arbor. Every Friday Feb. 15-Mar. 22, the parish provides homemade clam chowder, fried cod, baked tilapia, mac and cheese, green beans, roasted red potatoes, french fries, salad bar, coleslaw, rolls with butter, homemade desserts, Girl Scout cookies and beverages. $9, with discounts for seniors and children. 734-769-2550.
Lenten Fish Fry: St. Mary Chelsea Knights of Columbus. 5-8 p.m. St. Mary Catholic Church, 14200 E. Old US-12, Chelsea. $10. 734-475-7561.
Saturday
Soup and Salad Fundraiser for the Philippines, 5-7 p.m. First Presbyterian Church of Ann Arbor, 1432 Washtenaw Ave., Ann Arbor. A Soup and Salad Fundraiser for the Philippines is held in the church social hall, featuring eight different kinds of soup, salad and homemade bread, including vegetarian and gluten-free options. $10 per person, $30 for a family of three or more. 734-662-4466.
8th Annual Jewish Dinner: Celebrating Jewish Iraqi Cuisine. 7 p.m. Zingerman's Roadhouse, 2501 Jackson Ave., Ann Arbor. In the mid 1900s, a large majority of Iraq's Jewish population faced persecution and were forced to leave their homeland. Many sought refuge in Israel, where the traditions of Iraqi-Jewish foods are their only remaining legacy and ties to their former country. Recipes are passed down through generations to help preserve their heritage and to continue their rich traditions. One such recipe is kubbeh, a meat dumpling popular to the Iraqi Jewish community. Made from lamb, beef, chicken or fish, these dumplings are served in a sour, tangy soup called hamousta, which can be made from okra, eggplant, squash, zucchini, garlic or beets. Chef Alex will make a Roadhouse version of kubbeh along with many other traditional foods, doing our part to preserve the rich tradition of the Iraqi Jewish cuisine. $45. 734-663-3663.
Eat, Meet, & Be Cherry. 2-4 p.m. Cherry Republic, 223 S. Main St., Ann Arbor. Every Saturday Feb. 9-March 30 the store will host cooking demos by chefs from local restaurants, including Melange (Feb. 16), Lena (Feb. 23), Tios (Mar. 2), The Melting Pot (Mar. 9), Gratzi (Mar. 16), Habana Cellar Lounge (Mar. 23), and Conor O'Neill's (Mar. 30). Free. 734-585-5231.
Saturday Farmers Market. 7 a.m.-3 p.m. Ann Arbor Farmers Market, 315 Detroit St., Ann Arbor. Find local produce and food from some of your favorite farmers as well as educational food demos and more. Free admission. Visit www.a2gov.org/market for more information.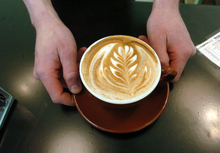 AnnArbor.com file photo
Sunday
Coffee & Food Pairing
. 1 p.m. Zingerman's Coffee Co., 3723 Plaza Drive, Ann Arbor. You may be familiar with wine and cheese pairings, but why not a coffee and food pairing? We'll be taking some of our favorite coffees and tasting them with some foods to find the best combination. The event is great for the coffee and food connoisseur who wants to try something different. $30. Class is limited to 8 people, and reservations are required: 734-929-6060.
Chili Challenge 2013. 3-5:30 p.m. Various locations throughout Depot Town, Ypsilanti. Come taste delicious chili prepared by Depot Town restaurants. On the day of the event, purchase your "chili kit" for $5 at a tent located on the corner of East Cross Street. Participants can taste chili samples from Sidetrack Bar and Grill, Harvest Kitchen, The Corner, the Ypsilanti Food Co-op and more. After tasting all the chili, cast your vote for the best one. All proceeds will be donated to SOS Community Services. Donations to participate in the chili tasting will be collected the day of the event. The winner of the challenge will be announced at 6 pm at the Corner Brewery, 720 Norris St., Ypsilanti. $5. info@soscs.org.
Monday
The Basics of Wine Tasting. 30-8:30 p.m. Ann Arbor Cooks, 5060 Jackson Road, Ann Arbor. Wine in the United States has often been skewed to have an aura of snobbery and pretentiousness. This needs not be so. In the majority of countries where wine has been consumed for millennia, it is often considered a part of the table. At the same time, wine can be as sublime an experience as is humanly possible to have, often equated with an artistic endeavor or an epiphany of sorts. This class is a basic lesson on the ABCs of wine tasting. We will delve into a selection of different types of wines (both a white and a red still wines, a sparkler, a dessert, and a fortified wine) and get a sense of what they tell us. Join us as we begin to explore this ancient libation, this gift from the gods. $45. Register online 48 hours in advance at www.annarborcooks.com.
Cocktail Class: Spring Break Cocktails. 7:30 p.m. Live/The Last Word, 102 S. First St., Ann Arbor. Get your passport stamped at several tropical ports as you taste cocktails from Jamaica, Brazil, Cuba and more. In keeping with our vacation theme, this class will feature a walk around format that will allow more time for socializing with friends and other attendees. Class is hands on, with lots of tasting opportunities. Class is taught by Tammy's Tastings. $35 in advance, $45 at the door. 734-276-3215 or http://www.tammystastings.com/shop.
Milan Senior Nutrition Program. 11:45 a.m. Milan Senior & Community Activity Center, 45 Neckel Court, Milan. In partnership with the Washtenaw County Senior Nutrition Program, they offer a nutritionally balanced meal three afternoons a week: Mondays, Wednesdays and Thursdays. There is a suggested donation of $2.50 for anyone who is 60 years or older and a fee of $5 for anyone under the age of 60. They do ask for 48 hour advanced reservations. Call or stop by the office.
Tuesday
Bell's Brewery Beer Dinner. 6:30 p.m. Grange Kitchen and Bar, 118 W. Liberty St., Ann Arbor. The Grange's Michigan beer dinners continues in February with Chef Brandon Johns and Kalamazoo-based Bell's Brewery partnering up for a four-course beer and food pairing. The menu lineup will feature local cuisine, paired with some of the great brews offered by Bell's. Chef Brandon's cuisine is sourced from local area farms and producers, spotlighting Michigan's best food and beverage. Chef Brandon is known for using the whole animal and has an affinity for unusual cuts and interesting combinations. Guests to Grange should look for seldom-found gems like bone marrow, pork belly and a changing selection of house made charcuterie. $50, not including tax and gratuity. 734-995-2107 or www.grangekitchenandbar.com.
Warming Winter Soups. 6:30-9:30 p.m. Ann Arbor Cooks, 5060 Jackson Road, Ann Arbor. Baby it's cold outside. Come join us for a session of exquisite soup making. These are satisfying soups that you'll want to add to your cold weather cooking arsenal, and they're guaranteed to impress. Menu: Cauliflower bisque with red chili oil and grainy mustard croutons; Mom's chicken and herb dumpling soup; truffled mushroom soup with wild rice; winter squash soup with fried sage. $75. Register online 48 hours in advance at www.annarborcooks.com .
Lunch is Served. Noon-1 p.m. Turner Senior Resource Center, 2401 Plymouth Road, Ann Arbor. Repeats every Tuesday and Friday. Reservations are required with two days prior notice. Suggested donation for those over 60 years of age is $2.50, for all others, $5. Call 734-998-9353 for reservations.
Wednesday
Family Spaghetti Dinner. 4:30-7 p.m. Immaculate Conception Parish Family Center, 420 North St., Milan. Everyone is invited. Carryout is available and homemade sauce meat or meatless will be served. The dinner will be held in the church hall located at the corner of North and Ann Streets. Sponsored by the Catholic Women's Circle of Immaculate Conception Church. $6 for adults, $3 for kids 12-5, and free for kids 4 and younger. 734-439-2030.
Italy Rediscovered. 6 p.m. Gratzi, 326 S. Main, Ann Arbor. Explore unique wines from Italy not yet discovered by the general public. $65, all inclusive. Reservations required: 888-456-3463.
Rat Pad Releases. 6-9 p.m. Corner Brewery, 720 Norris St., Ypsilanti. Local amateur and professional brewers create imaginative beers on our 10-gallon Rat Pad brew system. We release these brews on the third Wednesday of each month and serve them at Corner while supplies last. Supplies are limited so come early. Anything left after 9 p.m. can be purchased to take home in a growler. No cover charge. 734-480-2739.
Risotto 101. 6:30-9:30 p.m. Ann Arbor Cooks, 5060 Jackson Road, Ann Arbor. Did you know that risotto can actually be used in all parts of a meal: a light starter, a main course, a leftover delight, and a comfort dessert. Come learn this traditional Italian classic dish and how it can be used in the cold weather months. Menu: Light wild mushroom risotto on sprouted greens; chicken and winter vegetable risotto; arrancini (deep-fried or baked risotto balls); and sweet risotto pudding. $75. Register online 48 hours in advance at www.annarborcooks.com.
Wednesday Wine Tasting. 6 p.m. Paesano's Italian Restaurant, 3411 Washtenaw Ave., Ann Arbor. This informal wine tasting allows patrons to sample five up and coming wines from Italy. Joined by one of Paesano's knowledgeable wine purveyors, the staff creates tasty appetizers to accompany the bold flavors. $25. www.paesanosannarbor.com.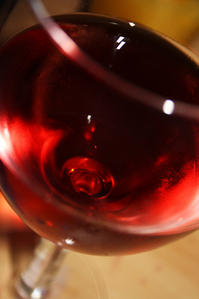 Thursday, Feb. 21
(un)Corked Wine Tasting: with Mas de Daumas Gassac of the Languedoc region of France
. 7-8:30 p.m. LePop Gallery, 101 N. Main St., Ann Arbor. Join us and special guest Samuel Guibert for a taste of six outstanding wines from Mas de Daumas Gassac--the legendary producer from the Languedoc region. Amie Guibert and his wife Veronique purchased the farm (mas) in 1970 in an effort to escape Paris and city life. During renovation of the home, the couple surveyed their new land to determine what they should plant. Henri Enjalbert (geology professor, and oenologist) noted that the unique red glacial soil coupled with the evening's cool air of the Gassac Valley (rare in Southern Rhone) made for an ideal spot for planting vines. Enthused by Enjabert's findings, the Guiberts began planting their vineyard in 1972. As usual, we will also have a selection of cheeses picked exclusively for this event by cheese-monger Eric Lundy. $15. No ticket sales at the door. Purchase tickets at The Produce Station or at
http://www.localwineevents.com/events/detail/454854
.
Reading Between the Wines: Quarter Bistro Wine Tasting to Benefit Washtenaw Literacy. 6 p.m. Quarter Bistro& Tavern, 300 S Maple Road, Ann Arbor. Enjoy four specially selected seasonal wines from the Quarter Bistro's cellar plus appetizers. A portion of the proceeds benefit adult literacy. $30. 734-879-1320 or rsvp@washtenawliteracy.org. $30.
Tea with the Fairies. Two seatings: 1 and 4 p.m. Crazy Wisdom Bookstore and Tearoom, 114 S. Main St., Ann Arbor. Children and their families are welcome for tea and petits fours served by real-life fairies. Celebrate with our magical fairies as they serve tea, treats, and magic. There will be story time read from books available from Crazy Wisdom Bookstore. Fairy attire is encouraged. Be creative. $11 per person. Babies 18 months and younger attend for free. 734-665-2757.
Coney Dog and Root Beer Float Night. 5-8 p.m. American Legion Post #419, 9807 Whitewood Road, Pinckney. $1.25 per Coney dog. For more information call 734- 878-9522 or 734-341-4249.
Thursday Night Rush Hour Relief at the Wine Bar. 5-8:30 p.m. Cranbrook Whole Foods, 990 W. Eisenhower Parkway, Ann Arbor, at the wine bar. Each Thursday evening, experts lead an exploration of wine, cheese and appetizers. This week's topic: White blends of the U.S. $17. 734-997-7500.
To submit events for this calendar, e-mail calendar@annarbor.com.