Posted on
Thu, Jan 31, 2013 : 8:27 a.m.
Ann Arbor food & drink calendar for the week of Jan. 31-Feb. 7
By AnnArbor.com Staff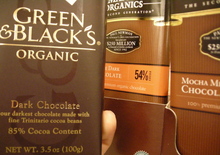 AnnArbor.com file photo | Corinna Borden
Today
Intro to Great Chocolate.
6:30 p.m. A primer with Margot, the deli's Chocolate Lady, on what makes great chocolate so good. We'll go over the basics of cacao and the production of chocolate, before diving into a smorgasbord of dark chocolates from our retail shelves that showcase a range of producer personalities and flavor profiles. Valentine's is just around the corner, so come study up. $25.
Comfort Foods Makeover. 6:30-9:30 p.m. Ann Arbor Cooks, 5060 Jackson Road, Ann Arbor. Enjoy the same nostalgic dishes mom used to make without packing on the pounds. Our recipes include nutritious and delicious alternatives to everyone's old-school favorites! Menu: Maple pecan and banana waffles; healthy macaroni and cheese; crispy oven-fried chicken; baked sweet potato fries with garlic & herbs; individual apple pies. $75. www.annarborcooks.com.
Right Brain Brewery Release Tasting with Owner Russel Springsteen. 7:30-8:30 p.m. Live/The Last Word, 102 S. First St., Ann Arbor. An epic evening tasting of tastes and talks with Right Brain Brewery owner Russel Springsteen. This tasting will celebrate the bottle release of Right Brain Brewery, an amazing brewery with a culinary focus in Traverse City, Michigan. Russel will lead us through a discussion of what Right Brain is all about, and then he will provide a discussion of each of the four beers in a course format. The tasting lineup will include mangalitsa pig porter - Right Brain's Great American Beer Festival gold medal winner. Guests will be treated to six-ounce samples of four beers and conversations with Russel Springsteen. $15. Purchase Tickets at The Produce Station or at http://www.localwineevents.com/events/detail/458674.
Thursday Night Rush Hour Relief at the Wine Bar. 5-8:30 p.m. Cranbrook Whole Foods, 990 W. Eisenhower Parkway, Ann Arbor, at the wine bar. Each Thursday evening, experts lead an exploration of wine, cheese and appetizers. This week's topic: Michigan wines. $17. 734-997-7500.
Friday
All You Can Eat Fish, Chicken, and Rib Dinner. 5-8 p.m. Livingston, 6060 E. M-36, Hamburg. Dinner Includes: Barbecued ribs, barbecued chicken, oven fried chicken, fish, macaroni and cheese, french fries, vegetable, coleslaw, rolls and butter, homemade desserts, coffee, lemonade and iced tea. A cash bar is also available. $10 for adults, $9 for seniors, $5 for children ages 6-12. Children 5 and younger eat for free. 810-231-1811.
Sauerkraut Supper. 6 p.m. Bethlehem United Church of Christ, 423 S. Fourth Ave., Ann Arbor. Supper includes sauerkraut, pork, spaetzle, mashed potatoes, veggies and pie. Tickets are $12 for adults; $5 for children 10 and younger. Call 734-665-6149 for tickets or purchase them at the door.
'Super' Bowl Passing Dishes. 6:30-9:30 p.m. Ann Arbor Cooks, 5060 Jackson Road, Ann Arbor. Whether you're hosting or attending a Super Bowl party, this class will get you ready. Come limber up your culinary ambitions and leave with a playbook stocked with fresh recipes for passing dishes. We will provide enough variety to satisfy the changing playing field of gluten-free, vegetarian, low-calorie, and big-bingers within your circle. We'll also provide insider secrets to keep these fantastic dishes presentable and fresh into the last quarter. Menu: Buffalo chicken tenders with deluxe mac and cheese; real fresh guacamole with just made tortilla chips; meatless chili; Asian spicy vegetable lettuce wraps; grilled pressed Cuban pork sandwiches. $75. www.annarborcooks.com.
Saturday
Winter Warriors 2013. Noon-5 p.m Arbor Brewing Co., 114 E. Washington St., Ann Arbor, in the bar's patio. Brave the elements at our fourth annual Winter Warrior event, We open the patio for guests to enjoy $1 drafts beers to help forget the cold with hot beverage and chili specials to warm you up. No cover charge; $1 drafts beers for those who drink outside. 734-213-1393.
Legion Riders Pork Loin Dinner. 5-7:30 p.m. American Legion Post #419, 807 Whitewood Road, Pinckney. $10. 734-878-9522 or 734-341-4249.
Mardi-Gras Fasching Dinner/Dance. 6-11 p.m. Zal Gaz Grotto Club, 2070 W. Stadium Blvd., Ann Arbor. GBU District 630, a German Club in Ann Arbor, is hosting its annual Fasching Dinner/Dance. Dinner will be served at 6:15 p.m.. The menu includes sauerbraten, spatzle, red cabbage, tossed salad, bread, and cakes with coffee. Beer, wine, and pop is also included. Pretzels will be served later in the evening. Entertainment is provided by the Enzian Band for listening and dancing pleasure to traditional German music. Raffle prizes will be awarded. Costume prizes will go to the best male, female, and couple attending. $25. To make reservations contact Klaus Kummer 734-913-9371 or Marianne Rauer 734-954-0057. The deadline for reservations is Thursday, Jan. 31.
Hearts for the Arts fundraiser. 6 p.m. Barton Hills Country Club, 730 Country Club Road, Ann Arbor. Help the Ann Arbor Symphony Orchestra raise $70,000 to bring musical arts enrichment programs to over 30,000 area students by donating or bidding on unique items. The event will feature a silent auction, a champagne reception, a chef's dinner, music by Ann Arbor Symphony Orchestra musicians led by conductor Arie Lipsky, and a lively not-so-silent auction. $175. 734-994-4801 or lori@a2so.com.
A Night in New Orleans: WCC 28th Annual Mardi Gras Fundraiser. 6:30 p.m. Washtenaw Community College, Morris Lawrence building, 4800 E. Huron River Drive, Ann Arbor. The evening kicks off with a feast created by the WCC culinary arts and hospitality department and guest chefs from area restaurants. Dinner is followed by dancing to live music by local jazz guitarist John E. Lawrence and the Bugs Beddow Band, a versatile horn-driven R&B, boogie-rock, blues, and jazz ensemble led by veteran Detroit trombonist Beddow. $175 in advance only. 734-973-3665.
Saturday Farmers Market. 7 a.m.-3 p.m. Ann Arbor Farmers Market, 315 Detroit St., Ann Arbor. Find local produce and food from some of your favorite farmers as well as educational food demos and more. Free admission. Visit www.a2gov.org/market for more information.
Sunday
Breakfast with PAWS. 8:30-11 a.m. St. Mary's Catholic Parish, 10601 Dexter Pinckney Road, Pinckney. St .Mary's Men's Club in Pinckney is sponsoring "Breakfast with PAWS" at the Parish. "PAWS, Detroit's Favorite Mascot" joins us from 10-11 a.m. to get us pumped up for another great season of Detroit Tiger baseball. Bring your camera to get a picture taken with PAWS. Proceeds from the event are help support St. Mary School. Our menu includes: fried or scrambled eggs, hash browns, biscuits and gravy, French toast, pancakes, quiche, ham, pork sausage, and a waffle station. Get those cameras ready for an event the whole family will enjoy. Cost is by free-will donation. 734-878-3161.
Parent/Child Sushi. 2-4:30 p.m. Ann Arbor Cooks, 5060 Jackson Road, Ann Arbor. This class allows you to work alongside your budding chef to make everything on the menu, and then sit down to enjoy a meal together. We emphasize knife safety and other helpful kitchen tips. This is a relaxing way to enjoy cooking with your child while learning at the same time. We'll send you home with leftovers (feel free to bring a container) and a recipe packet. This class is for ages 6 and up with an adult. Cooking should be about having fun and that's just what we'll do in this class. After a quick demonstration of how to make sushi rice, prep the fillings, and rolling, we'll set you free in our kitchen. Practice makes perfect when it comes to rolling sushi, so come hungry to class because you'll make and eat lots of sushi. Learn to make maki, inside-out rolls, and spicy sushi. $65 for a parent plus one child or $85 for a parent plus two children. www.annarborcooks.com.
Brewing Methods Class. 1-3 p.m. Zingerman's Coffee Co., 3723 Plaza Drive, Ann Arbor. Learn the keys to successful coffee brewing using a wide variety of brewing methods from filter drip to syphon pot. We will take a single coffee and brew it six to eight different ways. $10. 734-929-6060.
Monday
For the Love of Chocolate. 6:30 p.m. Ypsilanti District Library - Michigan Avenue branch, 229 W. Michigan Ave., Ypsilanti. Learn about the history of chocolate, different types of chocolate and how chocolate is made. Samples provided. Free. 734-482-4110 ext. 1385.
Northern Italian Feast - New Recipes with Francesca Giarraffa. 6-9 p.m. Ann Arbor Whole Foods, 3135 Washtenaw Ave., Ann Arbor. The instructor presents sautéed duck breasts topped with a sauce made of white wine, truffle oil and cream; red cabbage is slow cooked in port wine. The feast is crowned with pears poached in champagne and topped with mascarpone cheese, honey, and pistachios. This class is held in the Cooking and Lifestyles Classroom. $55. Register with Ann Arbor Community Education & Recreation at 734-994-2300 ext. 53203 or www.aareced.com.
Milan Senior Nutrition Program. 11:45 a.m. Milan Senior & Community Activity Center, 45 Neckel Court, Milan. In partnership with the Washtenaw County Senior Nutrition Program, they offer a nutritionally balanced meal three afternoons a week: Mondays, Wednesdays and Thursdays. There is a suggested donation of $2.50 for anyone who is 60 years or older and a fee of $5 for anyone under the age of 60. They do ask for 48 hour advanced reservations. Call or stop by the office.
Tuesday
Recipe Makeovers from your Personal Trainer with Sarah Coffin. 6-7 p.m. Ann Arbor Whole Foods, 3135 Washtenaw Ave., Ann Arbor. Diet is 70 percent of the equation when trying to lose weight. Learn three easy recipes that will increase your protein, lower your calories, and up your intake of vitamins. These recipes are fast, easy, and easily adaptable for vegetarians, vegans and omnivores!. Come hungry, because you'll get to sample the recipes. Free. Register at the customer service desk or at 734-975-4500.
Lunch is Served. Noon-1 p.m. Turner Senior Resource Center, 2401 Plymouth Road, Ann Arbor. Repeats every Tuesday and Friday. Reservations are required with two days prior notice. Suggested donation for those over 60 years of age is $2.50, for all others, $5. Call 734-998-9353 for reservations.
Wednesday
Mardis Gras Primer. 6:30-9:30 p.m. Ann Arbor Cooks, 5060 Jackson Road, Ann Arbor. Like jazz, Cajun and Creole cuisine melds world influences into something uniquely American. Once you get a feel for the basics of this distinctive cooking style, you'll bring spice and fun to meals throughout the year. Menu: We'll start with this New Orleans favorite - the muffaletta sandwich make with Italian cheese and meats topped off with olive relish; next we'll go Creole style with mouthwatering shrimp etouffee (shrimp 'doused in sauce' with rice); and finally, we'll head into the bayou for a Cajun rustic style jambalaya! $75. www.annarborcooks.com.
Wednesday Wine Tasting. 6 p.m. Paesano's Italian Restaurant, 3411 Washtenaw Ave., Ann Arbor. This informal wine tasting allows patrons to sample five up and coming wines from Italy. Joined by one of Paesano's knowledgeable wine purveyors, the staff creates tasty appetizers to accompany the bold flavors. $25. www.paesanosannarbor.com.
Thursday, Feb. 7
Chocolate Truffle Workshop . 6:30-9:30 p.m. Ann Arbor Cooks, 5060 Jackson Road, Ann Arbor. This class is offered through Washtenaw Community College, but held at Ann Arbor Cooks. Join us for a decadent and indulgent evening of truffle-making. This is three hours spent practicing your technique with some of the world's finest chocolates. You don't want to miss this one! Menu: Balsamic truffles; dark chocolate caramel truffles with fleur de sel; spiced Aztec truffles; honey vanilla chocolate truffles; chocolate champagne truffles. $75. Register at www.wccnet.edu/lifelong-learning.
Healthy Nutrition on a Budget. 6:30 p.m. Ypsilanti District Library - Michigan Avenue branch, 229 W. Michigan Ave., Ypsilanti. Learn how to maximize nutrition while minimizing cost in a program presented by Heather Anderson, registered dietician, and students in the dietetic program at Eastern Michigan University. Free. 734-482-4110 ext. 1385.
Coney Dog and Root Beer Float Night. 5-8 p.m. American Legion Post #419, 9807 Whitewood Road, Pinckney. $1.25 per Coney dog. For more information call 734- 878-9522 or 734-341-4249.
Thursday Night Rush Hour Relief at the Wine Bar. 5-8:30 p.m. Cranbrook Whole Foods, 990 W. Eisenhower Parkway, Ann Arbor, at the wine bar. Each Thursday evening, experts lead an exploration of wine, cheese and appetizers. This week's topic: Reds of the Rhone. $17. 734-997-7500.
To submit events for this calendar, e-mail calendar@annarbor.com.