Posted on
Thu, Mar 14, 2013 : 8:27 a.m.
Ann Arbor food & drink calendar for the week of March 14-21
By AnnArbor.com Staff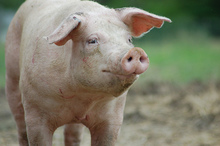 Today
In Praise of Pig
. 6:30-9:30 p.m. Ann Arbor Cooks, 5060 Jackson Road, Ann Arbor. Join us as we delve into this flavorful farm animal with its amazing history to evolve and stay on trend just like fashion. These days, extremely lean cuts are increasingly more available, ones that require some insights to proper cooking techniques that assure both the health benefits and delicious taste that pork offers. On the flip side, there has been a resurgence in pork's popularity because of the incomparable, full-on flavor, often, with old school preparations putting to use the not-so-lean parts. This class brings together the best of both worlds serving up a complete dinner menu. Menu: Rolled and roasted pork stuffed with ham, sausage and apples; roasted fingerling potatoes and vegetables with cider glaze. $75.
www.annarborcooks.com
.
(un)Corked Wine Tasting with Luca Pirovano, Owner of Villa Tavernago of the Emilia-Romagna region of Italy. 7:30-9 p.m. Ann Arbor Art Center, 117 W. Liberty St., Ann Arbor. Emilia-Romagna is a land of plenty, and a society with plenty of wine and food history behind it. This is the land of bologna, mortadella, Parmesan cheese, lasagna, balsamic vinegar, and Giuseppe Verdi. Come meet Luca Pirovano, owner of Villa Tavernago, and taste the delicious wines he will offer. Villa Tavernago is a neo-classic estate whose history tells of Napoleonic era aristocracy and opulence, but it's the wines of Villa Tavernago that tell the story of a family dedicated to tradition and quality. Wines will be accompanied by a selection of cheese chosen specifically for this evening by cheese monger Eric Lundy. $25. Purchase tickets at http://www.localwineevents.com/events/detail/463771 or in person at The Produce Station.
Boston Food: A New England Melting Pot. 7-8:30 p.m. Ann Arbor District Library, downtown branch, 343 S. Fifth Ave. at William, Ann Arbor, in the multipurpose room. TV personalities and culinary historians Marilyn and Sheila Brass, coauthors of the award-wining cookbooks Heirloom Baking with the Brass Sisters and Heirloom Cooking with the Brass Sisters, discuss and demonstrate recipes from their new cookbook exploring the food and lore of Boston. Free. 734-327-4555.
Beer Tasting: Stouts. 7-9 p.m. Arbor Brewing Co., 114 E. Washington St., Ann Arbor. Arbor Brewing beer tastings are a year-long celebration of the rich and varied tastes and traditions of beers from across the globe. Tastings are the second Thursday of each month, and each tasting focuses on a specific style and features two dozen or so of the best examples available in the style of the month. Tickets include beer samples, an appetizer buffet, a complete event program with tasting notes, and entry in our door prize drawing. March 14: Stouts. We hand-pick 25-30 of our favorite stouts - Irish stouts, milk stouts, chocolate stouts, coffee stouts, Russian imperial stouts, and some Belgian and experimental stouts when we can get our hands on them. $25 in advance and $30 on tasting day. Call 734-213-1393.
Thursday Night Rush Hour Relief at the Wine Bar. 5-8:30 p.m. Cranbrook Whole Foods, 990 W. Eisenhower Parkway, Ann Arbor, at the wine bar. Each Thursday evening, experts lead an exploration of wine, cheese and appetizers. This week's topic: Red Wines of Argentina. $17. 734-997-7500.
Friday
Hearty Red Wines of the World with Steve Kolody. 7-9 p.m. Ann Arbor Whole Foods, 3135 Washtenaw Ave., Ann Arbor. Join special guest Steve Kolody in an exploration of full-bodied styles of red wine from all over the globe. Cost of the class includes wine and light appetizers. $20. Register at the customer service desk or 734-975-4500.
St. Mary Lenten Fish Dinner. 4-7 p.m. St. Mary's Catholic Parish, 10601 Dexter Pinckney Road, Pinckney. The Men's Club of St Mary's Catholic Parish in Pinckney sponsors its annual fish dinners on Friday evenings during Lent, through March 22. The Parish is located south of M-36 at 10601 Dexter Pinckney Road in Putnam Township. Dinner includes baked or beer battered fried fish, choice of french fries, scalloped or baked potato, beets, coleslaw, homemade macaroni and cheese, cut vegetables, Jell-o, homemade rolls and dessert and assorted beverages. Take outs are available. $9 adults, $8 seniors, $4 children (under age 12) with a family (immediate only) plan available at $30. 734-878-3161.
Fish Fry: Saline Knights of Columbus. 4-7 p.m. St. Andrew's Catholic Church, 910 Austin Drive, Saline.Baked tilapia, beer-battered fried cod, salad, fries, beverages, and homemade cheesy potatoes, broccoli salad, coleslaw, mac and cheese, and desserts. $10, with discounts for seniors and children. 734-944-7790.
34th Annual Lenten Fish Fry. 4:30-7:30 p.m. Old St. Patrick's Church parish hall, 5671 Whitmore Lake Road, Whitmore Lake. Every Friday in Lent, through March 22, the church offers fried Alaskan pollack, choice of potato or macaroni and cheese, salad bar, and beverage. Desserts are available for a nominal additional charge. Beer and wine are available for a donation. $8, with discounts for seniors and children. oldstpatrick-annarbor.com or 734-662-8141.
Lenten Fish Dinner. 5-7:30 p.m. St. Francis of Assisi Catholic Church Parish Activities Center, 2250 E. Stadium, Ann Arbor. Every Friday in Lent, through March 22, the parish provides homemade clam chowder, fried cod, baked tilapia, mac and cheese, green beans, roasted red potatoes, french fries, salad bar, coleslaw, rolls with butter, homemade desserts, Girl Scout cookies and beverages. $9, with discounts for seniors and children. 734-769-2550.
Lenten Fish Fry: St. Mary Chelsea Knights of Columbus. 5-8 p.m. St. Mary Catholic Church, 14200 E. Old US-12, Chelsea. $10. 734-475-7561.
Friday through Sunday
Bill's Beer Garden opens for 2013. 5-11 p.m. each day. Downtown Home & Garden, 210 S. Ashley St., Ann Arbor. As Downtown Home & Garden closes for the day and cars vacate the parking lot, the beer garden takes over the space. Two seating pavilions plus pop-up tents (when necessary) provide shelter from the elements. Strings of lights and trees line the perimeter of the beer garden, creating a festive and inviting ambiance. Patrons are encouraged to bring food from nearby Mark's Carts into the beer garden. Beers from the following Michigan breweries be among the initial offerings on tap: Arbor Brewing Co., Bell's, Dark Horse, Wolverine Brewing, Founders, Original Gravity, Dragmonmead, and New Holland. The wine list features a geographically diverse selection, carefully chosen for each wine's compatibility with a range of foods. No cover. billsbeergarden.com.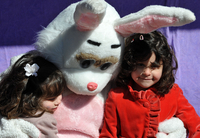 File photo | AnnArbor.com
Saturday
Jaycees' Breakfast with the Easter Bunny. 8-11 a.m. Recreation Park Community Center (Ypsilanti Senior Center), 1015 Congress St., Ypsilanti. Along with a buffet style breakfast, attendees will be able to meet the Easter Bunny, preview some of the games and activities from the scramble, and participate in a coloring contest. All proceeds from the breakfast benefits the Jaycees' Easter Egg Scramble and Marshmallow Drop. $8 for those 12 and older, $6 for children 3-11 years old, and free for children 2 and younger. breakfast@ypsilantijaycees.com.
Parent/Child Baking! 10 a.m.-12:30 p.m. Ann Arbor Cooks, 5060 Jackson Road, Ann Arbor. Join us for a fun hands-on baking class as you and your child make Honey Bee Almond Cake and Chocolate Thumbprint Cookies. These baked treats will satisfy any sweet tooth and is a great way to spend quality time in the kitchen with your child because there's no mess or stress - and we'll even pour you a cup of hot coffee. After baking and eating, we'll send you off with the recipes and any leftovers. This class is for ages 6 and older with an adult. $65 for a parent plus one child or $85 for a parent plus two children. Register online 48 hours in advance at www.annarborcooks.com.
Rugelach and Hamentashen. 2-3 p.m. Cranbrook Whole Foods, 990 W. Eisenhower Parkway, Ann Arbor. Join Eric for another one of his popular baking classes. $5. 734-977-7500.
Eat, Meet, & Be Cherry. 2-4 p.m. Cherry Republic, 223 S. Main St., Ann Arbor. Every Saturday in February and March, the store will host cooking demos by chefs from local restaurants, including Gratzi (March 16), Habana Cellar Lounge (March 23), and Conor O'Neill's (March 30). Free. 734-585-5231.
Saturday Farmers Market. 7 a.m.-3 p.m. Ann Arbor Farmers Market, 315 Detroit St., Ann Arbor. Find local produce and food from some of your favorite farmers as well as educational food demos and more. Free admission. Visit www.a2gov.org/market for more information.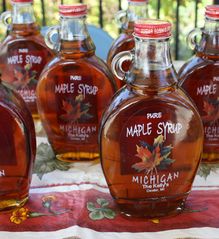 AnnArbor.com file photo | Kim Bayer
Saturday and Sunday
Journey to the Sugar Bush
. Tours on Saturday and Sunday at 10 a.m., 11 a.m. and noon. Breakfast is served 9 a.m.-2 p.m. Hudson Mills Metropark, 8801 N. Territorial Road, Dexter, in the Activity Center. Take a journey to the sugar bush on a guided tour. Travel back in time and experience how maple syrup has been made over the years; you may get a chance to tap a tree. Plus, enjoy an all you-can-eat pancake and sausage breakfast. $3 for the guided tour. Breakfast is $5.50 per adult and $3.50 per child. Preregistration is required at 734-426-8211.
Sunday
St. Patrick's Feast. Mass at 11:30, dinner and activities starting at 12:30 p.m. St. Andrew the Apostle Catholic Church, 910 Austin Drive, Saline. This festive event will benefit the Father Patrick Jackson House. Father Pat's provides a safe haven for pregnant and parenting adolescents and their children, with a commitment to the health and well-being of teen parent families. $75 per adult, $10 per child. 734-971-9781 ext. 323 or www.csswashtenaw.org.
St. Patrick's Day Dinner. 3-7 p.m. Livingston County Wildlife Conservation Club, 6060 E. M-36, Hamburg. Come celebrate St. Patrick's Day with Irish beef stew, corned beef and cabbage, and all the trimmings. The even twill feature Irish music. A cash bar will be available. $10 for adults, $5 for children 6-12. Children 5 and younger eat free. 810-231-1811.
Top O The Morning Party. 7 a.m.-midnight. Corner Brewery, 720 Norris St., Ypsilanti. From 7-11 a.m. the Corner hosts an all you can eat continental breakfast of corned beer hash, biscuits and gravy, scrambled eggs, fruit, Lucky Charms, OJ and coffee. More St. Patrick's food specials and happy hour pricing throughout the day. Live music by Kevin and the Glen Levens from 3-8 p.m. The beer garden will be open weather permitting. Free admission. Special breakfast is $6 with Facebook coupon. 734-480-2739.
Monday
The Art of the Souffle 6:30-9:30 p.m. Ann Arbor Cooks, 5060 Jackson Road, Ann Arbor. This class is offered through Washtenaw Community College, but held at Ann Arbor Cooks. Sweet or savory, souffles are a sure way to impress your guests, so join us for an evening mastering the process, and you'll see just how easy this crowd pleaser can be. Menu: asparagus souffle, Roquefort souffle, lemon souffle, chocolate souffle, and Grand Marnier souffle. $75. Register online 48 hours in advance at www.wccnet.edu/lifelong-learning.
Milan Senior Nutrition Program. 11:45 a.m. Milan Senior & Community Activity Center, 45 Neckel Court, Milan. In partnership with the Washtenaw County Senior Nutrition Program, they offer a nutritionally balanced meal three afternoons a week: Mondays, Wednesdays and Thursdays. There is a suggested donation of $2.50 for anyone who is 60 years or older and a fee of $5 for anyone under the age of 60. They do ask for 48 hour advanced reservations. Call or stop by the office.
Tuesday
The Best Varietals You've Never Seen. 7-9 p.m. Vinology, 110 S. Main St., Ann Arbor. Have you ever tasted Ruche? Well, it's delicious so don't be afraid of the unknown. Explore the varietal world less travelled at this unique seated wine tasting event. You will be introduced to some of the most passionate people in the wine industry. The chef will complement these intriguing wines with a three-course tasting menu that will preview some of our new spring dishes. $40, not including tax or gratuity.
Lunch is Served. Noon-1 p.m. Turner Senior Resource Center, 2401 Plymouth Road, Ann Arbor. Repeats every Tuesday and Friday. Reservations are required with two days prior notice. Suggested donation for those over 60 years of age is $2.50, for all others, $5. Call 734-998-9353 for reservations.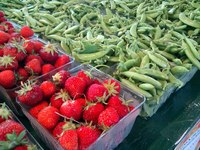 Courtesy Real Time Farms
Wednesday
Eat the Season: Spring.
10 a.m.-12:30 p.m. Ann Arbor Cooks, 5060 Jackson Road, Ann Arbor. Celebrate the Spring Vernal Equinox with us today. Eating seasonal vegetables often offers you the best in flavor as well as nutrition. In this class we will review the new crop of seasonal vegetables greeting the grocer's aisles and soon the farmer's markets. We will demystify artichokes, and celebrate asparagus, peas, spinach, strawberries, green beans, scallions, radishes and rhubarb. There are proper and diverse cooking techniques that preserve freshness and flavor that will be demonstrated and discussed. Menu: Herb-seasoned breaded artichoke; olive oil and garlic-sauteed asparagus with fresh fried egg; baby spinach and strawberry salad with balsamic vinegar reduction; Ragout Printanier - French stew of spring vegetables. $75. Register online 48 hours in advance at
www.annarborcooks.com
.
Rat Pad Releases. 6-9 p.m. Corner Brewery, 720 Norris St., Ypsilanti. Local amateur and professional brewers create imaginative beers on our 10-gallon Rat Pad brew system. We release these brews on the third Wednesday of each month and serve them at Corner while supplies last. Supplies are limited so come early. Anything left after 9 p.m. can be purchased to take home in a growler. No cover charge. 734-480-2739.
Wednesday Wine Tasting. 6 p.m. Paesano's Italian Restaurant, 3411 Washtenaw Ave., Ann Arbor. This informal wine tasting allows patrons to sample five up and coming wines from Italy. Joined by one of Paesano's knowledgeable wine purveyors, the staff creates tasty appetizers to accompany the bold flavors. $25. www.paesanosannarbor.com.
Thursday, March 21
Chicken Tikka Masala with Jyothi Abraham. 6:30-8:30 p.m. Ann Arbor Whole Foods, 3135 Washtenaw Ave., Ann Arbor. Chicken Tikka Masala is a curry dish made in a rich red and creamy, tomato based sauce. This dish is well complemented with Muttar (Pea) Rice. Follow this classic taste of India with a sweet ending of Gajar Halwa, a traditional carrot and raisin dessert. This class is held in the Cooking and Lifestyles Classroom. $45. Pre-registration with Ann Arbor Community Education & Recreation required: 734-994-2300 ext. 53203 or www.aareced.com.
Coney Dog and Root Beer Float Night. 5-8 p.m. American Legion Post #419, 9807 Whitewood Road, Pinckney. $1.25 per Coney dog. For more information call 734- 878-9522 or 734-341-4249.
Thursday Night Rush Hour Relief at the Wine Bar. 5-8:30 p.m. Cranbrook Whole Foods, 990 W. Eisenhower Parkway, Ann Arbor, at the wine bar. Each Thursday evening, experts lead an exploration of wine, cheese and appetizers. This week's topic: Napa Valley. $17. 734-997-7500.
To submit events for this calendar, e-mail calendar@annarbor.com.