Posted on
Thu, Mar 7, 2013 : 8:30 a.m.
Ann Arbor food & drink calendar for the week of March 7-14
By AnnArbor.com Staff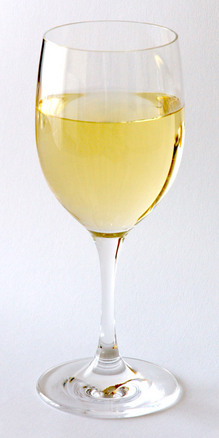 Photo by Wikimedia Commons user Andre Karwath
Today
Braising 101
. 6-10 p.m. Ann Arbor Cooks, 5060 Jackson Road, Ann Arbor. This class is offered through Washtenaw Community College, but held at Ann Arbor Cooks. Cold weather creates a craving for deep-flavor, slow-cooked comfort foods. Braising is where it's at. Join us for an intensive look at this moist-heat method of cooking as we re-create some unbelievable classics. It's all about "low and slow" and deep flavor with this technique. Menu: Coq au vin, braised lamb shanks, braised leeks, and braised potatoes. $85. Register at
www.wccnet.edu/lifelong-learning
.
Coney Dog and Root Beer Float Night. 5-8 p.m. American Legion Post #419, 9807 Whitewood Road, Pinckney. $1.25 per Coney dog. For more information call 734- 878-9522 or 734-341-4249.
Thursday Night Rush Hour Relief at the Wine Bar. 5-8:30 p.m. Cranbrook Whole Foods, 990 W. Eisenhower Parkway, Ann Arbor, at the wine bar. Each Thursday evening, experts lead an exploration of wine, cheese and appetizers. This week's topic: White wines of Argentina. $17. 734-997-7500.
Friday
Spaghetti dinner. 5-8 p.m. American Legion Post #419, 9807 Whitewood Road, Pinckney. $6 for adults, $5 for seniors, $3 for children 9 and under. 734-878-9522 or 734-341-4249.
St. Mary Lenten Fish Dinner. 4-7 p.m. St. Mary's Catholic Parish, 10601 Dexter Pinckney Road, Pinckney. The Men's Club of St Mary's Catholic Parish in Pinckney sponsors its annual fish dinners on Friday evenings during Lent, through March 22. The Parish is located south of M-36 at 10601 Dexter Pinckney Road in Putnam Township. Dinner includes baked or beer battered fried fish, choice of french fries, scalloped or baked potato, beets, coleslaw, homemade macaroni and cheese, cut vegetables, Jell-o, homemade rolls and dessert and assorted beverages. Take outs are available. $9 adults, $8 seniors, $4 children (under age 12) with a family (immediate only) plan available at $30. 734-878-3161.
Fish Fry: Saline Knights of Columbus. 4-7 p.m. St. Andrew's Catholic Church, 910 Austin Drive, Saline.Baked tilapia, beer-battered fried cod, salad, fries, beverages, and homemade cheesy potatoes, broccoli salad, coleslaw, mac and cheese, and desserts. $10, with discounts for seniors and children. 734-944-7790.
34th Annual Lenten Fish Fry. 4:30-7:30 p.m. Old St. Patrick's Church parish hall, 5671 Whitmore Lake Road, Whitmore Lake. Every Friday in Lent, through March 22, the church offers fried Alaskan pollack, choice of potato or macaroni and cheese, salad bar, and beverage. Desserts are available for a nominal additional charge. Beer and wine are available for a donation. $8, with discounts for seniors and children. oldstpatrick-annarbor.com or 734-662-8141.
Lenten Fish Dinner. 5-7:30 p.m. St. Francis of Assisi Catholic Church Parish Activities Center, 2250 E. Stadium, Ann Arbor. Every Friday in Lent, through March 22, the parish provides homemade clam chowder, fried cod, baked tilapia, mac and cheese, green beans, roasted red potatoes, french fries, salad bar, coleslaw, rolls with butter, homemade desserts, Girl Scout cookies and beverages. $9, with discounts for seniors and children. 734-769-2550.
Lenten Fish Fry: St. Mary Chelsea Knights of Columbus. 5-8 p.m. St. Mary Catholic Church, 14200 E. Old US-12, Chelsea. $10. 734-475-7561.
Saturday
The Big 400 Maple Festival Pancake Breakfasts. 9 a.m. at McLennan Maple Syrup, 10710 MI State Road 52 Manchester, and 10 a.m. at Chelsea American Legion, 1700 Ridge Road, Chelsea. The communities of The Big 400 are teaming up to celebrate maple syruping in southern Michigan with a festival on Saturday, March 9 and Sunday, March 10. The festival includes pancake breakfasts, tours of tapping areas and the syruping process, the release of a local maple wine and more. There are two Washtenaw County locations to choose from for a pancake breakfast on March 9. From 10 a.m.-2 p.m., bring your family and friends to the Legion Post on Cavanaugh Lake in Chelsea for a breakfast of pancakes, sausage, juice, milk, or coffee with real maple syrup. $6 per person. Or starting at 9 a.m., stop by McLennan Maple Syrup in Manchester for a pancake breakfast. $5 for adults, $3 for children. Sides of sausage are available for an additional charge. For more information, call 734-428-7005 (Manchester) or 734-475-1964 (Chelsea).
Time to Make The Donuts! 9 a.m.-1 p.m. Ann Arbor Cooks, 5060 Jackson Road, Ann Arbor. There is really nothing better than biting into a fresh, hot from the fryer, sweet and soft doughnut. In this class, learn how to make doughnuts at home for the perfect weekend treat. Menu: Jam-filled doughnuts with citrus glaze; "Krispy-Kreme" style glazed doughnuts; cinnamon-spice cider mill doughnuts; vanilla poppy seed cake doughnuts with vanilla bean-lemon glaze. $75. Register online 48 hours in advance at www.annarborcooks.com.
Fermentation Workshop. 1-4:30 p.m. Natural Wellness Balance Medical Center, 1310 S. Main St., Ann Arbor. Fermented foods can help you recover from common ailments, such as fatigue, IBS, acid reflux, constipation, joint pain, etc. This workshop will be a hands on learning experience where you will walk away with the knowledge and tangible skill of safe and practical fermentation! The cost includes recipe booklet & Pickl-It fermentation jar (a $50 value). $99. To register call 734-929-2696 or email brendabaran@nbwellness.com.
Zingerman's Coffee Co. Second Saturday Tour. 11 a.m.-noon on the second Saturday of each month. Zingerman's Coffee Co., 3723 Plaza Drive, Ann Arbor. Join us monthly for an open-to-the-public, no-reservation-required event. Sit down with Coffee Company managing partners Allen and/or Steve to tour their facility and learn about coffee—where it's grown, how it's sourced and how it's roasted. Learn how to discern the subtle distinctions among the world's finest coffees as you sample some new offerings and some old favorites brewed using a variety of techniques. Free. 734-929-6060.
Eat, Meet, & Be Cherry. 2-4 p.m. Cherry Republic, 223 S. Main St., Ann Arbor. Every Saturday in February and March, the store will host cooking demos by chefs from local restaurants, including The Melting Pot (March 9), Gratzi (March 16), Habana Cellar Lounge (March 23), and Conor O'Neill's (March 30). Free. 734-585-5231.
Saturday Farmers Market. 7 a.m.-3 p.m. Ann Arbor Farmers Market, 315 Detroit St., Ann Arbor. Find local produce and food from some of your favorite farmers as well as educational food demos and more. Free admission. Visit www.a2gov.org/market for more information.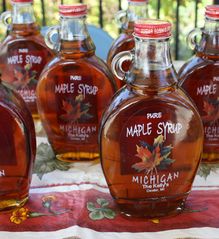 AnnArbor.com file photo | Kim Bayer
Saturday and Sunday
Journey to the Sugar Bush
. Tours on Saturday and Sunday at 10 a.m., 11 a.m. and noon. Breakfast is served 9 a.m.-2 p.m. Hudson Mills Metropark, 8801 N. Territorial Road, Dexter, in the Activity Center. Take a journey to the sugar bush on a guided tour. Travel back in time and experience how maple syrup has been made over the years; you may get a chance to tap a tree. Plus, enjoy an all you-can-eat pancake and sausage breakfast. $3 for the guided tour. Breakfast is $5.50 per adult and $3.50 per child. Preregistration is required at 734-426-8211.
Sunday
Family Dining: March. 2:30-5:30 p.m. Ann Arbor Cooks, 5060 Jackson Road, Ann Arbor. This is our attempt to get you to slow down a little and gather around the table to enjoy a meal with your junior chef! In just a couple of hours, your child will prepare a three-course meal that you get to come back and enjoy. No shopping, no chopping, no clean up for you! (And they wait on you!) We'll talk about kitchen safety, favorite foods, family pets, and other important things while we cook. We'll pack up any leftovers (feel free to bring a container) and we'll send you home with a recipe packet. Your child will work in small teams, learn to make recipes from scratch, plate and enjoy the fruits of their labor (and we might even throw in some table etiquette!). These classes are for children ages 10 and up and are three hours long, with the last half hour designated for eating. Menu: Red leaf lettuce with balsamic vinaigrette, pork loin with pineapple glaze and fried apples; petite chocolate-chili Bundt cake. $75 per one child participant and up to two family members. www.annarborcooks.com.
A Vegetarian Take on Irish Cooking. Noon Pittsfield Grange, 3337 Ann Arbor-Saline Road, Ann Arbor. Preserving Traditions invites all to make Irish soda bread, colcannon (a mashed potato and kale dish), boxtys (potato pancakes), and bairin breac (a cross between sweet bread and cake that's traditionally served on Halloween). Vegan versions of recipes will be available. $5-$10 sliding scale (Grange members attend for free). Preregistration required: preservetrad@umich.edu or 734-769-1052.
Monday
Global Stews: New Menu . 6:30-10 p.m. Ann Arbor Cooks, 5060 Jackson Road, Ann Arbor. Grab your passport! It's time to warm up your season with these savory, rich, satisfying stews from around the world! Menu: Thai red curry Kabocha squash stew; traditional French cassoulet; Osso Buco (Italian-braised veal shank). $80. www.annarborcooks.com.
Milan Senior Nutrition Program. 11:45 a.m. Milan Senior & Community Activity Center, 45 Neckel Court, Milan. In partnership with the Washtenaw County Senior Nutrition Program, they offer a nutritionally balanced meal three afternoons a week: Mondays, Wednesdays and Thursdays. There is a suggested donation of $2.50 for anyone who is 60 years or older and a fee of $5 for anyone under the age of 60. They do ask for 48 hour advanced reservations. Call or stop by the office.
Tuesday
Simply Delicious - Complete Roast Chicken Dinner. 6:30-9:30 p.m. Ann Arbor Cooks, 5060 Jackson Road, Ann Arbor. Join us as we prepare moist, golden, delicious chicken. Using a traditional cooking technique that harkens back to the days when the French bakers would free up their ovens on Sundays so that villagers could have a complete meal without a fuss at home. In this class, you will learn how to truss and carve poultry. You will also create (the incredibly versatile) compound butter and apply the finishing touches to pan-roasted vegetables that make memories. Menu: Perfect herb-roasted chicken poele with oven-roasted potatoes and vegetables. $75. www.annarborcooks.com.
Veg 101: Vegan Indian Foods. 7-8:15 p.m. Cranbrook Whole Foods, 990 W. Eisenhower, Cranbrook Village shopping center, Ann Arbor. VegMichigan representatives demonstrate several recipes. $5. Preregistration required: 734-997-7500.
Raw Foods: Spring Detox. 7-8:30 p.m. Crazy Wisdom Bookstore and Tearoom, 114 S. Main St., Ann Arbor. With instructor Ellen Livingston: Learn how to detoxify safely and naturally. Free. To register, sign up on the People's Food Co-op bulletin board or online at http://www.peoplesfood.coop/news_and_events/.
Lunch is Served. Noon-1 p.m. Turner Senior Resource Center, 2401 Plymouth Road, Ann Arbor. Repeats every Tuesday and Friday. Reservations are required with two days prior notice. Suggested donation for those over 60 years of age is $2.50, for all others, $5. Call 734-998-9353 for reservations.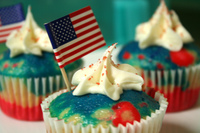 Photo by Flickr user Ginnerobot.
Wednesday
Cupcake Decorating. 6:30 p.m. Ypsilanti District Library - Michigan Avenue branch, 229 W. Michigan Ave., Ypsilanti. Learn how to make and color your own frosting and pipe it onto cupcakes. Experiment with different frosting tips and designs. Free. 734-482-4110.
Wednesday Wine Tasting. 6 p.m. Paesano's Italian Restaurant, 3411 Washtenaw Ave., Ann Arbor. This informal wine tasting allows patrons to sample five up and coming wines from Italy. Joined by one of Paesano's knowledgeable wine purveyors, the staff creates tasty appetizers to accompany the bold flavors. $25. www.paesanosannarbor.com.
Thursday, March 14
In Praise of Pig . 6:30-9:30 p.m. Ann Arbor Cooks, 5060 Jackson Road, Ann Arbor. Join us as we delve into this flavorful farm animal with its amazing history to evolve and stay on trend just like fashion. These days, extremely lean cuts are increasingly more available, ones that require some insights to proper cooking techniques that assure both the health benefits and delicious taste that pork offers. On the flip side, there has been a resurgence in pork's popularity because of the incomparable, full-on flavor, often, with old school preparations putting to use the not-so-lean parts. This class brings together the best of both worlds serving up a complete dinner menu. Menu: Rolled and roasted pork stuffed with ham, sausage and apples; roasted fingerling potatoes and vegetables with cider glaze. $75. www.annarborcooks.com.
(un)Corked Wine Tasting with Luca Pirovano, Owner of Villa Tavernago of the Emilia-Romagna region of Italy. 7:30-9 p.m. Ann Arbor Art Center, 117 W. Liberty St., Ann Arbor. Emilia-Romagna is a land of plenty, and a society with plenty of wine and food history behind it. This is the land of bologna, mortadella, Parmesan cheese, lasagna, balsamic vinegar, and Giuseppe Verdi. Come meet Luca Pirovano, owner of Villa Tavernago, and taste the delicious wines he will offer. Villa Tavernago is a neo-classic estate whose history tells of Napoleonic era aristocracy and opulence, but it's the wines of Villa Tavernago that tell the story of a family dedicated to tradition and quality. Wines will be accompanied by a selection of cheese chosen specifically for this evening by cheese monger Eric Lundy. $25. Purchase tickets at http://www.localwineevents.com/events/detail/463771 or in person at The Produce Station.
Boston Food: A New England Melting Pot. 7-8:30 p.m. Ann Arbor District Library, downtown branch, 343 S. Fifth Ave. at William, Ann Arbor, in the multipurpose room. TV personalities and culinary historians Marilyn and Sheila Brass, coauthors of the award-wining cookbooks Heirloom Baking with the Brass Sisters and Heirloom Cooking with the Brass Sisters, discuss and demonstrate recipes from their new cookbook exploring the food and lore of Boston. Free. 734-327-4555.
Thursday Night Rush Hour Relief at the Wine Bar. 5-8:30 p.m. Cranbrook Whole Foods, 990 W. Eisenhower Parkway, Ann Arbor, at the wine bar. Each Thursday evening, experts lead an exploration of wine, cheese and appetizers. This week's topic: Red Wines of Argentina. $17. 734-997-7500.
To submit events for this calendar, e-mail calendar@annarbor.com.