Posted on
Fri, Apr 12, 2013 : 2 p.m.
Ann Arbor native takes over The Ravens Club kitchen
By Jessica Webster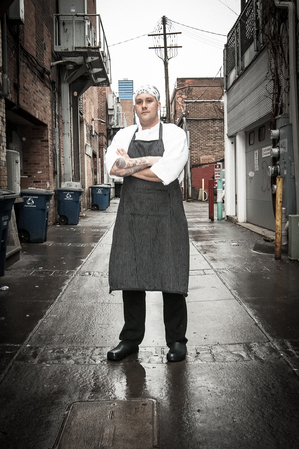 Courtesy photo
Five months after chef
Seth Bateman took over the helm
of the Ann Arbor restaurant,
The Ravens Club
has a new chef in the kitchen, this time one with a strong Ann Arbor pedigree.
Chef Frank Fejeran grew up in Ann Arbor and cut his culinary teeth in a variety of high-profile kitchens, including The Hopleaf in Chicago and Takashi Yagihashi's Tribute in Farmington Hills. He moved back to Ann Arbor in 2009, working for a time as sous chef at Grange Kitchen and Bar.
Ravens Club managing partner Jeff Paquin says that the menu that he and Chef Fejeran have been working on for the past four weeks is now live, though they will be making some small tweaks based on customer feedback.
"The menu Frank and I have worked on is closer to my original vision," said Paquin in an email to AnnArbor.com. "Since I used to spend a lot of time in Chicago, I wanted to bring a little of that big-city swagger to our neck of the woods. This menu is much more aggressive from a housemade perspective than menus past. I wanted to make even more in-house, such as mustards, ketchups, better pickles, burger ground in house, beef jerky, cured meats, more desserts, etc."
The Ravens Club is located at 207 S Main St., Ann Arbor. You can find the new Ravens Club menu on the restaurant's website.
Jessica Webster leads the Food & Grocery section for AnnArbor.com. Reach her at JessicaWebster@annarbor.com. You also can follow her on Twitter or subscribe to AnnArbor.com's email newsletters.