Posted on
Mon, Dec 12, 2011 : 8 a.m.
Ann Arbor Tailgates - Try a Baked Potato Chip recipe from a cookbook to support Alpha House
By Mary Bilyeu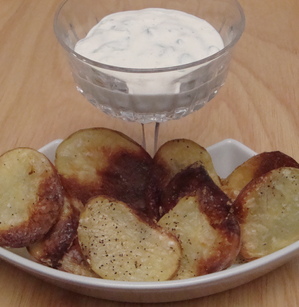 Mary Bilyeu, Contributor
Buy a cookbook and help the homeless.
Alpha House — a shelter for homeless families in Washtenaw County — has published a cookbook just in time for holiday shopping: Ann Arbor Tailgates: Your Favorite Recipes. It features stories and photos in addition to recipes, and it is most entertaining.
You get to meet Super Fan I, whose game uniform includes a superhero's mask created as an homage to the famous Wolverines' helmets; he offers recipes for "To Hell with Notre Dame" Gumbo and "Smash the Spartans" Apple Cake. There's also Go Bleu Cheese Spread and Go Blue Martinis, perfect for cheering on The University of Michigan's Maize 'n' Blue.
If you know someone who likes to cook, let me assure you that it's not possible to have too many cookbooks. If you know rabid football fans, those folks need this cookbook for new tailgating ideas. If you know someone who likes to entertain, there are great party recipes, from dips to chilis to desserts. Truly, this cookbook would make a great gift for anyone!
Ann Arbor Tailgates costs only $20, and $15 of that is a charitable donation, which may be tax deductible. And just look how easy it is to buy copies:
1) Click on this link and buy it online. Or,
2) Contact Helen Starman, Director of Development at Alpha House: 4290 Jackson Road, Ann Arbor. Phone: 734-822-0220. The cookbook can be picked up at no extra charge or mailed to you or your gift recipient for $3.50 per copy.
Alpha House needs all the support we can give it, as it's really so much more than a shelter. As Executive Director Nicole Adelman states in her introduction to the cookbook:
"More than providing just a bed and a roof, our goal is to support families in securing and maintaining their own homes."
And how successful is the amazing, dedicated staff in helping their remarkably strong and resilient clients to achieve this? "In 2010, 100 percent of the families who left Alpha House in our Home Based Support Program were still housed one year later."
Okay, enough nudging! Let me show you one of the great recipes you'll find in your new cookbook.
It took me a long, long time to decide what to cook for this post; there were so many choices, and we all know that decisions are not my strongsuit. Something rich and hearty, like Poppy Seed Ham and Cheese Rolls? Something lighter, such as Mediterranean Eight-Layer Dip featuring hummus and vegetables? Something as sophisticated as Kahlua-Espresso Truffles, or something more family-friendly like Strawberry Pretzel Salad? Or something wildly different, namely the Vodka-Infused Gummy Bears? (I know I've piqued your curiosity! You've gotta buy the book now!)
What to make? What to eat?
It came down to which ingredients I had on hand. And so the winner was Baked Potato Chips, contributed by Maize Marvel: hand-cut potatoes baked in just a touch of olive oil, sprinkled with kosher salt and black pepper and served with a green onion dip.
This simply-prepared snack was so amazingly (a-maize-ingly?) good! I'd baked only one potato's worth of chips, then promptly ate them all by myself. I was sorely tempted to slice up another potato to make a second batch, but I decided that gluttony was not an attractive trait. I particularly liked the slightly overdone caramelized bits — they were crispy and extra flavorful; and I was generous with the pepper, so the chips were a bit spicy, too, which was a perfect complement to the creamy, zesty dip.
Helen Starman — whom you'll be calling to order copies of the book — offers the following: "I am so excited that you made the potato chips — I love them... the chips are so tasty and addictive!"
So, I've given you one recipe. To get the others, buy a cookbook and help the homeless while doing your holiday shopping.
I'll be keeping Office Hours at AnnArbor.com on Thursday, Dec. 15 from 4-5 p.m. Come say, "Hi!" Give me Frugal Floozie Friday recommendations, tell me what you're serving for whichever upcoming holidays you're celebrating — just stop by, have a cup of coffee, hang out in the Community Space....
Baked Potato Chips with Green Onion Dip
(slightly adapted from the recipe submitted by Maize Marvel)
Chips:
1 tablespoon olive oil
1 large Yukon Gold potato, sliced very thinly
kosher salt
freshly ground black pepper
Preheat oven to 325 degrees. Brush the oil over a baking sheet, then place the baking sheet into the oven for 10 minutes.
Lay the potato slices onto the hot baking sheet without overlapping them. Sprinkle with salt and pepper to taste, then bake for 10 minutes. Rotate the baking sheet and bake for another 10 minutes, then flip the chips over and bake them for another 5 minutes or until done to your liking.
Dip:
1/3 cup sour cream
1 tablespoon mayonnaise
1 large green onion, chopped
sprinkle of garlic powder
1/2 teaspoon lemon juice
Mix all ingredients together and serve with the chips.

Mary Bilyeu has won or placed in more than 60 cooking contests and writes about her adventures in the kitchen. She was thrilled to have her post about Scottish Oatmeal Shortbread named as one of the daily "Best of the Blogs" by the prestigious Food News Journal.
Go visit Mary's blog — Food Floozie — on which she enthuses and effuses over all things food-related. Her newest feature is Frugal Floozie Friday, seeking fun and food for $5 or less ... really! Feel free to email her with questions or comments or suggestions: yentamary@gmail.com.
The phrase "You Should Only Be Happy" (written in Hebrew on the stone pictured in this post) comes from Deuteronomy 16:15 and is a wish for all her readers as they cook along with her ... may you always be happy here.