Posted on
Sun, Feb 26, 2012 : 8:45 a.m.
Ann Arbor's Cafe Japon: Faster food for busy people
By Jessica Levine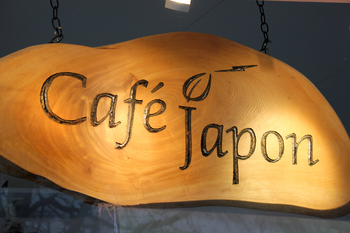 Photo by Amanda Vogelsang
Miyoko Honma, owner of Cafe Japon in downtown Ann Arbor, is used to the question: How do you pronounce the restaurant's name?
She laughed. "Like a rock hitting water. Hah-pone."
She carefully, purposefully poured more green tea. Several members of her kitchen staff, aprons dusted with flour, took a short break and slurped noodles with beef in a back corner booth.
A French patisserie in flavor and a Japanese tea shop in protocol and delicacy, Miyoko opened the cafe five years ago. She had no previous restaurant management experience and relied, she said, on trial and error.
Trial and error, and perhaps a series of improvised yet strategic gestures, took the Tokyo native to New York 30 years ago after retiring as an automotive engineer at Denso Corp. She wanted a change; she wanted to be independent and try more hands-on work. Enrolling in The French Culinary Institute, Miyoko began a new career as a bread baker and pastry chef that soon had her baking in some of the City's finest, most exclusive kitchens.
Despite rubbing elbows with some of New York's top chefs, she modestly asked that we not name those kitchens. No bragging here.
Not long after she came to Ann Arbor, Miyoko knew what she wanted to do. It had something to do with bread.
"I wanted to make a baguette — duh!" she said. "I couldn't get a good baguette around here, and I didn't think so literally about other [business] things."
When Miyoko opened the cafe doors, word quickly spread about these baguettes, as well as her chocolate, mozzarella and apricot croissants, daifuku (glutinous rice cakes stuffed with red bean paste, a Japanese favorite) and orange butter crepes.
And, as her customer base grew, so did the need to rethink and expand.
Today, Miyoko is revamping her business model to better serve her customers. A five-pronged approach, she will first relocate her baking space to make more room in the cafe's tiny kitchen, which was originally built for a Blimpie restaurant. Her mixer will happily have a new place of its own, she said.
Photo by Amanda Vogelsang
Miyoko also wants to expand the relationships with her current restaurant wholesalers, including local favorites Jolly Pumpkin, The Ravens Club and Good Time Charley's, to whom she provides rolls for burgers and sandwiches. Ann Arbor wine and specialty food store Morgan & York will soon begin offering the cafe's honey whole wheat bread, muffins, scones, and quiches.
All of this, she explained, is a part of her drive to improve service. Despite the cafe's mission of "Slow Food (Prepared from scratch with quality ingredients) for Busy People," Miyoko recognizes her limitations as a small, independent restaurateur. Accordingly, she is simplifying the lunch menu by removing "long-process" Japanese food items such as udon; dinner will be only available as takeout (promising good, homestyle food, like beef stew, that her mother used to make).
One aspect that will surely not change, however, is cafe's attention to quality food, drink and presentation. Certified by the Japanese Tea Association as a tea advisor, Miyoko will continue serving premium Japanese, Chinese, black and oolong teas along with her baked goods. She is fanatic about the preparation (that is, where and in what season leaves are picked) and the flavor of her brews — down even to the pottery they are served in.
"It is about communication. If I don't feel the right vibe from a piece, I don't buy it. But if I feel like it's saying something, I buy it. Personally, I'm not interested in clothes or anything — ceramic bowls and plates, whatever I serve tea or food with — they're an important part of the presentation."
Next to two little bistro tables near the front door, buried beneath copies of Japanese newspapers and advertisements, stands her tribute to ceramics: Clay Raku-yaki pieces, (translation, "enjoyment" or "comfort") traditionally used during Japanese tea ceremonies, ceramic dishes with dipping bowls and chopsticks, and a Chinese tea set with scent cup (used to appreciate the tea's aroma) line the shelves of a glass cabinet.
This — the hand-painted pottery, house sencha teas, baguettes, and noodles — Miyoko explained, represents who she is. And it is all Cafe Japon, which, like a kettle on a stove, is beginning to bubble anew.
Jessica Levine profiles the culture, history and personalities of Washtenaw County restaurants for AnnArbor.com. Contact her at levineeats@gmail.com or via Twitter. And please heartily welcome Amanda Vogelsang, the gal behind the camera.