Posted on
Wed, Oct 24, 2012 : 10:52 a.m.
Ann Arbor's Krazy Jim's Blimpy Burger featured on Travel Channel
By Jessica Webster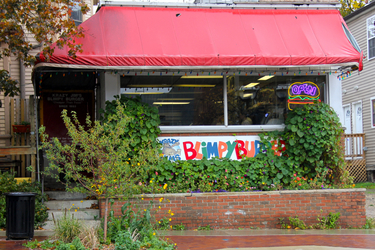 Jessica Webster | AnnArbor.com
Ann Arbor
Travel Channel
fans may have noticed a familiar burger griddle flash across their TV screens recently. Yep, after features on
Diners, Drive-Ins and Dives
, and
Man v. Food
,
Krazy Jim's Blimpy Burger
was acknowledged as one of the best burger joints in America on an episode of
Hamburger Paradise
.
Blimpy Burger owner Rich Magner is sanguine about it all. This kind of attention is expected for a restaurant that is routinely voted best burger in local media. The lines out the door and around the block on home game Saturdays is evidence enough that Blimpy Burger has credibility to spare.
"The biggest difference we've seen since it aired," said Magner, "is just that it reminds townies that we're still here."
Jessica Webster | AnnArbor.com
The filming for the show took place in the spring. Staff at the restaurant had to cover up the autographed Guy Fieri Diners Drive-Ins and Dives poster that graces the wall behind the counter, as Hamburger Paradise airs on a different channel.
To date, Diners Drive-Ins and Dives has had the biggest impact on Blimpy Burger's business.
"I did actually get some people, a few families, come in after they aired Hamburger Paradise. But Diners Drive-Ins and Dives has had the biggest effect," said Magner. "They aired that one back in 2008, but they just keep re-airing it. It always gets people in. They rerun the show, and then we'll get a flurry of phone calls right after it ends."
And it's not just locals. Magner says the restaurant is a magnet for people passing through town.
"A lot of people from Detroit, a whole lot people from Ohio. Sometimes they're just driving through. Sometimes they're here for the hospital or something."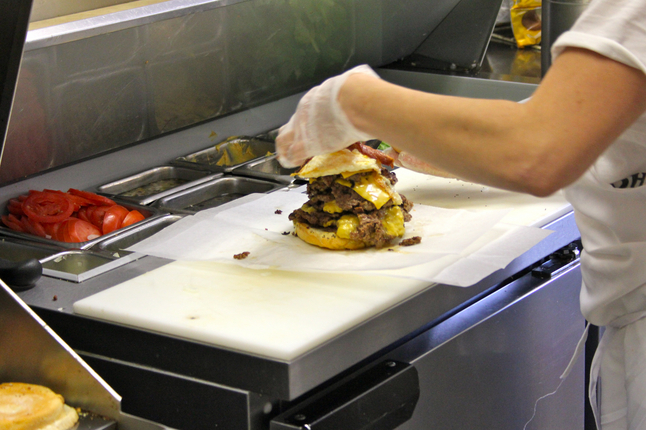 Jessica Webster | AnnArbor.com
And sometimes, they're just here for the burgers.
"Yeah, we've had people tell us they've come 500 miles or more for our burgers," said Magner, with a smile in his voice. "Five or six hours just specifically to come here."
Blimpy Burger staff has a reputation for being a little, say, impatient with customers who don't follow their strict ordering rules (don't tell them the cheese until they ask you for the cheese, for God's sake!). So when these shows bring in new customers, does Magner instruct his staff to maybe go a little easy on the Blimpy neophytes?
"The rules are there to expedite the line," explained Magner. "Not to be burger Nazis."
Jessica Webster heads up the Food & Grocery section for AnnArbor.com. You can reach her at JessicaWebster@AnnArbor.com.