Posted on
Tue, Nov 29, 2011 : 3:20 p.m.
Annual Wine Cellar fundraiser to benefit HIV/AIDS Resource Center Thursday
By AnnArbor.com Staff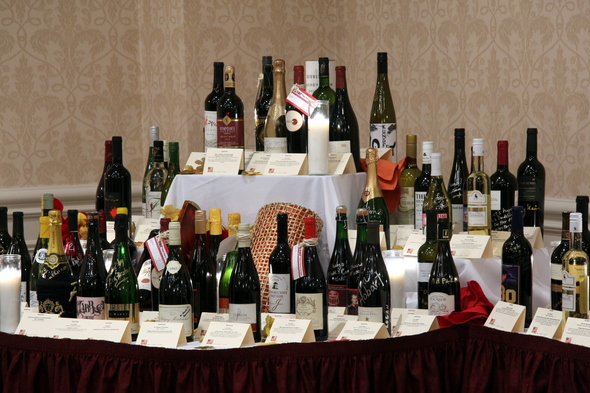 Photo courtesy of the HIV/AIDS Resource Center
The
HIV/AIDS Resource Center
(HARC) will kick off the holidays with their eighth annual Wine Cellar fundraising event on Thursday, Dec. 1 at 6:30 p.m. This benefit and wine tasting event will be held at Metal Off Main, a metal fabrication studio and gallery located 220 Felch St. in Ann Arbor, and includes a raffle of unique collections of wine.
From the HIV/AIDS Resource Center press release:
"This year, the Wine Cellar event will also be a way to commemorate World AIDS Day.
"Given the significance of this day, it is a perfect time to bring supporters together to reflect on 30 years of AIDS — to celebrate our successes and to re-energize ourselves for the work that is left to be done to fight the spread of HIV in our community," says Jimena Loveluck, President/CEO of HARC.
Donated by local celebrities, wine collectors and bon vivants including radio personalities, elected officials and other local community leaders, the bottles are autographed and their personal story of the wine is included. The Wine Cellar raffle features a grand prize of over fifty bottles of wine …an instant wine cellar to one individual out of this outstanding collection!
Attendees will taste wines selected by Everyday Wines, enjoy delicious food prepared by Bona Sera Supper Club and DINE\aut\ Catering, as well as the decadent chocolate fountain from Schakolad Chocolate Factory. Entertainment will include live jazz performed by the Jesse Kramer Trio and co-host Linda Yohn from WEMU Radio.
Event tickets are $50 per person in advance or $60 at the door and can be purchased through HARC by emailing winecellar@hivaidsresource.org, contacting Chris McMullen at 734-572-9355, or online at www.hivaidsresource.org. Raffle tickets are $10 each and can be purchased at the event on Thursday evening.
The HIV/AIDS Resource Center (HARC) is a private non-profit organization that provides HIV prevention services, as well as case management and support for people living with HIV/AIDS. HARC is the only comprehensive AIDS service organization in a four-county service area that includes Washtenaw, Jackson, Lenawee and Livingston Counties. HARC's mission is to provide HIV related services to the community through compassionate direct care, prevention and outreach activities."