Posted on
Tue, Jan 11, 2011 : 7 a.m.
Appalachian Stack Cake: a traditional pioneer wedding cake
By Erin Mann
Erin Mann is baking a new cake every week for a year from the "All Cakes Considered" cookbook and shares her adventures here on AnnArbor.com. Read past columns here.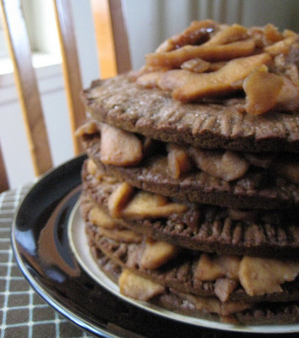 Erin Mann | Contributor
If you've been reading my posts regularly, you may have noticed that 52 weeks have gone by since I began my cake baking journey with "All Cakes Considered" as my guide. A cake a week for a year — that was the original gig.
"All Cakes Considered" contains a grand total of 55 cake recipes, and I'll be baking the remaining three cakes over the coming weeks. You may be wondering, "What's next for the baking bachelorette?" Well, I'm not letting you in on the details... yet. Just know that I'm not going anywhere soon, and I'm very happy about that.
Enough logistics — let's talk about cake. I'm loving these cakes that have stories to tell — Appalachian Stack cake is another cake with history. You may know it as dried apple stack cake, Confederate old-fashioned stack cake or Kentucky pioneer wash day cake. Like the cake, the names are a mouthful.
Appalachia, a region of the United States that stretches southwest from southern New York to northern Mississippi, is known for this unique layer cake brought by pioneer James Harrod in the late 1700s. Some variation of the cake has remained popular with mountain families ever since. In lieu of dried apple filling, other versions of the cake are filled with applesauce or apple butter.
Traditionally, Appalachian Stack cake was served at mountain weddings. Guests would each bake and bring a layer of molasses cookie for the cake. The bride's family would prepare the spiced apple filling from thinly sliced apples that had been dried in the sun. Her family would assemble the cake — the taller the cake, the more popular the bride.
Compared to the cakes from recent weeks, this one was a cinch to make. The hardest part about making the apple filling was finding the dried apples. I bought six three-ounce bags of dried apples from Whole Foods. I mixed the filling and left it to reduce on low heat while I worked on the dough for the molasses cookie layers.
Once mixed, the dough will ball up on its own. I separated the dough into five (as equal as possible) portions. The perfectionist in me thought about asking Rex if I could borrow his kitchen scale to weigh the dough to ensure even layers. And then I thought about how, in the mountains, one cake could easily be made by half a dozen bakers. The beauty of this cake lies in its imperfections.
Once assembled, the cake was so tall it barely fit under the cover of my cake carrier. The recipe recommends allowing the cake to sit for two days before serving. For me, it was an incredible feat of willpower to hold off cutting into it until the next morning at breakfast. The cookie layers softened somewhat overnight and, I imagine, will continue to soften with time as the filling soaks into the layers. A serrated bread knife worked well to cut the cake.
Low in fat and not too sweet, a slice of stack cake is perfect for breakfast with your favorite morning beverage. Or save it for dessert and serve it warm with ice cream for an alternative to apple pie a la mode. Find the recipe for Appalachian Stack cake here.
Erin Mann is ruining diets one cake at a time with her weekly kitchen adventures. Email this baking bachelorette at SheGotTheBeat@gmail.com or follow her on Twitter. Facebook users can also keep up-to-date with A CAKE A WEEK by joining the group.