Posted on
Mon, Sep 10, 2012 : 10 a.m.
Pan-Seared Salmon with Black-Eyed Pea Relish - technique creates crust that encases sweet, moist interior
By Peggy Lampman
Peggy Lampman | Contributor

My dinnerFeed web site is a lean, mean fighting machine! To receive my lastest dinnerFeed posts by email, sign up here.
I wish I could say I used fresh shucked black-eyed peas (oh so good), but I had a bag of frozen and can't remember when I purchased them; time to clean house.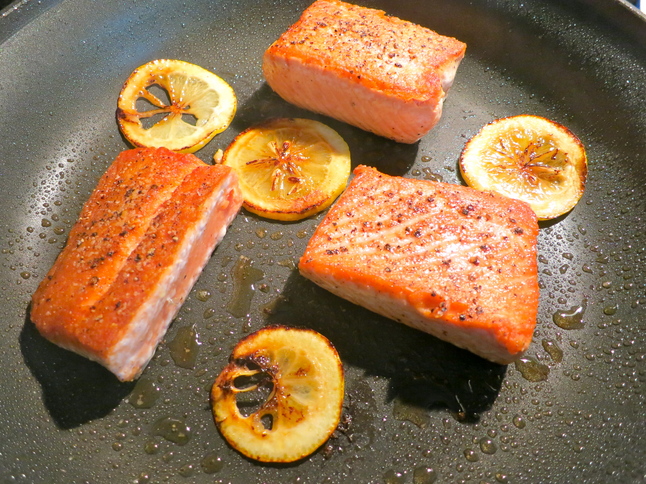 If you can get your hands on some fresh black-eyed peas or crowder peas, use them instead. This turned out to be a delicious meal, and made good use of leftover bacon I had on hand.
Or skip the relish altogether. Using the following technique to sear salmon creates a delicious crust, leaving the interior sweet and moist; salmon overcooks before you know it. I always turn off the heat, even when it appears quite undercooked in the center. After it sits five minutes in the pan, it continues cooking to a moist perfection.
Ingredients
1 lemon, half of which is sliced
1 tablespoon extra-virgin olive oil
1/2 teaspoon minced garlic
2 cups of cooked, drained black eyed peas*
1 small tomato, seeded and diced
2 pieces fried bacon, chopped (optional)
1 scallion, finely chopped
2 tablespoons finely chopped Italian parsley, plus extra sprigs for garnish
1 piece (1 pound) center cut salmon fillet, cut into 3-4 pieces
2 teaspoons high smoke oil, such as grape seed or peanut oil
*Fresh black-eyed peas only take a few minutes to sauté. Follow package directions for cooking with frozen or dried peas.
Instructions:
1. To make a relish, whisk together juice from half lemon, olive oil and garlic. Stir in peas, tomato, bacon, scallion and parsley. Reserve.
2. Season salmon with kosher salt and freshly ground pepper. Heat oil over high heat. Sear the salmon flesh side down, three to four minutes until it develops a golden brown crust; do not jiggle pan, if you do, a crust won't form.
3. With a spatula, flip salmon and add the lemon slices to pan. (See notes above for judging how long to finish cooking.) Remove lemon slices when browned on both sides.
4. Place salmon pieces on individual platters, top with lemon slices and serve with black-eyed pea relish.
Peggy Lampman is a real-time food writer and photographer posting daily feeds on her website and in the Food & Grocery section of Annarbor.com. You may also e-mail her at peggy@dinnerfeed.com.