Posted on
Tue, Aug 27, 2013 : noon
Apples 'n' Honey couscous salad for Rosh Hashanah
By Mary Bilyeu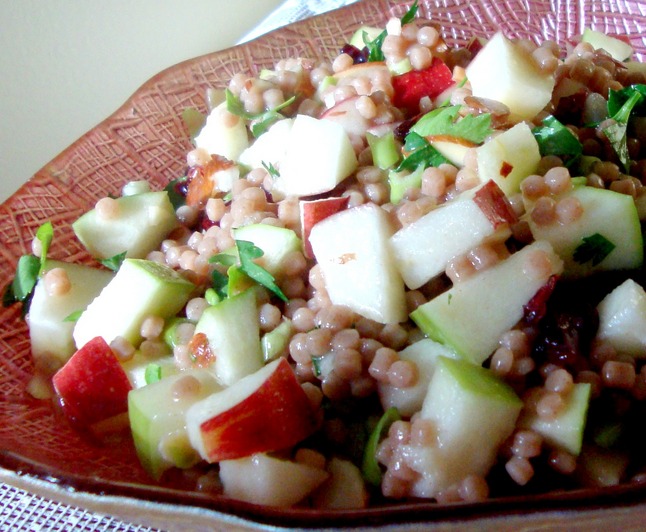 Mary Bilyeu | Contributor
Rosh Hashanah
— the Jewish New Year — begins at sundown next Wednesday, Sept. 4. It is very,
very
early this year — always the same on the Jewish calendar, of course, but variable on the English one. And this year, the holiday is coming while it's still officially summer!
So rather than utilizing the traditional apples and honey — the former dipped into the latter with hopes for a sweet new year — in baked goods or kugels or anything heavy and warm, it seemed more appropriate to make a lighter dish this time, to celebrate the beginning of the year 5774.
In searching through recipes to seek out ideas, I was inspired by my blogging buddy Candace, who was inspired by her stepdaughter, who was in turn inspired by Giada de Laurentiis to make an apple salad with Israeli couscous — how perfect for a Jewish celebration! I've tweaked the dish somewhat, but the spirit is the same — a nutritious and delicious dish for a happy, healthy, and bountiful new year.
Here are some more dishes you can serve for your holiday feasting, as well:
Apple Almond Kugel (one of my most requested recipes)
Cider-Braised Chicken (my very favorite chicken dish)
Honey Cakes with Caramel Frosting
Vanilla Cakes with Caramelized Bananas
Grilled Brie with Cherries and Almonds
Shanah Tovah!
Apples 'n' Honey Couscous Salad
Couscous:
1 cup dry whole wheat Israeli couscous
water
juice of half lemon
1 medium red apple
1 medium green apple
1/2 cup chopped fresh flat-leaf parsley
3/4 cup dried cranberries
1/3 cup toasted sliced almonds
3 green onions, finely sliced
Dressing:
3 tablespoons extra-virgin olive oil
2 tablespoons apple cider vinegar
juice of 1 medium orange
3 tablespoons honey
pinch of kosher salt
1/2 teaspoon freshly ground black pepper
Prepare couscous according to package directions, then place into a large mixing bowl.
Fill a large bowl with water and add the lemon juice. Core apples but leave the peels on, then cut into 1/2-inch dice; place diced apples into the lemon water for 5 minutes, to prevent browning, then drain and add to couscous. Stir in parsley, cranberries, almonds, and green onions.
In a measuring cup, whisk together all of the dressing ingredients; pour over the salad and toss to coat.
Serves 6-8 as a side dish.

Mary Bilyeu - a self-proclaimed Food Floozie (named for her blog, which is taking a summer vacation) - writes for AnnArbor.com on Tuesdays, Wednesdays, and Fridays, telling about her adventures in the kitchen. She is also on a mission to find great deals for her Frugal Floozie Friday posts, seeking fabulous food at restaurants on the limited budget of only $5 per person. Feel free to email her with questions, comments, or suggestions: yentamary@gmail.com.

The phrase "You Should Only Be Happy" (written in Hebrew on the stone pictured in this post) comes from Deuteronomy 16:15 and is a wish for all her readers - when you come to visit here, may you always be happy.