Posted on
Mon, Apr 2, 2012 : 8:17 a.m.
Asparagus Bread Pudding is the perfect spring side dish to complement ham or lamb
By Peggy Lampman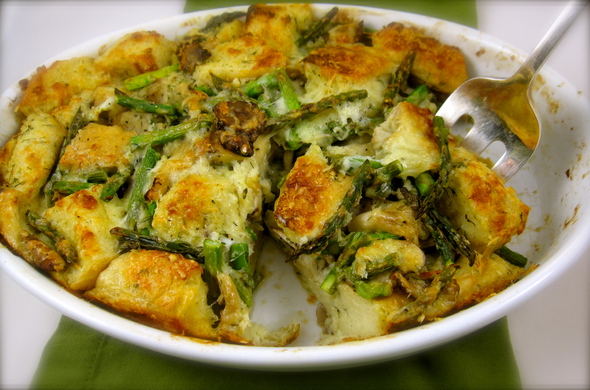 Peggy Lampman | Contributor
Easter is this coming Sunday, and this Asparagus Bread Pudding is the best make-ahead side dish I can imagine. It's the perfect spring side-dish for ham and lamb, the stalwarts of the Easter holiday table.
The recipe may be made and refrigerated up to 24 hours before serving. The only stipulation is that the bread used be a day or two old. I always cube my bread after purchasing it; it's hard (not to mention dangerous) sawing stale bread into pieces.
For more savory Easter recipe ideas, click here.
I found the recipe in the cookbook, "Hands-Off Cooking: Low Supervision High Flavor Meals for Busy People", by Ann Martin Rolke.
My changes to the original recipe are as follows: I covered the casserole in foil partway through cooking (otherwise the top would overbrown before the casserole was baked); I used fresh dill instead of dry, garlic instead of shallots and assorted wild mushrooms instead of oyster mushrooms for a flavor boost, and added an additional 2 ounces of mushrooms to the recipe. For a milder flavored casserole, substitute domestic mushrooms for wild and swiss cheese for Gruyere.
Active Time: 20 minutes
Bake Time: 45-50 minutes
Yield: 6-8 servings
Ingredients
3 cups whole milk
1 cup vegetable or chicken stock
3 large eggs
1 tablespoon chopped fresh dill
2 teaspoons minced garlic
1 (1 pound) loaf day-old sourdough or other crusty bread, cut into 1-inch pieces
1 pound asparagus, tough ends removed, rinsed and cut into 1-inch pieces*
6 ounces assorted fresh mushrooms, wiped clean and sliced
Cooking oil, cooking oil spray or butter for greasing pan and foil
1 cup (4 ounces) shredded Gruyere cheese
Instructions
1. Preheat oven to 400 degrees.
2. In a large bowl, whisk together milk, stock, eggs, dill, garlic,1 teaspoon kosher salt and 1/2 teaspoon freshly ground black pepper. Toss bread cubes into mixture and let saturate all sides of bread cubes. Fold asparagus and mushrooms into the mixture and spread vegetables throughout.
3. Spoon bread mixture into a well-oiled 9×13-inch baking dish or casserole and, with a spatula, pack down. Evenly sprinkle with grated cheese. Cover with a piece of oiled foil, oiled side lightly covering cheese, and place on middle rack of oven. Bake 30 minutes, remove foil, then continue baking until top is golden brown and there is no liquid in the center, 15-20 additional minutes. Let sit 10 minutes before serving.
*I separate the tips from the stem pieces and use the attractive tips to top the casserole.