Posted on
Thu, May 2, 2013 : 10:50 a.m.
Asparagus Gruyere Tart is impressive and impressively easy
By Jessica Webster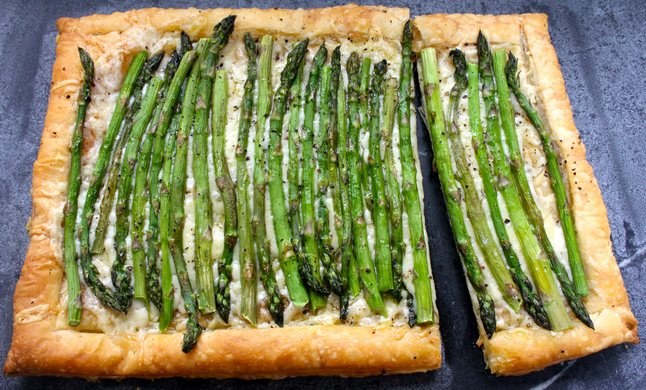 Jessica Webster | AnnArbor.com
My friend Dee is celebrating a birthday this week, and I offered to host a small girls' night dinner to celebrate this remarkable woman. I imagined spending all day cooking up all kinds of decadent delights, decorating the house, maybe even inventing a special cocktail to mark the occasion.
And then I realized that we had picked a weeknight for the dinner party, and that all of my prep work was going to have to happen sometime between the end of my work day and 7 p.m., all while helping my fifth grader with his homework, feeding him and getting him off to swim practice.
It's times like these when I wish I had a staff the size of Downton Abbey's, or at the very least my own Mrs. Patmore. Since I don't, it was time to locate some elegant but simple recipes that could be executed fairly quickly.
Roasted chicken has become a standby recently. I've got a favorite Dutch oven recipe with tons of garlic that cooks quickly at high heat. It takes very little fuss and is impressively moist and tasty. Throw some ramps and maybe some radishes in to roast, and I'll have a nice celebration of spring.
Ramps may be one of the first vegetative harbingers of spring, but asparagus is close behind. Governor Rick Snyder even declared last May "Michigan Asparagus Month."
I love simple roasted or sauteed asparagus and will happily cook it several times a week, but special occasions call for something a little bit more dressed up, so I turned to some of my Facebook friends for recipe suggestions.
My friend Jessica recommended this recipe for asparagus Gruyere tart, raving that, "the impressiveness-to-effort ratio is exceptional." And it is. I'm still marveling at how simple the recipe was, and how delicious and good-looking the results were.
I tried a couple of different frozen puff pastry brands when testing this recipe, and found that the Dufour brand yielded the most delicate and flavorful crust.
Fellow Alpen cheeses Comte, raclette and Fontina all work well in place of Gruyere.
Asparagus Gruyere Tart - from a recipe on MarthaStewart.com
Ingredients
Flour, for work surface
1 sheet frozen puff pastry
5 1/2 ounces (2 cups) Gruyere cheese, shredded
1 1/2 pounds medium asparagus
1 tablespoon olive oil
Salt and pepper
Directions
Thaw the puff pastry according to the manufacturer's directions. Some brands can take several hours to defrost in the fridge.
Preheat oven to 400 degrees. On a floured surface, roll the puff pastry out and trim into a 16-by-10-inch rectangle. (A pizza cutter and a ruler or straight-edge works great for this.)
Place pastry on a baking sheet. With a sharp knife, lightly score pastry dough 1 inch in from the edges to mark a rectangular border. (This will give you the puffy crust edge.)
Using a fork, pierce dough inside the markings at 1/2-inch intervals, which will keep the middle of the pastry from puffing up too much and will give you a base for your cheese and asparagus. Bake until golden, about 15 minutes.
Remove pastry shell from oven, and sprinkle all but the one-inch border with Gruyere. Trim the bottoms of the asparagus spears to fit crosswise inside the tart shell; arrange in a single layer over Gruyere, alternating ends and tips. Brush with oil, and season with salt and pepper. Bake until spears are tender and the crust is a golden brown, 15 to 25 minutes.
All ovens vary in temperature, so check the pastry regularly after 15 minutes have elapsed and remove from oven before it burns. If you notice that one side is browning faster, rotate the baking sheet in the oven.
When sufficiently cooked, carefully move the pastry to a cutting board and cut into 8 to 12 pieces with a pizza cutter. Works well as an appetizer.
Jessica Webster leads the Food & Grocery section for AnnArbor.com. Reach her at JessicaWebster@annarbor.com. You also can follow her on Twitter or subscribe to AnnArbor.com's email newsletters.