Posted on
Tue, May 7, 2013 : 12:30 p.m.
Asparagus season has arrived: Make this risotto to celebrate spring
By Kim Bayer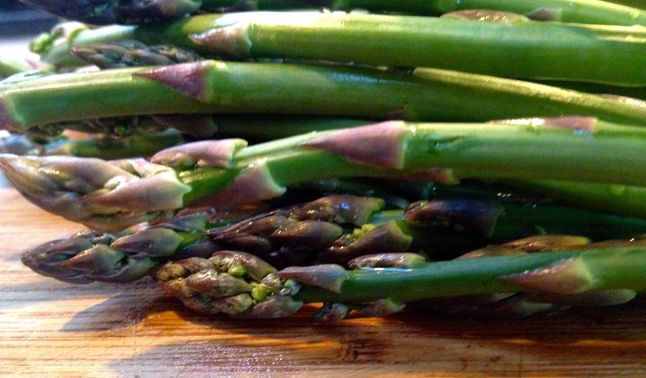 Kim Bayer | AnnArbor.com Contributor
Definitive signs of spring in Michigan include: the woodcock's fluttering, wobbling, shooting star of a sky dance, redbud trees misted pink in bloom, and at long last, slender green darts of asparagus at the farmer's market.
I arrived early at the market last week to collect a handful of asparagus stalks, along with fat shiitake mushrooms, from Lizzie at Tantre Farm. I love roasting the largest asparagus spears on the grill, which concentrates and caramelizes their flavor. But these stalks, thinner than a pencil, were too fragile and waif-like for the heat of a fire. Even a blanket of lemony hollandaise sauce might have been too weighty for them.
Remembering the adage that "what grows together, goes together," I used Epicurious.com to find an asparagus-shiitake risotto. Risotto is the perfect neutral background for sweet, grassy asparagus and earthy, meaty shiitake flavors. Plus I had some rich chicken broth in the fridge, made after roasting the bones of last week's bird.
Asparagus and shiitake risotto, adapted from a recipe at Epicurious.com
6 cups chicken broth
1 pound thin to medium asparagus, woody ends trimmed
1 tablespoon olive oil
3 tablespoons unsalted butter
3/4 pound fresh shiitake mushrooms, stems discarded and caps cut into 1/4-inch-thick slices
1 small onion, finely chopped
1 1/2 cups Arborio rice (10 ounces)
1/2 cup dry white wine
2 ounces Parmigiano-Reggiano (1 cup)

Chop asparagus into 1/2 inch lengths. Bring broth to a bare simmer, covered.
Heat oil with 1 tablespoon butter in a 4-quart heavy saucepan over moderately high heat until foam subsides, then sauté mushrooms, stirring occasionally, until browned, about 4 minutes. Season with salt and pepper, then transfer to a bowl.
Cook onion in 2 tablespoons butter in saucepan over moderate heat, stirring, until softened, about 3 minutes. Add rice and cook, stirring, 1 minute. Add wine and cook, stirring, until absorbed, about 1 minute.
Ladle in 1 cup simmering broth and cook at a strong simmer, stirring, until absorbed, about 2 minutes. Continue simmering and adding broth, about 1/2 cup at a time, stirring frequently and letting each addition be absorbed before adding next, until rice is just tender and looks creamy, 18 to 20 minutes. (Save leftover broth for thinning.)
Remove from heat and stir in 1/2 cup cheese, remaining tablespoon butter, and salt and pepper to taste. Gently stir in asparagus and mushrooms, then cover pan and let stand 1 minute. If desired, thin risotto with some of remaining broth. Serve immediately with remaining cheese on the side.
A salad with a garlicky dressing and some Easter egg radishes is also nice.
Other signs of spring: the 10th annual Asparagus Festival in Empire, coming up May 17, with its Ode to Asparagus poetry contest.
Kim Bayer is a freelance writer and culinary researcher. Email her at kimbayer at gmail dot com.