peggy lampman's dinnerfeed
recipe:

Roadside Vegetable Stand Pasta Supper

Posted on Mon, Aug 13, 2012 : 2:25 p.m.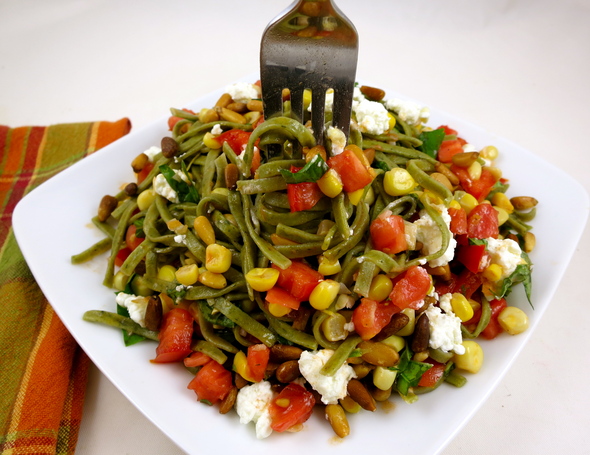 Peggy Lampman | Contributor

To receive my lastest dinnerFeed posts
by email, sign up here.
Road construction can really bite into local businesses. Take the vegetable stand on the corner of Stadium and Packard in the parking lot of Circle K Gas (1420 E. Stadium). With all of the neon construction barrels and flashing arrows, it could well be called the against-all-odds vegetable stand.
The construction on that road has certainly bit into the purse strings of the affable gentleman who sells produce from a nearby Dundee farm. That's why I make the effort to navigate the flashing lights to patronize his business; the navigation may appear off-putting, but it's no big deal — simply a gentle merge into the parking lot. His off-the-farm produce is worth the minimal effort.
Last September, I made Crowder Peas and Bacon with a Tomato-Scallion Relish, after consulting with him on how to best cook the peas he was selling. He's delighted to chat with his customers, and gives first-hand advice on ways to utilize the produce he sells.
Yield: 4 servings
Time: 25 minutes
Ingredients
1/3 cup pine nuts
2 large cloves garlic, cut in half
6 ounces dry linguini (I used 1/2 bag Al Dente Spinach Linguini)
3 ears of corn, shucked; remove kernels from cob with a sharp knife
2 tablespoons extra virgin olive oil
1 pound tomatoes, stem ends removed, then cut into 1/4-inch dice
1 cup basil leaves, torn or chopped
3 tablespoon crumbled goat cheese
Directions
1. Bring a large pot of salted water to boil; preheat oven or toaster oven to 350 degrees.
2. Toast pine nuts and garlic in oven 2-4 minutes or until pine nuts are golden. (Pine nuts burn quickly so pay attention to them in the last minute of cooking time.)
3. Boil pasta according to package instructions. In the last minute of cooking time, add corn kernels and cook 1 minute. Drain, place back into pot and toss with olive oil.
4. Finely chop garlic with a bit of kosher salt. Toss garlic, toasted pine nuts, tomatoes and basil with linguini-corn mixture. Garnish with goat cheese crumbles and serve.